What Aung San Suu Kyi's Sentencing May Mean For Myanmar
Here's everything you need to know about the ongoing situation in Myanmar.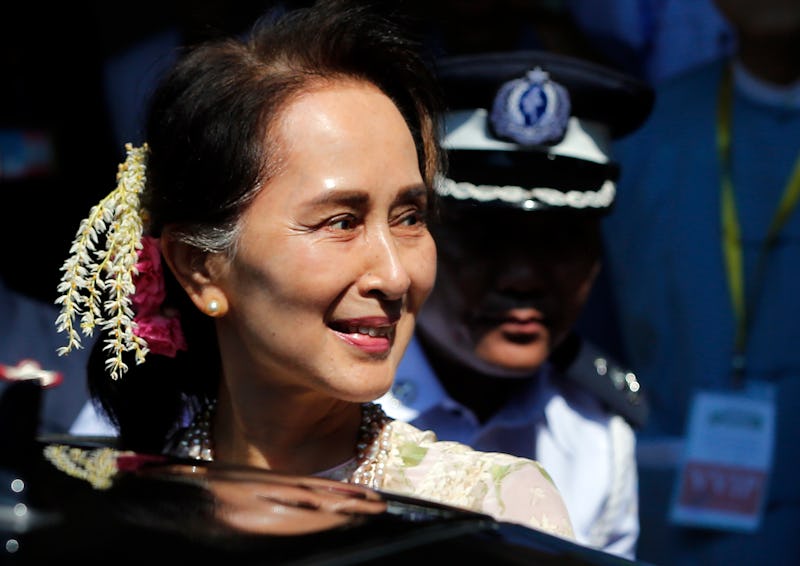 NurPhoto/NurPhoto/Getty Images
Following allegations of election fraud, Myanmar's Tatmadaw military took control of the government in a coup d'état on Feb. 1, 2021. The country's de facto leader, Aung San Suu Kyi, and other prominent politicians were detained in the process, and have since been put under house arrest. On Dec. 6, Suu Kyi and former president Win Myint were sentenced to four years in prison after being found guilty on charges of "inciting dissent and breaking Covid rules" per BBC News. Suu Kyi faces 11 charges in total, including "multiple counts of corruption and violating the officials secrets act." According to the Guardian, she "could be held in junta for the rest of her life" if found guilty of all charges.
"She is not OK," a spokesperson for the recently formed National Unity Government told BBC News. "Military generals are preparing for 104 years of sentences for her in prison. They want her to die in prison." The National Unity Government is made up of pro-democracy figures and opponents of the coup.
Since February, thousands of people have been taking part in street protests and strikes, calling for the release of Suu Kyi and for democracy to be restored. Prior to her leadership, Myanmar had been under military rule for nearly five decades.
The Tatmadaw military claim that the November 2020 election results (which saw Suu Kyi's party win the majority) were fraudulent and are using a clause in the constitution (Article 417) to reclaim power in a one-year state of emergency. But how exactly did the country get to this point? Here's everything you need to know about the developing situation in Myanmar.
Who Is Aung San Suu Kyi?
Although Aung San Suu Kyi is technically the State Counsellor of Myanmar, she is widely considered the country's leader. In November 2015, she led the National League for Democracy (NLD) to a landslide victory, officially taking the country out of Tatmadaw rule.
Suu Kyi is a complex political figure. While she has previously been the recipient of a Noble Peace Prize for her efforts in leading a non-violent struggle for democracy in Myanmar, she has more recently been at the centre of a genocide lawsuit for the NLD's treatment of the country's Rohingya Muslim population.
What Is Currently Happening In Myanmar?
Protests & Deaths
Since the coup began in February, thousands have taken to the streets in protest, resulting in deadly confrontations with the military. The latest death toll suggests that, as of Dec. 6, 510 more than 1,300 civilians have died as a result of the military takeover – including 100 children. It's reported that 141 people died on March 27 alone when heavy clashes erupted in the South Dagon district of Yangon.
However, the military has insisted the death toll is much lower and has branded the victims "violent terrorist people."
One of the most publicised casualties was Kyal Sin, a 19-year-old protestor who became a symbol of the movement after she was shot dead in Mandalay in early March while wearing a T-shirt that read "Everything will be OK." It is widely believed that Sin was shot by security forces but Myanmar authorities denied this.
On Dec. 5, a military truck drove into a group of protestors gathered in Myanmar's capital, Yangon. According to eyewitnesses, soldiers "opened fire on some fleeing protestors, and beat others," per BBC News. At least five people were killed during the incident, according to Myanmar Now.
Aside from marches and physical demonstrations, opponents of the coup have stepped up their civil disobedience campaign by leaving rubbish at main traffic intersections. Pictures shared on social media show piles of rubbish piling up on the roads of Yangon, but the military have reportedly threatened deadly action if it continues.
Detainees
It's been reported that around 10,600 people had been detained by the military since early March and that a number of raids have taken place on campaign leaders and opposition activists. The UN's Human Rights Office said that, of those detained, nearly 100 are medical professionals and students, and 80 were journalists.
According to the Assistance Association for Political Prisoners (AAPP), 50 journalists are still being detained and half have been prosecuted per BBC News. Danny Fenster, a U.S. journalist, was sentenced to 11 years in jail on Nov. 12 after being found guilty "of breaching immigration law, unlawful association and encouraging dissent against the military." He was released three days later after being "pardoned" on "humanitarian grounds" following negotiations between the military and former US ambassador to the UN, Bill Richardson.
Air Strikes & Fleeing Across The Border
On March 29, the Guardian reported that an estimated 3,000 had crossed from Myanmar into Thailand after air strikes began in areas populated predominantly by ethnic Karen people two days earlier.
The airstrikes began several hours after the the Karen National Liberation Army (KNLA) – who have voiced their support for the protestors – seized a military base, killing 10 soldiers and taking others captive, according to an online site with information about the Karen National Union (via the Guardian). The report stated that one Karen guerrilla had also died.
Activist groups have claimed that more than 2,000 of the people fleeing have been forced back into Myanmar, but Thai authorities have denied this, saying they accept refugees on a humanitarian basis.
Since February, roughly 15,000 people have fled to India according to the United Nations (via the New York Times). "The brutality in which entire villages are attacked indiscriminately has created a horrific situation in which people are absolutely desperate," Tom Andrews, the U.N. special rapporteur for Myanmar said. "And things are getting worse."
What Happens Next?
Sanctions have been issued by the U.S., the UK, and other countries, but many believe their actions have not gone far enough.
On March 3, UN Special Envoy on Myanmar Christine Schraner Burgene revealed that, during conversations with Myanmar's Deputy Military Chief Soe Win, he showed little concern about being isolated by other UN members.
"The [response] was: 'We are used to sanctions, and we survived,'" Schraner Burgene told reporters in New York. "When I also warned they will go (into) isolation, the answer was: 'We have to learn to walk with only few friends.'"
On March 5, Schraner Burgene urged the UN Security Council to do more to halt the violence. Its members are currently negotiating a further statement on the crisis but diplomats have believe it's unlikely that Russia and China will support sanctions on the military. The UN Security Council have since "reaffirmed their support for the people of Myanmar and the country's democratic transition," writing in a statement on Nov. 10. "The members of the Security Council stressed that they continued to monitor the situation closely," they added.
This article was originally published on