Ocado Is Now Selling Heinz Beans Houmous & We Have Thoughts
The deliciously dippable invention comes in three new flavours.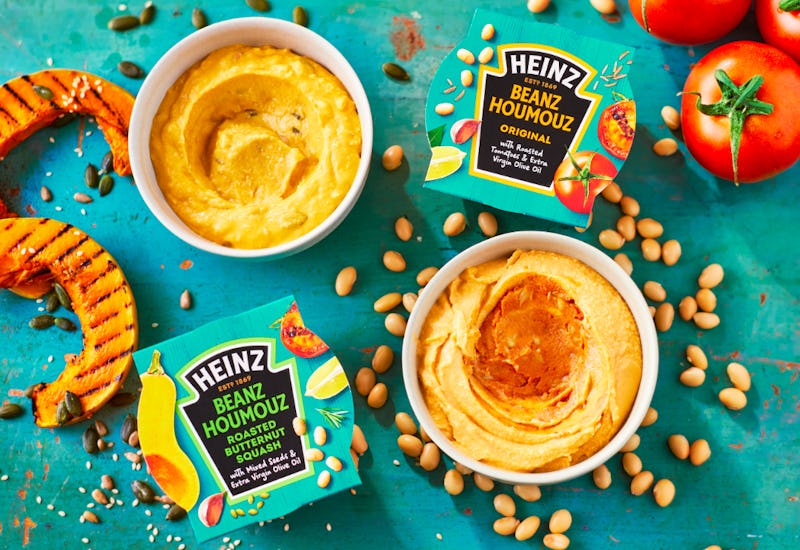 Heinz
Although best known for their staple baked beans, tomato ketchup, and mayonnaise, Heinz has experimented with several new products in recent years. The brand's sprayable mayo mousse and Terry's Chocolate Orange mayonnaise are two of the most out-there recent releases. Now, Heinz has unveiled their very own deliciously dippable houmous for Heinz Beanz lovers everywhere. Want to try it for yourself? Here's where to buy Heinz Beanz houmous in the UK.
The Heinz Beanz Houmouz range is launching with two delicious flavours: Original - which blends smooth haricot beans with roasted tomatoes, sesame tahini, and extra virgin olive oil - and Roasted Butternut Squash, a delicious blend of roasted butternut squash with added sunflower, pumpkin and sesame seeds.
An equally delicious third flavour, Chipotle Chilli, is also due to launch in summer 2022, combining smooth haricot beans with sweet roasted pepper, sesame tahini, extra virgin olive oil, and seasoned with lemon juice, garlic, and cumin.
Heinz describes their latest release as "the perfect accompaniment to crudities, crackers, and all manner of scintillating snacks at picnics and parties this summer." All recipes include 100% natural ingredients and are suitable for vegetarians and vegans.
The Original and Roasted Butternut Squash flavours are currently available to purchase for just £2.00 on Ocado, and will be available to buy in more supermarkets later this year.
The New Ventures Director for Beans Liberation at Kraft Heinz, Lucila Ardalla, says the brand is "in the midst of a Beanz revolution, finding new and exciting ways to liberate our beloved Heinz Beanz out of their can and into new formats, flavours, and tastes."
"We're un-bean-lievably excited to be continuing our plant-powered story by launching our very first Beanz Houmouz range, made using our iconic beans. The result? A deliciously creamy and smooth texture unlike most traditional chickpea-based houmous you've tasted before," Ardalla said in a statement.