Heinz Is Selling A Sprayable Mayo Mousse
Just don't put it in your hair.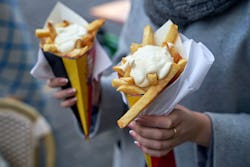 Shutterstock
Heinz has experimented with adding lots of different sauces to its range over the years. From spiced pineapple chutney to chocolate orange mayo, the food brand certainly doesn't shy away from innovative thinking when it comes to its line of sauces.
But if you're a fan of a good old classic mayo, you may be interested to learn that Heinz has experimented with a sprayable version. Yes, a mayo mousse.
Funnily enough, the idea for a sprayable mousse came about thanks to football legend Peter Crouch's podcast. In 2021, a listener called Tom suggested the idea of sprayable mayonnaise during an episode of That Peter Crouch Podcast.
Tom, from Glasgow, revealed that the lightbulb moment came to him after a trip to Spain where he saw a waitress carrying a spray cleaner in one hand and mayo in the other. Crouch, who's also a mayo-lover, backed the unique invention and labeled Tom a "genius.'
After hearing the episode of Crouch's podcast, Heinz created a limited edition bottle of mayo mousse for ex-England star, his co-hosts Chris Stark and Tom Fordyce and, of course, the brains behind the idea, Tom from Glasgow.
At the time, Heinz shared that they could officially launch the product if there was sufficient demand. And it now looks like they have gone on and done just that... sort of.
In April, a Dutch food Instagrammer posted a video of her trying out the Heinz sprayable mayonnaise that she purchased in an Amsterdam supermarket.
However, it seems as though UK shoppers may have to wait a little longer for the mayo mousse as is not yet clear whether Heinz has made the branch of mayonnaise available in the UK. I've reached out to Heinz for confirmation on whether mayo mousse will be available in the UK and will update you on the brand's response as soon as it becomes available.