8 Surprising Things That Could Be Contributing To Your Period Pain
Plus, when to talk to your doctor about it.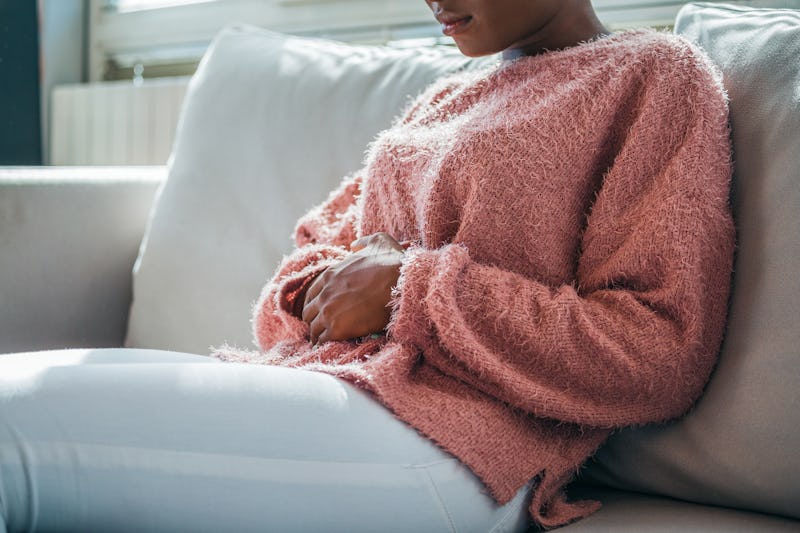 Shutterstock
For those who menstruate, you have no doubt experienced (and bemoaned) period pains at some point. For some, it's light cramps for a day or two, letting you know your time of the month is imminent. For others, it's a full-on need-a-hot-water-bottle-and-a-duvet-and-a-day-off-work kind of pain. If you find yourself asking questions like, "Why are my periods getting worse?" or "Does sex make period cramps worse?" you might be surprised to learn some of the factors that can go into exaggerating menstrual pain (spoiler: sex actually helps).
Period pain is an incredibly common and normal part of the menstrual cycle that tends to cause pain in the stomach, back, and thighs. This pain is known medically as dysmenorrhea, and there are two types of it, as Dr. Samantha Wild, women's health clinical lead at Bupa Health Clinics explains to Bustle: primary dysmenorrhoea, which includes typical symptoms such as tiredness, bloating, headaches, and feeling emotional, and secondary dysmenorrhoea, which is caused by an underlying medical condition.
In general, period cramps occur due to the contracting of muscles in your body. "Period pain occurs when the muscular wall of your womb tightens to remove the lining of the uterus, which builds up during your menstrual cycle," says Dr. Wild. "When the muscles in your womb contract, they cut off the blood supply and oxygen to your womb — this triggers your body to release chemicals [that] cause pain."
According to a 2019 study from Radboud University Medical Center in Nijmegen, the Netherlands, 85% of people who menstruate experience painful cramping during their periods, with about a third not being able to perform all of their regular daily activities. Of those who had to skip daily tasks due to period symptoms, just less than half told their family about it, indicating that people are often reluctant to speak out about menstrual pain for fear of complaining. In truth, though, it can be debilitating, and it's worth making sure you're treating symptoms properly and making them known when necessary.
While it's been unofficially reported that copious amounts of ice cream and re-runs of reality TV shows can do wonders for coping with period pains (you might even know this from personal experience), certain things can actually make your period pains worse. If you've never had period cramps but now do, it could be due to a change in your diet or lifestyle. With that in mind, below are some of the unexpected factors that might impact the monthly struggle that is period pain.
Period pains can be hard, but know you're never alone. When you're struggling with cramps, let people know (including a doctor) and be kind to yourself. Just remember that sugar, salt, and fat might not be your best friends during that time of the month, so that pint of ice cream might not actually do you any favors.
Studies referenced:
Schoep, M.E., Nieboer, T.E., van der Zanden, M., et al. The impact of menstrual symptoms on everyday life: a survey among 42,879 women. Am J Obstet Gynecol 2019;220:569.e1-7. https://www.sciencedirect.com/science/article/abs/pii/S0002937819304272
Qin, L. L., Hu, Z., Kaminga, A. C., Luo, B. A., Xu, H. L., Feng, X. L., & Liu, J. H. (2020). Association between cigarette smoking and the risk of dysmenorrhea: A meta-analysis of observational studies. PloS one, 15(4), e0231201. https://doi.org/10.1371/journal.pone.0231201
Peng, A. W., Juraschek, S. P., Appel, L. J., Miller, E. R., 3rd, & Mueller, N. T. (2019). Effects of the DASH Diet and Sodium Intake on Bloating: Results From the DASH-Sodium Trial. The American journal of gastroenterology, 114(7), 1109–1115. https://doi.org/10.14309/ajg.0000000000000283
DiNicolantonio, J. J., & Lucan, S. C. (2015). Is fructose malabsorption a cause of irritable bowel syndrome?. Medical hypotheses, 85(3), 295–297. https://doi.org/10.1016/j.mehy.2015.05.019
Innes, J. K., & Calder, P. C. (2018). Omega-6 fatty acids and inflammation. Prostaglandins, leukotrienes, and essential fatty acids, 132, 41–48. https://doi.org/10.1016/j.plefa.2018.03.004
Gollenberg, A. L., Hediger, M. L., Mumford, S. L., Whitcomb, B. W., Hovey, K. M., Wactawski-Wende, J., & Schisterman, E. F. (2010). Perceived stress and severity of perimenstrual symptoms: the BioCycle Study. Journal of women's health (2002), 19(5), 959–967. https://doi.org/10.1089/jwh.2009.1717
Experts:
Dr. Samantha Wild, women's health clinical lead at Bupa Health Clinics
Dr. Colleen Krajewski, gynaecologist and birth control expert
Dr. Lori Shemek, nutrition expert
This article was originally published on