Instagram Users Are Reporting Issues Scrolling & Logging In
If your feed is wonky, you're not alone.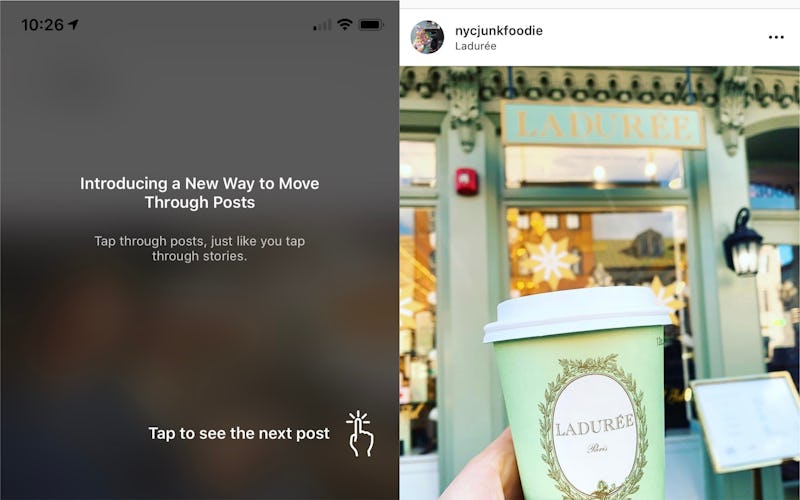 Emma Lord/Bustle
Hear ye, hear ye, Instagram is down. On May 26, the team at Instagram was flooded with more than 6,000 reports of issues with the app, a massive influx compared to their baseline of 39 issue reports per day, according to real-time outage monitoring site Down Detector. If you're noticing a wonky feed of weeks old photos or an inability to scroll through posts, you're not alone. Here's what's happening (or rather, not happening) with the app.
Why Is My Instagram Feed Out Of Order?
Instagram users are experiencing out of date feeds, flooded with posts from weeks prior. The app recently switched back to a chronological feed after years of the algorithmic feed, but this glitch isn't the fault of an algorithm change. Users are not only seeing old posts, but posts that they had already previously interacted with and commented on.
Why Am I Logged Out Of My Instagram?
Reports also show users opening the app, only to find that they've been logged out and greeted with the new account welcome message that reads, "Welcome to Instagram." This glitch sent some users into a tailspin, thinking they may have been hacked or lost their account in some way but rest assured it's just another issue currently happening on the app.
Lesser reported glitches include an inability to scroll past more than a few posts, and an inability to post to Instagram stories. If you encounter either of these glitches, blame it on the outage.
What Are People Saying About The Outage?
Twitter is exploding with tweets about the Instagram glitch. "My IG" is currently trending in the US with more than 21k tweets, and #instagramdown is trending as well. Say what you will about Twitter, but the app is pretty reliable — especially when it comes to seeing if other apps are down. "Instagram down? Twitter is once again undefeated," said one user.
How Can I Fix My Instagram Feed?
NetBlocks, a tracking network for disruptions and shutdowns, took to Twitter to share that Instagram's outages are intermittent and international, unrelated to regional internet restrictions or filtering. In short, the problem isn't you, your internet connection, or your location. As of now, there has been no comment or directive from Instagram or their parent company, Meta, but it seems the team is working on resolving those issues. According to Down Detector, Instagram's number of reported issues had decreased to just under 3,000 by 2:15pm EST.
For now, just wait it out, embrace the social media detox, and check your app in a few hours.
This article was originally published on