Windrush Victims Are Still Waiting For Compensation
A national Windrush monument has also been met with criticism.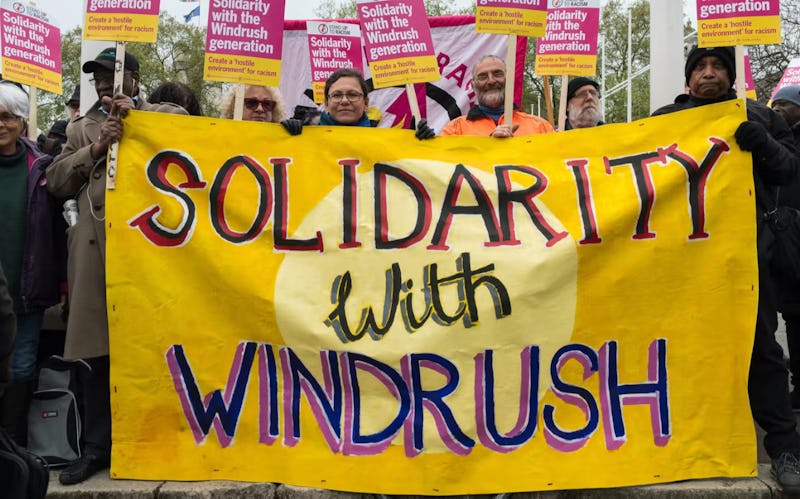 Barcroft Media/Barcroft Media/Getty Images
On June 22, 1948, Caribbean migrants arrived in the UK on the SS Empire Windrush. 74 years later, people up and down the country are marking the fifth annual Windrush Day, which aims to honour the significant contributions made to British society by the Windrush generation and their descendants. However, this commemorative day has been marred by reports that just one in four applicants to the Windrush Compensation Scheme have received payments. As per the Guardian, the compensation scheme was born from the fallout of the Windrush scandal, which saw the Home Office wrongly classify citizens from the Windrush generation as illegal immigrants.
Ahead of Windrush Day 2022, it was found that less than 7% of 15,000 compensation claims expected by the government have been processed. According to the government, claimants are entitled to apply for compensation if they "suffered losses" after not being able to show they "had a right to live in the UK." These losses include "not being able to work, find a place to live, or get health treatment. They can also include immigration action, like detention or removal from the UK."
In a statement, a Home Office spokesperson said the "mistreatment of the Windrush generation" was "completely unacceptable," adding that the home secretary will "right those wrongs."
Here's how those eligible can apply to the Windrush Compensation Scheme.
Elsewhere, the Duke and Duchess of Cambridge attended the unveiling of a national Windrush monument at London's Waterloo Station on June 22. Per the Evening Standard, the statue shows a man, woman, and child standing on top of suitcases, and aims to honour the British Caribbeans who helped to rebuild the UK in the wake of the Second World War.
The monument was designed by Jamaican artist and sculptor, Basil Watson. However, the statue has been met with backlash from some. Speaking to the Independent, Patrick Vernon OBE said the monument may be "jarring" to those affected by the Windrush scandal who are yet to receive compensation, while Windrush scandal victim, Glenda Caesar, revealed that she "wasn't asked to attend" the unveiling of the statue which "does nothing to help the people."