Here's The Appetizer That Matches Your Zodiac Sign's Energy
No need to browse the menu.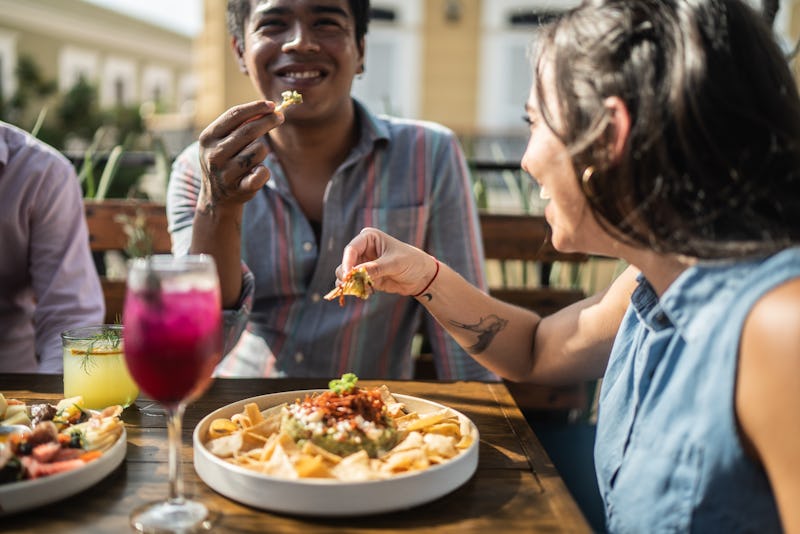 FG Trade Latin/E+/Getty Images
Not to be dramatic, but picking an appetizer for the table can make or break a night out. Not only do you have to order something that everyone can enjoy, but you want to make sure there are enough goods to go around, too. And with so many delicious options to choose from, narrowing down the perfect starter is a lot harder than it should be. Thankfully, we all have an appetizer that perfectly matches the vibe of our zodiac sign, so the next time you're in charge of ordering the hors d'oeuvres, you might want to take a quick survey of everyone's sun signs.
Think about it: if your sign is a natural-born homebody like Cancer, you're probably going to be drawn to comfort foods that bring you right back to your childhood. If you're more of an eccentric sign, like Aries or Sagittarius, you'll likely feel inclined to order something that appeals to your fiery, adventurous side. Here, occult artist Julia Popescu shares which appetizers best represent each zodiac sign based on their personality traits and preferences. But before you check the list for yourself, be prepared to feel inspired to eat out tonight — appetizers and all.
Source:
Julia Popescu, artist and founder of Snakes for Hair Candle Co.