13 Zoom Activities That'll Make Your Valentine's Day Extra Special
Including charades with a fun rom-com twist.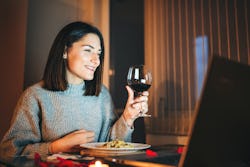 Getty
The season of love has finally arrived and the biggest day of amore is hurtling at us with the white-hot intensity of one thousand suns. While the virus looms in on yet another holiday, there's no reason this year's Valentine's Day can't still be full of love, virtual love that is. If you're wondering how to host a Valentine's Day party on Zoom, then you're in the right place.
Between setting a theme, choosing a Zoom backdrop, and what to drink, you may have forgotten all about how to keep your guests entertained. The real game of love may be a finicky one, but thankfully there's a bunch of Valentine's Day-themed activities that will not only amp up the party fun but leave you and your guests really feeling the love. You can start the day by making a delicious Valentine's Day-themed brunch, and then get into some fun with games like Bingo or singing your heart out with karaoke. To end the day, you'll want to do something sweet, like baking together or watching a classic rom-com.
Here are some of the best activities to do for a virtual Valentine's Day whether you're celebrating virtually with friends or your partner.
This article was originally published on