Theories About The 10th Queen On 'RuPaul's Drag Race: All Stars 3' To Hold You Over 'Til The Premiere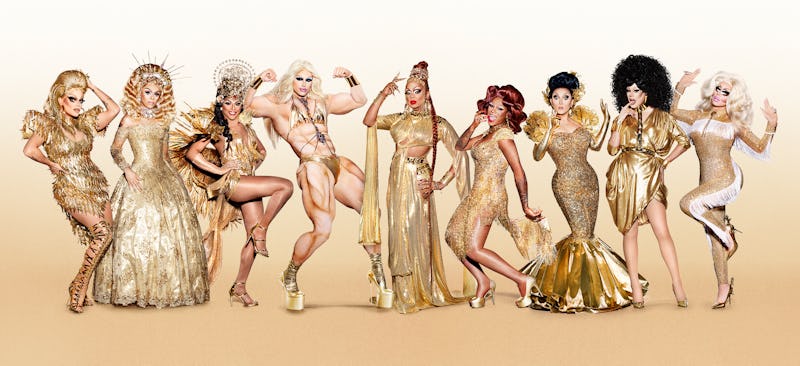 VH1
If you're desperate for someone to spill the tea on who the 10th queen of RuPaul's Drag Race: All Stars 3 may be, then you've come to the right place. Though last Friday night's VH1 special revealed the nine queens who will be returning to the hallowed workroom for another chance at the winning title, mama Ru sadly joked that "awful" math skills may mean a tenth queen was missing from the lineup. However, with a fanbase as passionate as Drag Race's, it's not too difficult to throw on a shimmering sleuthing cape in order to uncover some compelling theories about who the 10th All Stars queen is for Season 3 of the VH1 series.
A good place to start in this incredibly thorough investigation is taking a look at what we do know. For starters, we know that RuPaul's Drag Race: All Stars 3 will premiere sometime at the start of 2018. And we also now know that the cast features the return of Aja, BenDeLaCreme, Milk, Shangela, Thorgy Thor, Trixie Mattel, Kennedy Davenport, Chi Chi DeVayne, and Morgan McMichaels.
As fans know from just about every previous season of Drag Race where a mystery queen was added to the lineup later on (remember Cynthia Lee Fontaine's return to Season 9?), the addition of an extra contestant can seriously change the dynamics of the competition. Let's all keep that crafty thought in mind while speculating over the following clues and theories about who this mystery queen could be.