These #BlackWomensEqualPay Tweets Are Enlightening People About The Wage Gap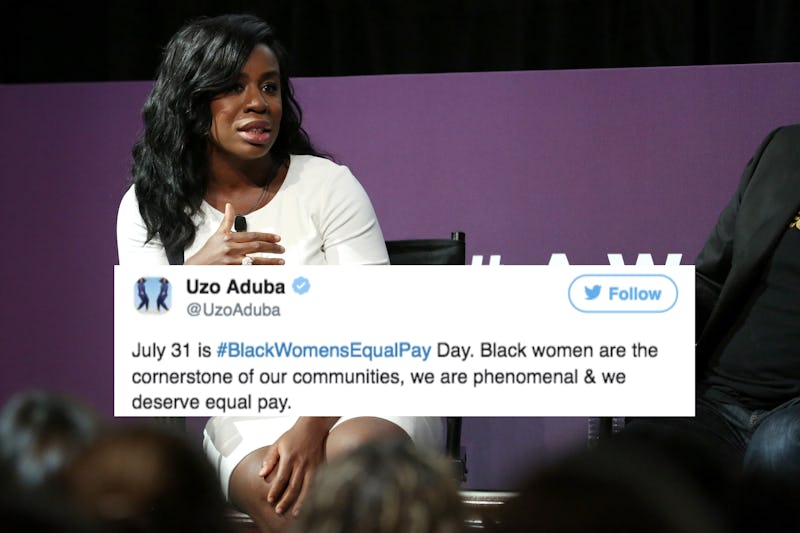 Getty Images / Robin Marchant / Stringer
Sixty-six: the number of years it would take a black woman to catch up to 40 years of her white male peers in wages. At 63 cents to the dollar, the hashtag #BlackWomensEqualPay is waking people up to an even darker side to the wage gap. Sure, all women experience the consequences of the glass ceiling, but we all too often in the conversation we fail to talk about how white privilege impacts that experience. While today marks a day of speaking out about the racial lines that black women must cross to make the same wages, the conversation should continue.
As one of the most educated groups in America and fastest growing group of entrepreneurs, black women still trail behind when it comes to getting what they're owed. But simply demanding more isn't just the answer to a history of devaluing the work of black women. It also means raising awareness and challenging brands and companies to help close that gap, revisiting problematic ways we think about work, and collectively applying pressure when needed. Stars like Tracee Ellis Ross and Serena Williams wore "Phenomenal Woman" t-shirts and tweeted about why the hashtag is helping black women take a stand.
So as we celebrate Black Women's Equal Pay Day, these inspiring tweets should be RT'd and revisited as black women make their voices heard:
1. The hashtag also means asking the tough questions.
And challenging businesses to ask themselves the same.
2. Being real about women's rights means acknowledging ALL women.
Women's rights should be intersectional. Period.
3. Breaking down the math isn't divisive.
It's eye opening.
4. Well paid black women shouldn't only exist on-screen.
5. Let's stop asking what color has got to do with it.
Instead, acknowledge that privilege grants some of us more than others.
6. Because the effect on the community is greater than you realize.
7. For black women, the wage gap is two fold.
Race and gender cannot be discussed separately. Black women experience both.
8. When we begin to unpack the experiences of Black women, we open more doors for other WOC.
9. Economic equality is #BlackWomensEqualPay.
10. Acknowledging privilege isn't about blame.
11. The issue is bigger than just working hard.
If that were the issue, it wouldn't take black women so long to earn the same statistically.
In order to bring the change needed, advocating for black women shouldn't just happen once a year. Thanks to social media, you can elevate the voices who want to speak up, particularly on days like today. If we can talk about #Yesallwomen, it's time we finally start to acknowledge how different those experiences can can be, and the disadvantage some women have versus others.