These 'Game Of Thrones' Celeb Tweets Perfectly Unpack All The Events Of Episode 4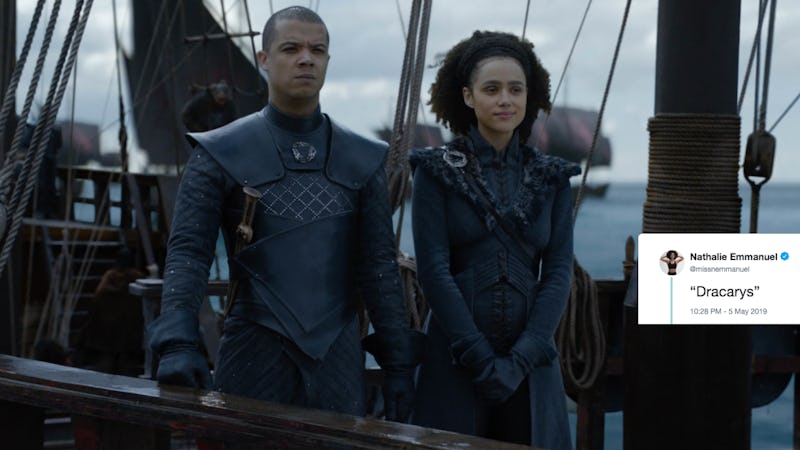 Courtesy of HBO; Nathalie Emmanuel/Twitter
Another Game of Thrones episode, another brutal death and another devastating heartbreak. Episode 4 of Season 8, "The Last of the Starks" was a fun, and often bittersweet, follow up to the epic Battle of Winterfell that left fans airing their grievances on Twitter. And since stars are just like us, it's no surprise that there were more than a few celebrity tweets about Game Of Thrones Episode 4.
Most of these stars were mourning the loss of Daenerys Targaryen's right hand woman, Missandei (Nathalie Emmanuel), who suffered one of the most brutal and unnecessary deaths in Game Of Thrones history. And honestly, that's really saying something after the Red Wedding.
But, not every tweet was somber in tone. Some people were happy to see a little romance on Game Of Thrones. Like Rachel and Ross before them, Brienne of Tarth and Jaime Lannister had a total will-they-or-won't-they vibe going on for years. Luckily, last night they did finally do something with all those lovey-dovey feelings. Of course, this is Game Of Thrones, where love never lasts that long. Seriously, just ask Gendry Baratheon, the new Lord of Storm's End, all about it. I'm sure he'd love to talk about that sad proposal to Arya with you over a cup of coffee, which it turns out Winterfell has now. Who knew?
So these are the 11 celebrity tweets that will help you unpack the latest episode of the final season of Game Of Thrones. And maybe get a laugh or two out of you, too.