11 Of The Weirdest MTV Movie Awards Outfits Ever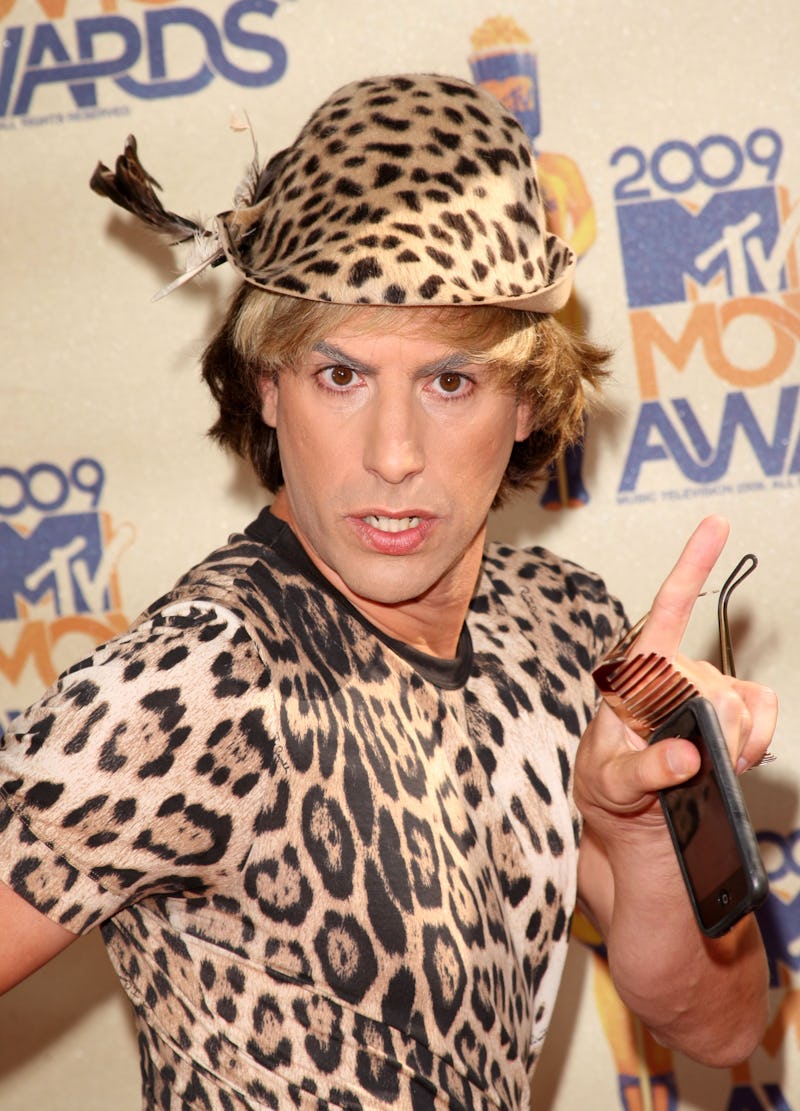 Jason Merritt/Getty Images Entertainment/Getty Images
With the 2017 MTV Movie Awards right around the corner, us pop culture junkies and self-proclaimed fashion police are in for a real treat. There are a million unanswered questions — who will dazzle on the red carpet and who will become the living definition of sartorial disaster? As we all know it, history is doomed to repeat itself, and judging by the eccentric getups of past MTV Movie Awards, 2017 will be no exception on the style front.
The general rule of thumb for the MTV Movie Awards seem to be the wild, the better. In fact, outlandish accoutrements have evolved into a norm over the years. However, that doesn't stop the Hollywood circuit from going casual on the red carpet too. Exhibit A: Mark Wahlberg literally wearing jeans and sneakers — Seth Rogen, Zac Efron, Josh Hutcherson and Tyler Posey are also among the guilty. While these laidback looks wouldn't normally cut it for awards show attire, we can't forget that this is the MTV Movie Awards after all — a night of funky costumes and where anything truly goes.
You best bet that I will be eagerly posted in bed, armed with a glass of wine (or two) and ready to take on this year's best and worst-dressed at the 2017 MTV Movie Music Awards. But first — a flashback to the bizzare looks of MTV's yesteryear.
1. Hana Mae Lee (2013)
Never in the light of day would I think to see a cigarette hat on the red carpet. An unconventional topper, that's for sure.
2. Sacha Baron Cohen (2009)
I'm all for pro-leopard print in ~moderate~ doses, but leave it to Sacha Baron Cohen to take leopard to the extreme. Honorary mention: the Ugg-like leopard boots.... *shudder*
3. Pink (2001)
Ah, 2001 — the only time when neon hair and fluorescent leather mini skirts were deemed "accpetable", especially when mixed together. Unfortunately, Pink was a sartorial casualty back in the day. Bonus points for the adorable doggo, though.
3. Victoria Beckham (2007)
Even Posh Spice had her wardrobe "don't" moment in the heydey. Zebra print and purposely-exposed hot pink bra straps? I'm speechless.
4. Paris Hilton (2003)
Apparently, nothing gets in between Paris Hilton and her tanning booth. Not to mention, the belly button piercing and exposed midriff scream early 2000s trend mishap.
5. Tyler Posey (2016)
Is Tyler Posey moonlighting as Mario or paying homage to the MTV empire? I can't decide...
6. Macklemore (2013)
Back in '13, Macklemore channeled Spanish conquistador on the red carpet. Let's talk about all that fringe business.
7. Bai Ling (2015)
As The Daily Mail called it: "Bai Ling terrifies with dragon costume at MTV Movie Awards". Need I say more?
8. Mike Posner (2016)
Recent Google search: why on earth is Mike Posner wearing a paper mache mask at the MTV Movie Awards??? Why?
9. Kesha (2013)
I'm sorry, but Kesha's goth flower child ensemble screams more "basic teenage girl at Coachella" than "MTV red carpet".
10. Charlie XCX (2015)
Not going to lie — it's a bit eerie seeing a plaid rain coat in the middle of Los Angeles sunshine.
11. Christina Aguilera (2001)
Oh, Christina. If only we could travel back in time and hit delete on the era of bustier tops and pink hair dye.
What will the 2017 MTV Movie Awards bring this year to the sartorial game? Only time will tell.