11 Thoughtful Quotes From Women's March Organizers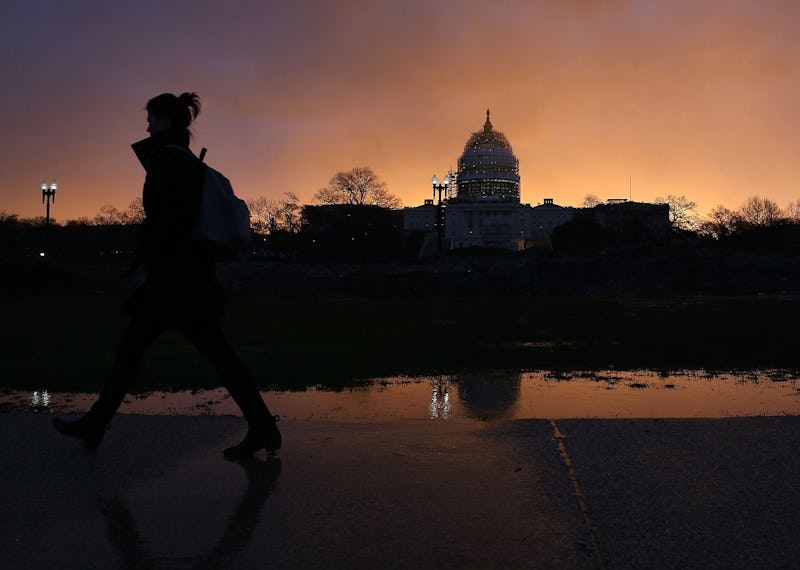 Mark Wilson/Getty Images News/Getty Images
What began as The Women's March on Washington — a proposition forged in the hours immediately after Donald Trump's election win — has grown into a movement, thanks to the grassroots organization efforts of some seriously dedicated women. Given how they quickly mobilized to turn an idea into reality, it's no surprise the women behind the Women's March on Washington are powerhouses of activist inspiration. Let them get you pumped to march for women's rights Jan. 21.
Although it was surely challenging to organize, the Women's March on Washington now stands to be one of the largest demonstrations organized around Trump's inauguration, with hundreds of sister marches popping up across the country and overseas. While it's unclear just how many people will brave the cold and show up in Washington D.C. on Jan. 21 to march, roughly 195,000 people have RSVPed on the event's Facebook page as of Jan. 15. Another 256,000 people have marked themselves as "interested" in attending. The action isn't just happening in Washington: Thousands more people are expected to participate in the more than 300 sister marches that have been organized in cities across the globe.
According to organizers, the origin of the Women's March on Washington begins with Teresa Shook and Bob Bland. Although Shook and Bland didn't know each other, they'd both shared similar ideas about finding a way to encourage women to head to Washington for the inauguration via Facebook. Eventually the two connected and merged their efforts. When Vanessa Wruble, now the march's head of campaign operations, became involved, she helped bring Tamika D. Mallory, Carmen Perez, and Linda Sarsour into the fold to further promote diversity and inclusivity.
These 11 quotes from some of the women working to send the incoming White House administration a powerful message about the need to protect women's rights and the rights of vulnerable and marginalized communities will get you fired up to march Jan. 21.
1. Breanne Butler, Co-Founder & Global Coordinator
Breanne Butler, one of the march's global coordinators who has helped to organize more than 300 sister marches across the United States and overseas, tells Bustle about the driving force behind the march: "We're all rallying together. We're unifying," she explains. "We're uplifting the voices that have been marginalized for a long time, particularly in this past year, and we're coming together in one voice and making a strong statement to the upcoming administration: 'Hey, we're here, we're watching you. Welcome to the White House. We are not going to be silenced any longer.'"
"It's really the start of a new movement," she adds.
2. Butler On Participating In The Women's March
Butler tells Bustle about organizers' aim to educate, organize, and mobilize, saying, "I think that there's been a lot of walls built up in terms of political activism." She continues "Even myself, I felt like I had no business getting involved in politics. I'm a chef. I'm from Detroit, Michigan. I've never done anything political in my life. But it's the need to instead of just being depressed and not doing anything and just watching things in a downward spiral, actually stepping up and getting involved.
"It's that first step and if we can be there to support people along the way and give them the confidence that they need, we're going to shed that stigma [on political activism]," she adds.
3. Tabitha St. Bernard-Jacobs, Youth Initiative Coordinator
Tabitha St. Bernard-Jacobs, the march's Youth Initiative Coordinator, explains to Bustle why she refuses to give up on this nation: "I believe that when you love something, you don't sit by and watch it self-destruct," she notes. "Trust me when I tell you that I sent my family an email saying that I would be moving to Canada if Muslims are forced to register. But that's not the solution because then the hate just festers and becomes the dominating energy of this amazing country."
4. St. Bernard-Jacobs On Why She Decided To Become Involved
"My son is an American and I want to show him that actionable activism can make change and the responsibility for that is on each individual," St. Bernard-Jacobs, who immigrated to the United States from Trinidad when she was 19, tells Bustle about her personal motivation for getting involved with organizing the Women's March on Washington.
5. The Women's March On Washington's Policy Platform I
"Women have intersecting identities and are therefore impacted by a multitude of social justice and human rights issues," the platform of the Women's March on Washington states.
6. The Women's March On Washington's Policy Platform II
In a four-page document outlining the specific principles and vision of the march, the organizers behind the Women's March on Washington state:
Our liberation is bound in each other's. The Women's March on Washington includes leaders of organizations and communities that have been building the foundation for social progress for generations. We welcome vibrant collaboration and honor the legacy of the movements before us.
7. Bob Bland, National Co-Chair
"Inclusivity isn't just part of the march, it is the foundation of this march," national co-chair Bob Bland told the Washington Post's Sandhya Somashekhar. "We are deeply, profoundly divided as a nation and in order for us to heal those wounds we need to basically take all of the different groups that were not given a platform, were not given a chance to speak, and ensure that there voices are heard."
8. Bland On The Importance Of Diverse Leadership
"We must have proportional leadership of all, not just women. When you look at the face of this nation, that needs to be the face of our leadership," Bland told the Washington Post.
9. Tamika D. Mallory, National Co-Chair
"We can't receive justice if we are not able to collaborate with other races, people from different backgrounds, to stand in solidarity," Tamika D. Mallory told the Huffington Post. "We're working around the clock to pull together what we believe will be one of the most historic moments of women from different races coming together to make our voices heard on issues pertaining to marginalized communities."
10. The Women's March On Washington Mission Statement
"This march is the first step towards unifying our communities, grounded in new relationships, to create change from the grassroots level up," the march's official mission statement states.
11. Linda Sarsour, National Co-Chair
"Women are intersectional human beings who live multi-issued lives," Women's March on Washington national co-chair Linda Sarsour wrote in an op-ed for Women's Media Center. "When we are protected, when we are respected, when we are able to thrive and given the same opportunities as our male counterparts, when we are given space to lead and rise — our nation will rise."
And the day after Trump is elected, these women's voices will be heightened at the historic march, and there's no reason your own voice shouldn't be heard too.