Why Kylie Was Always The True Star Of 'Keeping Up With The Kardashians'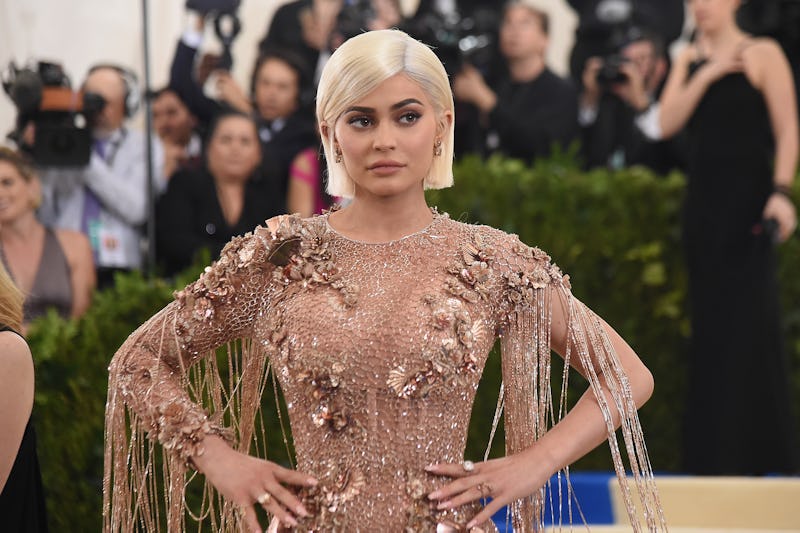 Nicholas Hunt/Getty Images Entertainment/Getty Images
Despite being the youngest Kardashian sister, Kylie Jenner's career has gone stratospheric in the past few years. At just 20 years old, Kylie already has a super successful make-up brand, Kylie Cosmetics, famous for its inimitable lip kits. In August 2017, it was reported that Kylie Cosmetics was worth $420 million already, despite having only been trading for 18 months. As if that wasn't impressive enough, the brand is on track to be a billion dollar company by 2022, something that established beauty brands often take decades to achieve. Perhaps there were signs all along that Kylie was the star of Keeping Up With The Kardashians.
This summer, Kylie's own show, Life Of Kylie, gave fans a behind-the-scenes look at the reality star's busy life. As an avid social media user, Kylie connects with her fans on a daily basis via Instagram and Snapchat, but her show provided an insight into how the young star is handling global success, and dealing with the most important relationships in her life (including moving on from Tyga).
Now that she's the star of her own show, it's clear that Kylie was always ready for the big time, but which moments in the past predicted Kylie's rise to superstardom? Here are just some of the signs fans should've seen coming that Kylie was the real star of Keeping Up With The Kardashians.
1. When She Coined The Phrase "Like, Realizing Stuff"
Kylie's way with words has inspired a generation of memes and T-shirt slogans.
2. That Quirky Sense Of Humor
As Kylie discussed in Life Of Kylie, she's always been considered the strange and funny sister, thanks to the videos and photos she shares on social media. Her ability to laugh in any situation, and the fact that she's prepared to share her unique humor with fans online, make her totally adorable.
3. Her Perfect Hair (And Wigs)
Kylie has never been afraid to change her hair color, and has always experimented with wigs. Despite being in the public eye, Kylie isn't afraid to mix up her image, which has made her instantly iconic. She never plays it safe.
4. Her Penchant For Junk Food
This is just so relatable.
5. Her Love-Hate Relationship With Kendall
In Life Of Kylie, Kylie revealed that if Kendall wasn't her sister, the pair might not be friends, because there are such different people. But their love-hate relationship makes it easier to connect with the Jenner sisters, especially for anyone with a challenging, or unusual, sibling relationship. She's a problem-solver!
6. Her Down To Earth Approach To Being A Celebrity
Kylie has dealt with a lot of criticism throughout her career, from comments about her lip fillers, to shade about the quality of her lip kits. But her ability to shrug off that criticism, and apologize when she needs to, means that she's always been easy to relate to, and destined for celebrity.
7. And Her Willingness To Be Open With Her Fans
Her willingness to be open about some of the most distressing aspects of her life, including her difficulty relationship with celebrity, foreshadowed her rise to fame. She's willing to own her faults in a way that many celebrities aren't, which makes her all the more accessible.
8. Her Cleanliness
Not only does Kylie Jenner have flawless make-up, she has always understood that cleanliness is next to godliness.
9. Her Chameleon-Like Ability To Change
Kylie's style is constantly evolving, and that's what keeps her fresh. Instead of sticking to one image, Kylie is continually exploring new looks, and expressing her identity in unexpected ways.
10. She's Always Encouraged Fans To Love Who They Are
Kylie has never been afraid of discussing tricky issues like body image, and her positive approach to self-love has made her a role model for fans worldwide.
11. Her Impeccable Annoyed Face
Iconic.
12. Her Kim-spiration
Kylie has made no secret about her desire to look like sister Kim, and what better role model to have than Kim Kardashian? She's had a savvy entrepreneur with impeccable style to look up to her entire life.
13. Her Natural Progression To Make-Up Mogul
Kylie's love of make-up has always been evident, and as a fan of Keeping Up With The Kardashians, it's been exciting to watch her passion for beauty products develop.
The youngest Kardashian sister might have been a kid when the show started, but there were signs all along that she had so much to offer. Kylie Jenner might already own a $420 million company, but it's clear that she's just getting started.