The 11 Most Moving Quotes From Stephen Hawking's 'A Brief History Of Time'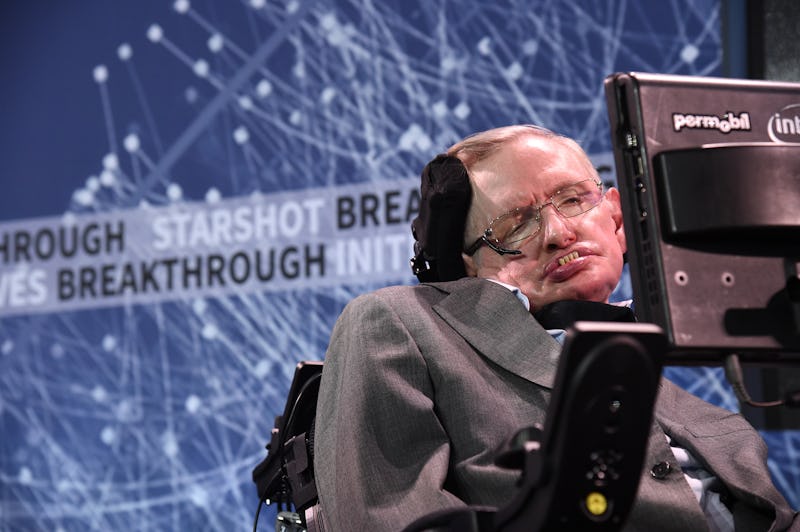 Bryan Bedder/Getty Images Entertainment/Getty Images
When Stephen Hawking died on Wednesday at age 76, the scientific world lost one of its brightest and fiercest stars. It also lost one of its most effective ambassadors, a pop culture icon whose accessible science writing, including many incredible quotes from A Brief History of Time, has inspired entire generations of readers to keep learning, keep exploring, and keep asking questions about the universe around them.
When he set out to write A Brief History of Time, Hawkings wanted to create an accessible book about the origin, structure, and future of the universe that every day readers could pick up and understand. His writing may have been about complex phenomena like the Big Bang and black holes, but according to his longtime book editor Peter Guzzardi, Hawkings was "the rare academic who wanted just that — to bring his esoteric scholarly work to the attention of the masses." With his popular science books, that is exactly what he did.
Despite being dubbed "the most popular book never read," A Brief History of Time is in fact one of bestselling popular science titles in the world. Originally published in 1988, it has has sold over 10 million copies worldwide over the last 30 years, and has been translated into more than 35 languages. As his former colleague once famously put it, Hawking has "sold more books on physics than Madonna has on sex."
Hawkings took it upon himself to explain the popularity of his book in the introduction of its illustrated edition, saying "The success of A Brief History indicates that there is widespread interest in the big questions like: Where did we come from? And why is the universe the way it is?" Thanks to the famed physicist's many contributions, including his accessible popular science books, every day readers have an opportunity to try and answer those very things.
A Brief History of Time by Stephen Hawking, $10.63, Amazon
Stephen Hawkings may be best known as a man of science, but these 11 stunning quotes from A Brief History of Time prove the physicist had a way with words, too.