Al Franken Did Not Hold Back Against Jeff Sessions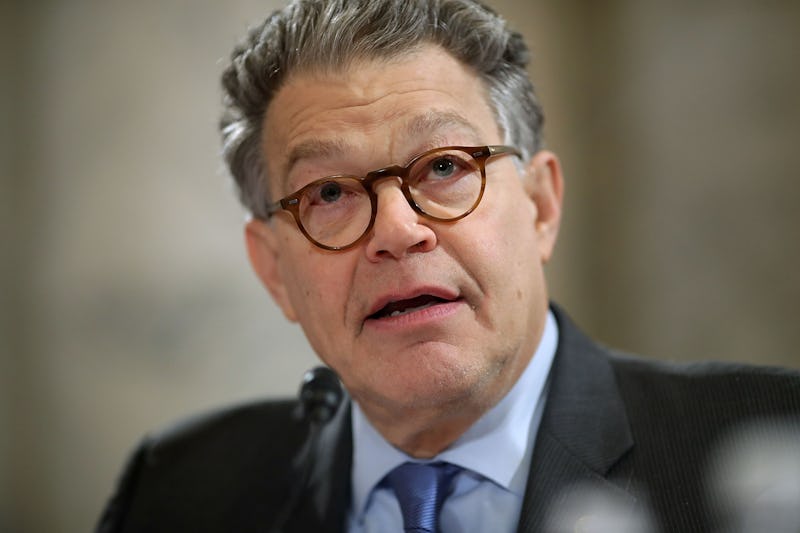 Chip Somodevilla/Getty Images News/Getty Images
In preparation for President-elect Donald Trump's inauguration on Jan. 20, Cabinet confirmation hearings for the new administration have begun. Up first is Sen. Jeff Sessions' confirmation hearing for attorney general. Though the hearing began with protests, things got intense when Sen. Al Franken questioned Sessions' history with civil rights cases.
In January 1986, as a U.S. attorney from Alabama, Sessions was selected as President Ronald Reagan's pick for U.S. District Judge for the Southern District of Alabama. However, at his four-day confirmation hearing, he faced allegations of racist remarks, and in the end was not confirmed for the position. Trial attorney Gerry Herbert testified that he relayed to Sessions that a judge had called a white lawyer who represented black clients "a disgrace to his race" and Sessions replied, "well, maybe he is," according to ABC News. Sessions's response was that it was disturbing, but he didn't deny the accusation:
I understand that that statement has been made, and I recall a conversation in which that was mentioned and I may have — I believe the statement was I had said 'maybe he is,' and that is really disturbing to me. I suppose — I do not know why I would have said that, and I certainly do not believe that.
His former assistant, Thomas Figures, who is black, also claimed Sessions repeatedly called him "boy," which Sessions denied, according to ABC News.
Franken began questioning Sessions on the number of civil rights cases to desegregate schools he claimed to have filed. He then went on to raise concerns over information in a confirmation questionnaire Sessions had filled out. In the document, Sessions had listed four civil rights cases as significant court cases he had personally litigated. However, several Justice Department attorneys who oversaw three of the cases wrote an op-ed for the Washington Post at the beginning of January claiming that Sessions had barely touched the cases.
Sessions argued that he had worked with the Justice Department to bring the cases in and give them office space. According to Talking Points Memo, he said:
I signed them. I supported cases. And I attempted to be as effective as I could be in helping them be successful in these historic cases. I did feel that they were the kind of cases that were national in scope, and deserved be listed on the form.
Franken holding Sessions accountable for the things that didn't quite add up was a powerful moment in the hearing. He became a hero of sorts on Twitter, with people praising his toughness and determination to hold Sessions to his word. Below you'll find the best tweets about the exchange.
Here are 11 ways Franken asked Sessions the tough questions that you've been waiting for.
Franken Was Certainly Direct
A tough question to answer.
He Didn't Come To Flatter
Franken had one job to do Tuesday: hold Sessions accountable for his past actions and statements.
When It Became Clear Sessions Had Stretched The Truth
Sessions' response honestly shows that he inflated his resume.
Franken's Remark That Spoke Volumes
During the questioning, Franken admitted that he was not a lawyer, implying that although he was not trained in law, he could clearly see that something wasn't adding up. And he was right.
When Franken Was In Disbelief Over Sessions' Response
Just like group projects in high school, your name on a court case document does not necessarily mean you contributed anything.
When Sessions Got Defensive
It's not a great sign when you have to go on the defense in your own confirmation hearing.
Some Comparisons Were Drawn
It's not a bad thing to be compared to a fictional character who was a fighting for truth and justice.
Franken Didn't Back Down
It was good to see some pushback during the confirmation hearing of such a powerful role, and to see a senator hold another accountable for his actions.
A Call For More
Franken's questioning wasn't offensive or over the line. He simply shed light on some inconsistencies that people need to be aware of about the future attorney general.
Overall, It Was A Tense Discussion
But a necessary discussion, nonetheless.
To Sum It Up
Hopefully, we'll see more of this line of questioning with the remaining cabinet confirmation hearings to come.