These Women Are Standing Up To Donald Trump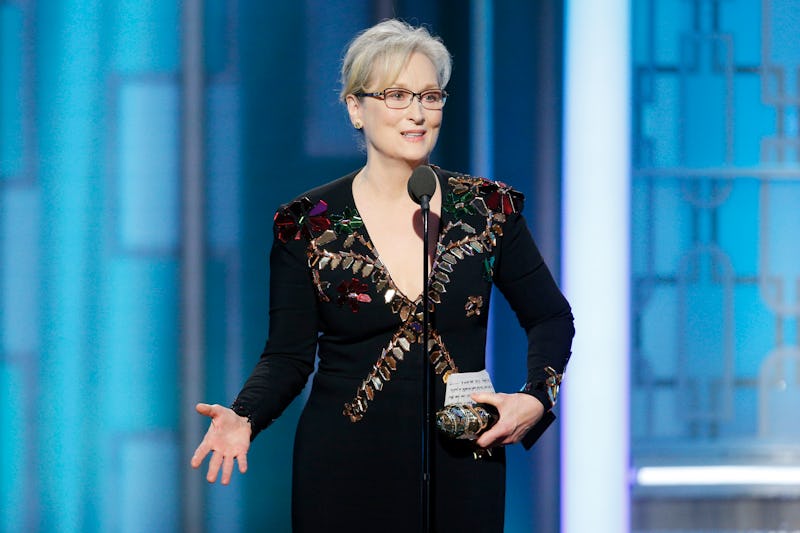 Handout/Getty Images Entertainment/Getty Images
If the way that President-elect Donald Trump has conducted himself throughout the campaign is indicative of his time in office, it's going to be a hard four years (at least) for women in the United States. Since he was elected, many women are making it clear that enough is enough. In fact, several women have already taken a stand against Trump and used their star power to urge others to do the same.
Some lasting criticism of Trump stems from the time he dismissed bragging about being able to grab a woman by her genitals without permission as "locker room talk." He also claimed he had never acted on it. And then there are the times he's insulted women for their looks and suggested that women who obtain abortions should be punished. Later, his campaign suggested that he actually meant doctors who administer the procedure should be punished, not the women themselves. All the while, he's promised that he's a "good for women."
But the day after the election, thousands of women will march together across the country to send a clear message to Trump during his first day in office. The Women's March on Washington shows that there is power in solidarity and that women's rights must be considered human rights. Outside of the march though, many women have used their voice and their positions to boldly speak out against the President-elect. Here are some of the women who have made it clear that four years of Trump won't break them.
1. Lauren Duca
Teen Vogue has been killing it, and that is largely thanks to Lauren Duca. Her piece, "Donald Trump Is Gaslighting America," is absolutely required reading as we enter into the Trump presidency because of lines like this: "The good news about this boiling frog scenario is that we're not boiling yet. Trump is not going to stop playing with the burner until America realizes that the temperature is too high. It's on every single one of us to stop pretending it's always been so hot in here."
2. Meryl Streep
Meryl Streep: award-winning actress, feminist fairy godmother, and, as evidenced by her speech at the Golden Globes, Trump critic extraordinaire. Streep used her lifetime achievement award acceptance speech to speak out against the President-elect. "Disrespect invites disrespect. Violence incites violence. When the powerful use their position to bully others, we all lose," she said, referencing Trump's behavior. "We need the principled press to hold power to account, to call him on the carpet for every outrage."
3. Phoebe Pearl
Phoebe Pearl became the poster child of Rockette resistance, even if she didn't intent to be. Her private Instagram post, which somehow ended up on Perez Hilton, expressed her dismay that the Rockettes were asked to perform at Trump's inauguration.
4. Cecile Richards
As the CEO of Planned Parenthood, Cecile Richards will likely have her work cut out for her once Trump takes office. Just after Trump clenched the election, Richards sent out an email expressing her disappointment with the results, but also left Planned Parenthood supporters with an uplifting message: "And now four more words. the most important ones: THESE. DOORS. STAY. OPEN."
5. Women in Hollywood
Men and women from all genres of TV and film gathered together to make a PSA for Congress, urging them to stay accountable to their constituents (yes, even the famous ones) during Trump's time in office.
6. Elizabeth Warren
Sen. Elizabeth Warren is infamous for holding her fellow politicians' feet to the fire, and she's made no exception with Trump. As the President-elect's cabinet took shape, Warren criticized what she believed was a broken promise to "drain the swamp," further urging Trump to replace the lobbyists and insiders. And if he doesn't? "Let me be clear. Should you refuse, I will oppose you, every step of the way, for the next four years," she said in a statement. "I will champion the millions of Americans you will fail to protect. I will track your every move, and I will remind Americans, every day, of the actions you take that fail them."
7. Jennifer Holliday
Broadway singer and Dreamgirls star Jennifer Holliday was at the receiving end of a massive backlash when she announced that she would be singing at Trump's inauguration. Ultimately, however, she decided to drop out to protect her LGBT fans.
8. Megyn Kelly
After months of being the subject of much of then-Republican candidate Trump's ire, Megyn Kelly finally came forward to speak about Trump's supposed "attempted bullying" of her in her book, Settle For More, which came out in November.
9. Leslie Knope
Because Leslie Knope is definitely real and not just a television character, she penned a lovely letter to America after Trump was elected, which was published on Vox. There was a lot of hot chocolate involved, which was much-needed, but there was also this amazing passage addressed to girls alleging: "Our president-elect is everything you should abhor and fear in a male role model ... It is your job, and the job of girls and women like you, to bust out."
10. Rosie O'Donnell
Rosie O'Donnell, who was once known as a comedian and now known as Trump's number one enemy, hasn't stopped her (often tweeted) tirade against him since he was elected to office. Most recently, she issued a call to somehow impose martial law to stop him from assuming office.
11. Gloria Steinem
Among many inspiring remarks that she delivered just after the election, feminist icon Gloria Steinem was one of the women who called for Americans to donate to Planned Parenthood in Vice President-elect Mike Pence's name. After all these years, she's still got it.
As women from across the country take to the streets of D.C., they will certainly have the support of hundreds of thousands of strangers to lean on. But after that fanfare has faded, remember the wise words and actions of the women who, as individuals, have stood up to Trump, and use that to keep on pressing for change.