11 Lit AF World Cup-Inspired Outfits That Truly Embody Football Coming Home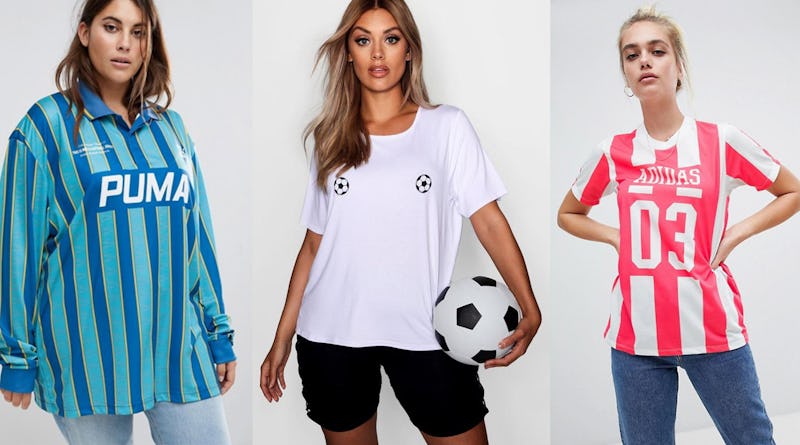 ASOS, Boohoo
I'm going to let you into a little secret: It's coming home. You may have heard enough of that particular saying over the past few days but the nation has well and truly gone football mad. If you want to show your support for England's semi-final (and hopefully final) match, you can do via this handy selection of World Cup fashion.
Now, it's pretty common to think that football and fashion don't go together. But I'm here to tell you that you're wrong. Global fashion search engine Lyst has seen a huge rise in the number of women searching for football-related clothes. Although it's obvious that more people will be searching for football everything in a World Cup year, it's surprising to see that women's searches increased by 210 percent from May to June this year.
It may be down to the fact that plenty of brands have designed unique football-inspired clothes over the past few months. While Versace has taken over the high-end market, the likes of ASOS, Boohoo, and adidas have released several more affordable styles.
You don't have to support a particular team. There are dresses and tees that pledge allegiance to no one, giving you the chance to get into the World Cup spirit without sacrificing your usual style. Just take a look at some of the options on offer. And don't forget to take advantage of next day delivery to ensure you have your new sporty wardrobe ready in time.