Instagrams To Share & Show Your Support For Trans Military Members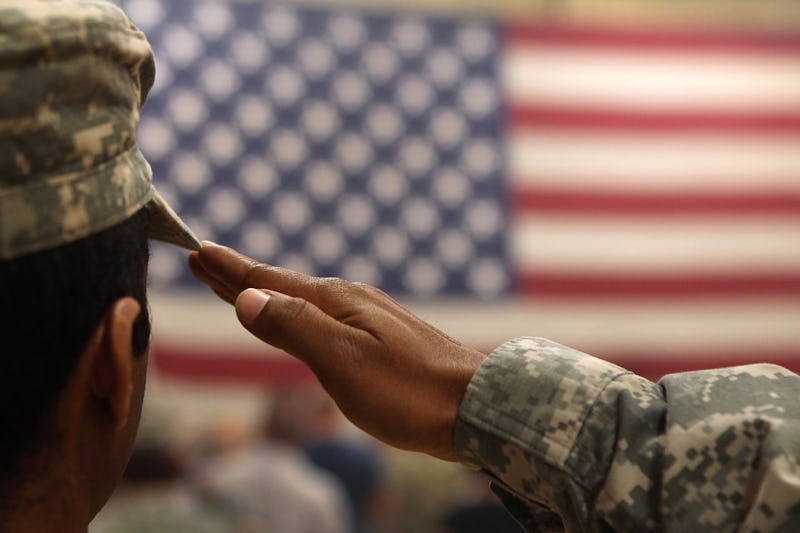 John Moore/Getty Images News/Getty Images
If you haven't heard, President Trump took to Twitter to announce on Wed., Jul. 26, that he would be reinstating the ban on transgender Americans serving in the military — effectively destroying the stride towards equality that President Obama had just finally made last year when he allowed members of the transgender community to enlist in the military. In a series of tweets, President Trump said:
"After consultation with my Generals and military experts, please be advised that the United States Government will not accept or allow ... Transgender individuals to serve in any capacity in the U.S. Military. Our military must be focused on decisive and overwhelming ... victory and cannot be burdened with the tremendous medical costs and disruption that transgender in the military would entail. Thank you"
While it's hard not to be devastated by Trump's many blows to the LGBTQIA+ community, it's important not to become unfazed. It's important to find the will to fight and stand up for the community that's entirely under-represented in our administration. We can't get used to this type of news, we have to feel the urge to resist and fight just as much now as we did when he first took office.
One of the best substitutes for a soap box these days is social media. Not only is it a place to voice our options, but it's a place to inspire the opinions of others. And without the odds in our favor, it's beyond necessary for all of us to come together and support to trans community by making our voices heard and letting our communities local representatives know where we stand. Trans troops are not a "burden," they're an asset that we should be deeply grateful for.
So now is the time to use your social media to speak up for those who can't. If you want to add your voice to the collective, but can't find the words, here are some Instagrams that are currently going around to show support for trans military members. If you'd like to post on your account, simply regram or take a screenshot and repost. Our LGBTQIA+ siblings need us right now, so dedicate a post to them, to show your support — all of our voices together just might be loud enough to make a change.
Human Right Campaign
Straight To The Point
Trans Rights Are Human Rights
A Relevant Quote
Keep On Fighting, Keep On Resisting
Equality In The Military
Obama's Words
Protect Trans Americans
Equality For All
Not A Burden
Protect Trans Troops
I Stand With My Trans Brothers And Sisters