12 Storylines That 'RHONY' Absolutely Needs Feature Next Season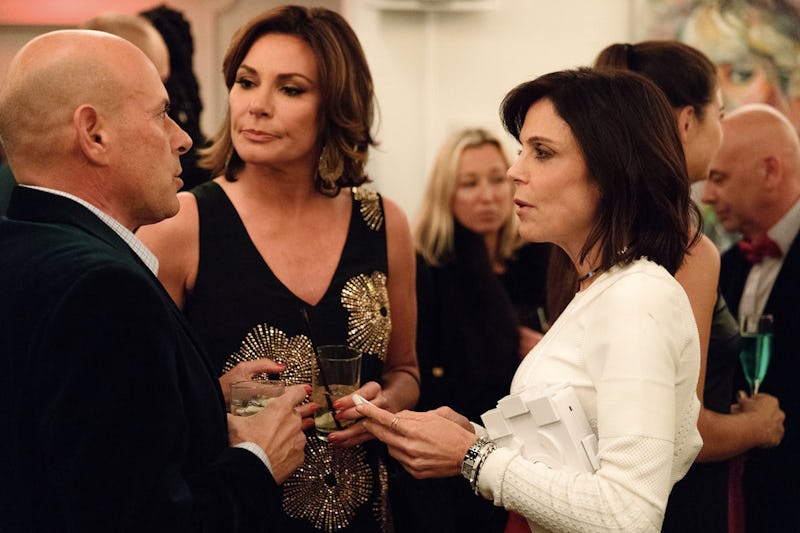 Greg Endries/Bravo
Let's be honest: Season 8 of Real Housewives of New York City was the best season yet. As expected, it was tough to follow that and Season 9 was just so-so — well, until the Mexico trip. Now, stakes are high for Season 10, and there are some story lines that need to be addressed on RHONY next season.
Unfortunately, the cameras aren't rolling all year long, but they really should be. There's just too much going on with these ladies to keep up. Thank God for the honorary RHONY cast member Page Six for always being there with the Housewives' exploits all year long. And, of course, fans get to see what the ladies are up to on social media during the off-season.
Season 9 was alright. Not much happened except for the epic Mexico trip that straight up saved the season, but it really left the fans wanting more. Just as the season really started to get going it just stopped.
Then, Luann de Lesseps left the viewers in the lurch by announcing that she and Tom D'Agostino were getting a divorce after the reunion episodes filmed, but before they aired. Of course, this lead to Luann getting her own one-on-one sit down interview with Andy Cohen. Smart move on her part, but now the fans have more questions than answers and there is a need to address the split with Tom and everything else on Season 10.
But Luann's divorce isn't the only thing that needs to be talked about. Here are the story lines that need to be addressed on the upcoming RHONY season.
1. Luann's Life As A Single Lady
As epic as Luann and Tom's relationship was, nothing compares to single Luann out on the prowl at Beautique or other New York City hot spots. Luann is not the type to shed tears of heartbreak on TV, but seeing her get back into the dating scene will make for some great TV.
2. Sonja's Love Triangle
Even though Sonja Morgan as a single lady provided season after season of quality television, it's such a Sonja Move that the one time she's "tied down," it's to two different guys. Somehow Sonja has managed to keep her love triangle with Rocco Ancarola and Edgar Vaudeville aka Frenchie going and she needs to keep that story going (or conclude it) during Season 10.
3. Bethenny's Charity Work
Bethenny has been working tirelessly with her B Strong foundation to delivery supplies and medical help to people affected by the hurricanes in Houston, Florida, Mexico, and Puerto Rico. It would be nice to see this side of Bethenny on the show and give some perspective about what's really important in life.
4. Ramona's Dates
Ramona Singer is always bragging about all of the dates she goes on and how her love life is so busy, but she never actually shares the details about who she's dating or how serious things are during the episodes. For someone who doesn't hold back in any other category, this is pretty surprising. It would be great to see Ramona flirting it up and connecting with her suitors.
5. Carole's Relationship Status
Are Carole Radziwill and Adam Kenworthy dating? Carole said that she "took a step away" from her relationship with Adam during the Season 10 reunion, but what does that even mean? Are they just friends? Are they engaging in some sort of friends with benefits situation?
6. Tom's Love Life
Even though Tom was never even a cast member, he has provided the fandom with endless amounts of meme and GIF-worthy content. He's not with Luann anymore, but he clearly has a big connection to this show (and to Ramona and Sonja), so it would be logical for Tom to appear on the next season in some way. At the very least, a Tom update would suffice.
7. Avery's Post-College Life
Even though she hasn't had a major role on this show, Avery Singer has always been the voice of reason on RHONY. She was wise beyond her years even when she was just a kid, and now that she's a college graduate, she has even more wisdom to bring to the table. It was gold last season when Avery and her friends gave Ramona advice about her feud with Bethenny. RHONY needs more Avery next season.
8. Tinsley's Relationship
It took a little while for Tinsley Mortimer to come into her own as the new girl on RHONY during Season 9, but she ended up moving out of Sonja's townhouse and started dating Scott Kluth after Carole set her up. Tinsley announced at the reunion that she's moving in with Scott this fall (i.e. when the show usually starts filming) during one of the reunion episodes.
9. Dorinda Hanging With Other Housewives
Dorinda Medley was the only person who consistently brought it during an otherwise lackluster season earlier this year. It would be amazing to have some sort of crossover episode with Dorinda and her friends from other Real Housewives shows.
10. Dorinda's Growing Empire
Dorinda yelling out "clip, clip, clip" and declaring, "I'll tell ya how I'm doing, not well, b*tch" were absolutely iconic moments from Season 9. So, it makes sense that Dorinda is capitalizing on her quotes by selling merchandise with her catchphrases. It would be so interesting to see Dorinda building up her empire on RHONY.
11. Carole's Best Friendship With Andy Cohen
Why has this never been a storyline on the show? Andy Cohen has always been open about the fact that he and Carole Radziwill have been close friends for years, pre-Housewives. It would be amazing to see Andy at lunch with Carole or even in the background at one of her events.
12. Sonja's Business Ventures
Sonja building up her brand is something that will never get old. From her toaster oven to her clothing line, there will always be some level of intrigue about her projects and whether or not they are actually going to come to fruition. Not only that, but Sonja interacting with her plethora of interns is always hilarious.
The true fans of Real Housewives of New York City will never stop watching the show, but if Season 10 included everything above it could be the best season yet.