13 Things You Should Read To Better Understand The Ford-Kavanaugh Hearing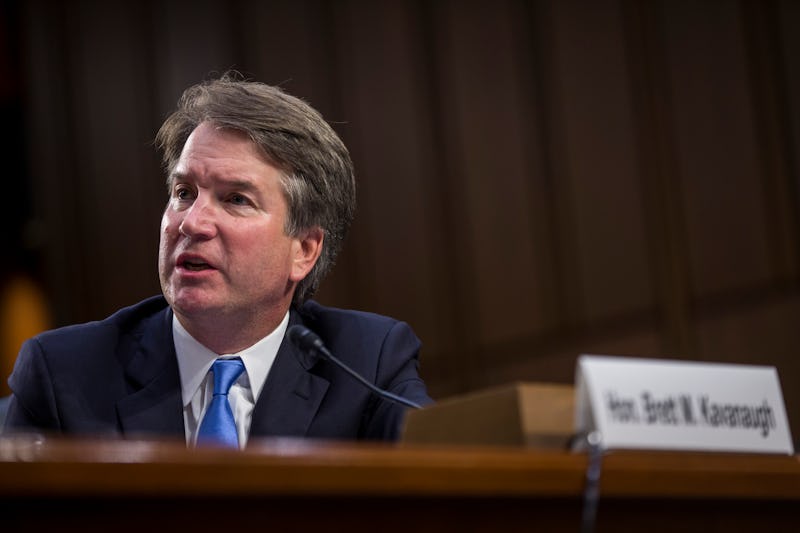 Zach Gibson/Getty Images News/Getty Images
On Thursday, Christine Blasey Ford will testify in front of the Senate Judiciary Committee and the world about her sexual assault allegation against Brett Kavanaugh, which he has repeatedly denied. There have been lots of different stories and conversations going around, making the allegations and the hearing hard to keep up with. But if you're looking to know more, there are some articles you can read about Ford, Kavanaugh, and what is likely to be discussed at the hearing.
The hearing will be streamed on C-SPAN as well as the Senate Judiciary committee's website, and if you're planning on tuning in to the hearing, you're far from alone. A poll from NPR/PBS NewsHour/Marist that was released Wednesday found that 58 percent of Americans are planning to closely follow the proceedings in some way. The poll also found that a plurality of those surveyed — 42 percent — aren't yet sure whether they believe Kavanaugh or Ford.
But if you are going to watch the hearing, you should go into it prepared. Here are some reading suggestions to make sure you're up to date on the background, context, partisan biases, and other dynamics at play.
An Overview Of All The Accusations Against Kavanaugh So Far
Read this Vox explainer by Li Zhou to get the concrete details known so far about the allegations from Ford, Deborah Ramirez, and Julie Swetnick (whose sworn statement had not yet been released when this article was published), as well as how Kavanaugh has denied them.
The Initial Interview
Learn more about Ford, her claims, and how she struggled with the decision to come forward in her interview with Emma Brown of The Washington Post.
Kavanaugh's Letter In Response
To understand what Kavanaugh says did or didn't happen, read the letter he wrote to the Senate Judiciary Committee on Monday.
The Prosecutor: Background On Rachel Mitchell
Written by Antonia Noori Farzan, check out The Washington Post's profile on Rachel Mitchell, the sex crimes prosecutor that the Republicans on the Senate Judiciary Committee hired to question Kavanaugh and Ford. (Ford's lawyer has expressed concern over Mitchell's appointment because "this is not a criminal trial.")
Power Dynamics At The Hearing & Anita Hill
Many are likening Ford's allegations to the case of Anita Hill, who accused Clarence Thomas of sexual harassment when he was nominated to the Supreme Court (he denied the allegation). It's now a common opinion that Hill was treated with sexism during her hearing; read this Washington Post article by Soraya Nadia McDonald for insight into why that is. Then, read Hill's New York Times op-ed from Sept. 18 to learn how she thinks we can do better this time.
Power Dynamics Outside The Hearing: "Elite Impunity"
Slate's Jamelle Bouie offers a reflection on "our era of elite impunity" and touches on how the treatment of Kavanaugh differs from the treatment of teenagers with marginalized identities who are accused of crimes.
The Difference Between This Hearing & A Criminal Trial
The Sixth Amendment to the U.S. Bill of Rights establishes that the accused are presumed innocent until they are proven guilty in a court of law. But of course, this hearing isn't in a court of law.
In a must-read New Yorker piece on what a serious investigation of Kavanaugh might look like, Harvard Law professor Jeannie Suk Gersen asks "whether Kavanaugh is best compared to a defendant who has been accused of a crime and stands to lose his liberty, or to a student who has been accused of misconduct and stands to lose an educational opportunity." (Neither, she concludes.)
Why The Structure Of The Hearing Matters
Who testifies first? Will Kavanaugh and Ford be in the same room when they answer questions? These may seem like minor considerations, but details can confer crucial "advantages" in the trial, so it's important to read about them, as compiled by MSNBC legal analyst Danny Cevallos.
The GOP Bias
From Katie McDonough at Jezebel, read this argument that Republican members of the Senate Judiciary Committee are trying to ensure that Kavanaugh is confirmed regardless what Ford says or does.
The Democrat Bias
This op-ed from The Arizona Republic editorial board argues that Ford's allegations have been treated with partisan bias on all sides. It outlines its case that Democrats have been too willing to say they believe Ford before the conclusion of a hearing or investigation.
Kavanaugh's Teenage Years
Numerous exposés have come out about Kavanaugh's teenage years that indicate that he may have been engaged in heavy drinking and demeaning behavior toward women, though he denies this. A good place to start is this Slate analysis by staff writer Lili Loofbourow on Kavanaugh's yearbook.
Kavanaugh's College Years
Also check out the stories that have emerged from people who knew Kavanaugh during college (compiled here by Adam K. Raymond for New York magazine). While accounts differ, many allege that he frequently got extremely intoxicated, despite the fact that he told Fox News that he's never blacked out from drinking.
On Sexual Assault Trauma
Because our society has traditionally not tended toward "believing women," there's a lot of misinformation out there about what sexual assault is (read what RAINN has to say) and the trauma from assault can involve (see this piece from Lisa Ryan at The Cut). Read up — not to learn what Ford's experience definitely is, but to be able to empathize with what it might be if her allegations are truthful.
Ford's hearing will begin at 10 a.m. ET on Thursday. Don't miss it — but read up in advance to be a critical viewer.