13 Tweets In Response To Trump's Transgender Military Ban That Will Inspire You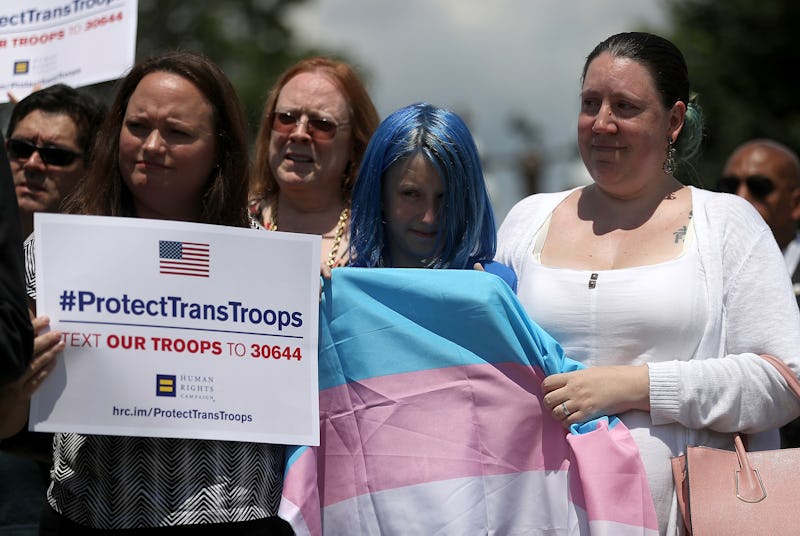 Justin Sullivan/Getty Images News/Getty Images
In the early morning hours of July 26, President Trump announced — on Twitter — that transgender people will no longer be allowed to serve openly in the military "in any capacity." The president wrote that the military needs to be focused on "decisive and overwhelming victory" and couldn't be "burdened" with the "tremendous medical costs and disruption that transgender in the military would entail." The announcement is a reversal of an Obama-era reform that made it legal for trans people to serve openly and that also required the Pentagon to pay for gender affirmation medication and surgery.
But, like with so many of the President's pronouncements, the numbers simply don't back up the tweets. While there are no firm numbers on how many trans people are currently serving in the military, a study commissioned by the Defense Department last year found that gender affirmation-related healthcare costs for transgender military members would cost between $2.4 million and $8.4 million yearly. To give you a little perspective on how "tremendous" a burden that is, the military reportedly spends $84 million on erectile dysfunction drugs. That means that even the highest estimate of the cost for health care for trans service people is one tenth that of medicine to ensure that cis dudes keep getting boners.
Additionally, Congress is currently considering a Pentagon budget of $640 billion for 2018. If that budget passes (which they usually do), then the highest estimated cost would be about 1,000th of one percent of the full budget. "Tremendous," isn't it?
I'm not sure where Trump is getting his information from, but the only "tremendous" thing here is Twitter's response to his tweets. The hashtag #TransRightsAreHumanRights was trending after the president surprised everyone with this policy change. From politicians to celebrities to your average Josephine, there was an outpouring of support for trans service members.
It's also important to remember what ACLU lawyer Udi Ofer points out in his tweet: Tweets are not binding policy changes. In fact, the Pentagon announced the day after Trump's mini tweet storm that trans people will be allowed to continue serving in the military until they're informed of the change by official channels. And despite what our president seems to think, Twitter is not on that list.
But Twitter is a great way express an outpouring of support for marginalized communities that politicians think they can throw under the bus for political reasons. So without further ado, here are 13 inspirational tweets: