Sign Ideas To Protest The Refugee Ban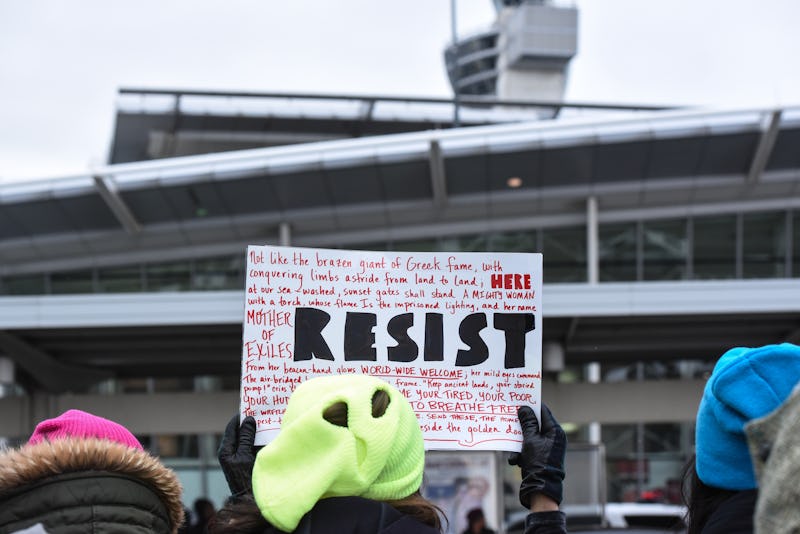 Stephanie Keith/Getty Images News/Getty Images
On Friday, President Donald Trump continued to exploit Americans' fear of terrorism by signing an executive order temporarily banning refugees and immigrants from seven heavily Muslim countries from entering the United States. Protests against the order have broken out at airports nationwide, and if you're headed to one yourself, you're probably looking for sign ideas to protest the refugee ban.
Unfortunately, you have plenty of angles to choose from. According to CNN, the sweeping order bars approximately 218 million people from entering the United States. Legal travelers from seven majority-Muslim countries — Syria, Iran, Iraq, Libya, Somalia, Sudan, and Yemen — have been temporarily banned, and Trump's order put an indefinite hold on the admission of refugees for at least four months while his administration reconsiders admission processes. He also calls for the eventual prioritization of refugees by religion. (If you're interested, you can read the full text here.)
On Sunday, protesters celebrated the decision by a federal judge in New York to temporarily block part of the executive order on the grounds that authorities can't deport individuals from the seven banned countries who arrived before the order was signed. However, protests are still ongoing at airports in New York City, Chicago, Atlanta, and more. If you plan on joining them, here are 13 creative ideas for signs protesting the refugee ban.