Need Something Like 'The Umbrella Academy' ASAP? Read These 15 Books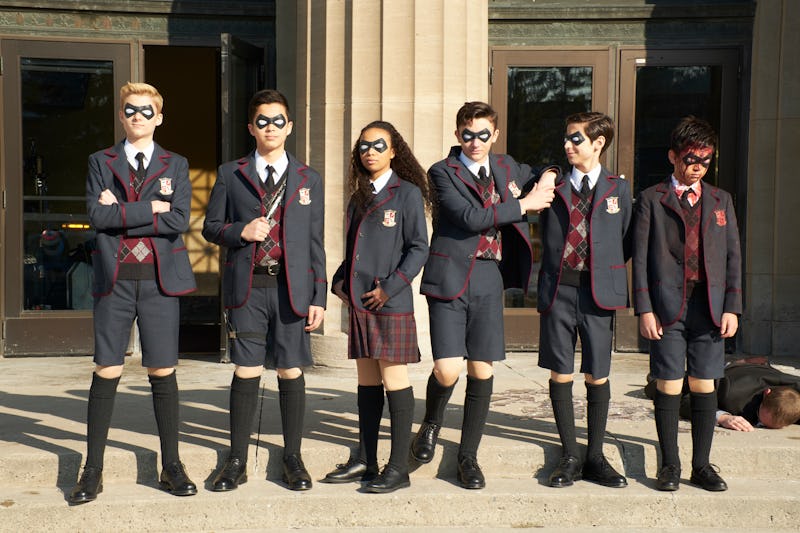 Christos Kalohoridis/Netflix
Netflix's adaptation of My Chemical Romance frontman Gerard Way's comic book series, The Umbrella Academy, has taken the Internet by storm, but with only 10 episodes in its inaugural season, the superpowered fun doesn't last nearly as long as viewers might want. Not to worry, though, because I've got 15 books like The Umbrella Academy for you to read after you marathon it.
Based on Way's 2007 comic book series of the same name, The Umbrella Academy centers on a tiny family of seven, superpowered siblings, all adopted by a wealthy eccentric named Hargreeves, who encouraged them to develop their abilities. Not all of them survived, however, as the unnamed Number Five disappeared after his time-traveling talents went awry, and Number Six — a.k.a. Ben, a.k.a. The Horror — died tragically, and the rest eventually went their separate ways. After Hargreeves' death, the remaining siblings reconnect, somewhat reluctantly, and Number Five returns from the world's post-apocalyptic future to warn his brothers and sisters about the coming doom.
Speaking with Forbes earlier this month, Way said that he "learned a lot from" working with Netflix on the adaptation, and that he "started to think to myself, 'Yeah, this is something I could do. It's a new medium for me and I'd like to do more of this.'" In addition to writing the original Umbrella Academy comic, Way penned a follow-up, The Umbrella Academy: Dallas, in 2008. A third series, The Umbrella Academy: Hotel Oblivion, premiered in October 2018. A fourth series is reportedly in development at this time. Way is also the author of Doom Patrol, and co-author of Cave Carson Has a Cybernetic Eye, both of which are published under his DC Comics imprint, Young Animal.
If you're still itching for more to read like The Umbrella Academy, check out the 15 books I've picked out for you below.