These Are The Best Natural Hair Products Under $12 For Moisture, Shine, And Control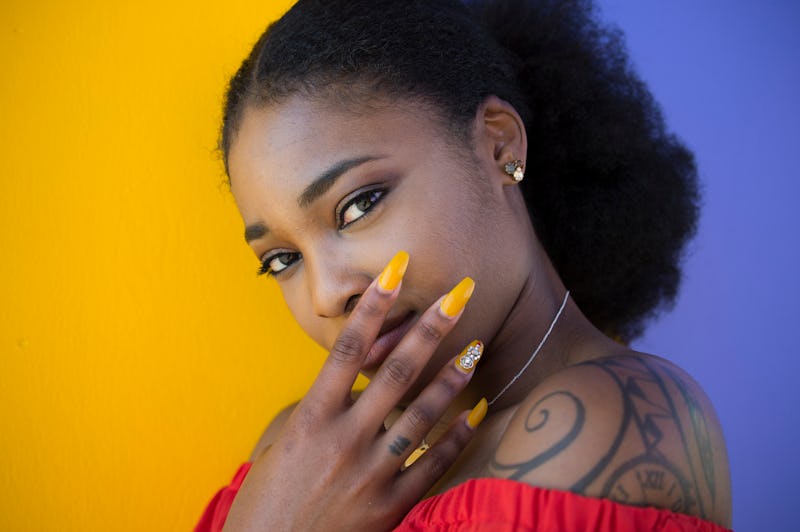 Katie Stratton/Getty Images Entertainment/Getty Images
Your curls may be your crowning glory, but they can cost a pretty penny to maintain when you're slathering your strands in the best of the best. Fortunately, not all grade-A, curl-friendly products cost an arm an a leg. Plenty of worthy natural hair must-haves run for just under 10 buckaroos, keeping a naturalistas tresses going strong without breaking the bank.
A common misconception in the black hair community is that going natural can be more expensive than maintaining a relaxer. While it's true that organic and all-natural products often have steeper price tags, quality ingredients don't always require a major investment. Some of the best curl enhancers, frizz fighters, and hair masks for naturalistas are super affordable, proving that expensive products aren't always superior. If that's your M.O., definitely ball out and pamper your mane with luxe haircare. Just know there are amazing brands that make slaying on a budget an option available, too.
Every girl deserves to splurge on her fro every now and then without totally going broke. So try any of these 18 natural hair products you can buy for a too-good-to-be-true steal of $12 or less, and you'll grow at ease with becoming a product junkie. Getting salon quality hair care at drugstore prices makes the natural hair movement all the more rewarding. Thanks to such all-star brands that give penny pinching a good name, achieving your hair goals has never seemed so easy.
This article was originally published on