Follow These Alternative Twitter Accounts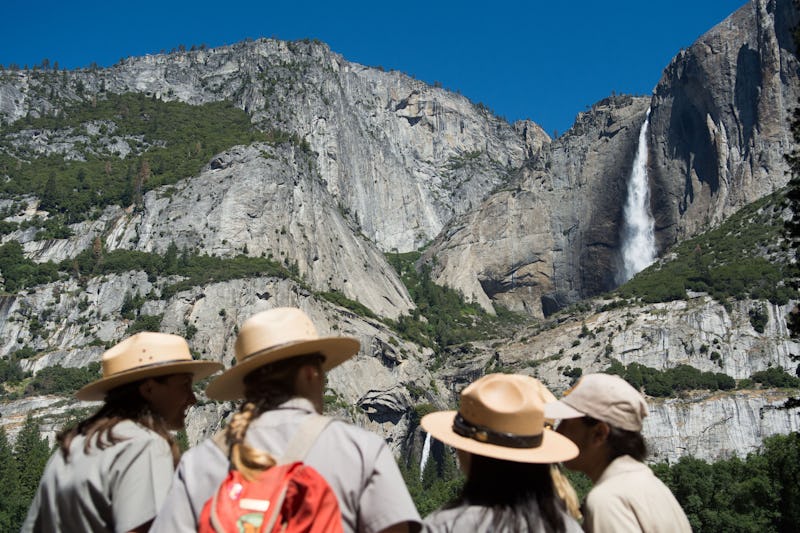 David Calvert/Getty Images News/Getty Images
Soon after the inauguration of President Donald Trump, the new administration put a gag order in place for employees of several government agencies. This temporary media blackout included the Environmental Protection Agency and the Interior Department, among others. But never fear. There are plenty of alternative Twitter accounts you can follow for science facts.
Trump's gag order came after the National Park Service retweeted images that unfavorably compared the size of Trump's inauguration crowd to the larger crowd at President Obama's 2009 inauguration. The NPS was eventually allowed to begin tweeting again, but only after removing the tweets in question and apologizing.
White House Press Secretary Sean Spicer denied that the Trump administration placed a gag order on agencies. During a press briefing, he claimed, "There's nothing that's come from the White House, absolutely not." Either way, the fact remains that Trump did institute a temporary freeze on Environmental Protection Agency grants and assistance, which was lifted on Jan. 26. Not all government employees seemed to be down with the EPA freeze, though, especially due to Trump's prior comments on global warming. Despite saying he didn't, Trump has indeed called climate change "a hoax."
Obviously anyone who believes in the science behind climate change would take issue with that. And who better to spread actual scientific facts about the issue than rogue government employees? Yes, that's right. Several accounts that claim to be run by anonymous government employees have popped up, including "AltUSNatParkService," which has garnered 1.2 million followers.
It's official. The resistance has begun, and the NPS is at the forefront. Here are some alternative science Twitter accounts you can follow to get the facts:
AltUSNatParkService
I guess when you don't take protecting the environment seriously, the NPS will make it a priority to come after you.
AltUSEPA
With the tagline "Environmental conditions may vary from alternative facts," the unofficial "resistance" team of the U.S. Environmental Protection Agency is here to let you know what's going on with the environment.
Ungagged EPA
Because even when it comes to unofficial resistance accounts, you should have options.
Alternative CDC
The alternate account for the Centers for Disease Control and Prevention is unaffiliated with the actual CDC, but that just means they can be even more candid about the impacts of science on health.
AltFDA
This alternative Food and Drug Administration account has been relatively quiet, but whoever is running it is throwing shade like there's no tomorrow.
AltNWS
The alternative National Weather Service account wants you to "come for non-partisan science-based weather, water, and climate info." Sounds like a good deal.
Alternative NIH
This unofficial alternative National Institutes of Health account is standing up for reproductive rights as well as health science.
AltHHS
The alternative Health and Human Services account is "unofficial and unaffiliated," but it is serving up plenty of information about how policy actually affects people.
AltUSForestService
This alternative Forest Service account somehow managed to get more followers than the actual Forest Service account. I'd say that's a pretty good sign for the resistance.
RogueNASA
Rogue NASA isn't run by actual government employees, but feel free to "come for the facts, stay for the snark."
Resistance NASA
If one unofficial NASA resistance account wasn't enough for you, here's another you can check out.
AltUSFWS
This alternative to the Fish and Wildlife Service is "here to educate and push for progress and reason."
AltYosemiteNPS
I'm starting to wonder if all national parks and government agencies will have their own alternative accounts soon. Yosemite is ahead of the game for sure.
AltUSDA
The alternative Agriculture Department is all about taking action and "resisting the censorship of facts and science."
Alternative NOAA
Even the oceanographers are getting in on the resistance. The alternative National Oceanic and Atmospheric Administration account is here to #MASA (Make America Sane Again).
Alt-FAA
The unofficial Federal Aviation Administration wants you to know what's going on, and also that you're safe with them "24/7/365." Aww.
BadHombreLands NPS
The official Badlands National Park Twitter account became famous for tweeting about climate change in spite of the gag order. BadHombreLands is here to continue what Badlands started.
Alt. Sean Spicer
OK, fine, this one's not exactly an alternative science account. But it is a parody account of the provider of "alternative facts" himself. And this alternative press secretary happens to love Dippin' Dots.
More and more alternative accounts for government agencies are popping up. It's pretty clear that if the Trump administration doesn't step its game up, people are going to start heading to non-government sources for their information.