These TV Shows Are So Creepy That They Make Every Day Feel Like Halloween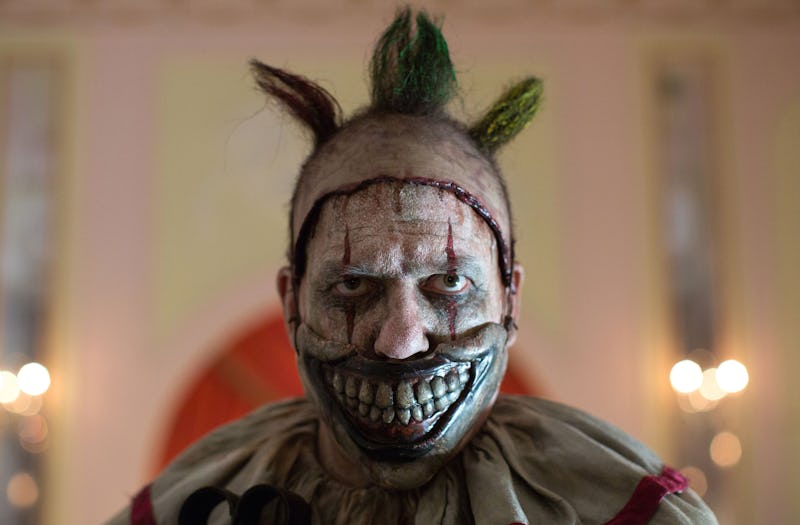 FX
When October hits, that means Halloween is not far behind. And if you like to spend the autumn month gearing up for the spookiest of holidays, then creepy TV shows on Netflix are the best way to set the macabre mood. Unlike scary movies — which may haunt you after they are finished, but are usually under two hours — scary TV series keep the horrors coming for days on end. Whether they are straight-up horror shows or psychological thrillers, these freaky TV series on Netflix will keep you occupied up until Halloween and beyond.
With Netflix focusing on creating so much of its own content, the streaming platform has its fair share of spooky titles on this list. Yet, the majority are shows that ran — or are currently running — on other networks, which adds to the diversity of your frightening TV viewing. For instance, you may have already seen every episode of FX's American Horror Story, but never got a chance to indulge in the gore of Showtime's Penny Dreadful. Well, there's no better time than the fall season to remedy that and give yourself some chills in this chilly weather.
So if you're a person who loves an unsettling October — and hates that all of the horror-filled fun is over once the month ends — carve some pumpkins and some time out of your schedule to watch these creeptastic shows on Netflix.
1. American Horror Story
While Season 7 is currently airing on FX, the first six seasons of Ryan Murphy's horror anthology series are available to stream on Netflix. If you've watched them all before (as previously mentioned), you'll still find new things to scare you in Murder House, Coven, Freak Show, and more.
2. Stranger Things
The Netflix phenomenon enthralled the world with the Monster in the Upside Down for Season 1 and Season 2 of Stranger Things will be here just in time for Halloween.
3. Penny Dreadful
The Showtime series incorporates famous creepy literary characters, like from Dracula, Frankenstein, and Strange Case Of Dr. Jekyll And Mr. Hyde, for its scares.
4. Bates Motel
All you need to know is that this A&E series acts as the prequel to Norman Bates' story in Psycho.
5. River
Stellan Skarsgård plays Detective River, who sees visions of his murdered partner, in this British TV series. And if that wasn't enough to convince you, the review from the Telegraph called it "superlatively creepy."
6. The Twilight Zone
Sure, it may be a little hokey now, but the original series of The Twilight Zone is the gold standard of spooky TV.
7. Scream
MTV's version of the movie franchise will induce some cries of terror from you.
8. The Returned
There are actually two TV shows named The Return on Netflix — the original French version and the American remake. Both deal with the premise of the dead returning to a small town, but — as long as you can handle subtitles — go with the French version since consensus says it's the far superior show.
9. Black Mirror
The popular series explores the horrors behind everyday technology — and has some amazing actors, whose star power will haunt you (in a good way).
10. Dead Set
If you like Black Mirror, creator Charlie Brooker's previous TV series mixed Big Brother with zombies.
11. Salem
This WGN America series gives a truly supernatural take on the Salem witch trials.
12. Twin Peaks
There's levity and silliness in the original two seasons of David Lynch's TV show, but (as the recent revival, Twin Peaks: The Return, proved) Twin Peaks is really about the evil that led to Laura Palmer's death at its core.
13. Law & Order: SVU
Only four seasons of the long-running show are available on Netflix (14 through 17), but that doesn't make the crimes that Olivia Benson faces in the special victims unit any less unnerving.
14. Dexter
With a serial killer as the protagonist, get ready to be disturbed throughout all eight, bloody seasons of Showtime's Dexter.
15. Goosebumps
While Goosebumps might not be as scary as you remembered it to be, it's still worth watching for the nostalgia scare factor — and Ryan Gosling in the "Say Cheese and Die" episode.
16. Ripper Street
Set around the Jack the Ripper killings, this series starring Matthew Macfadyen and Game Of Thrones' Jerome Flynn is gruesome. You won't see Mr. Darcy the same way again.
17. The Walking Dead
The AMC series still has viewers entranced by its zombie apocalypse setting.
Enjoy the nightmare fuel courtesy of Netflix this October and happy creepy streaming!