17 Creepy TV Shows To Watch Once You've Finished 'Stranger Things 2'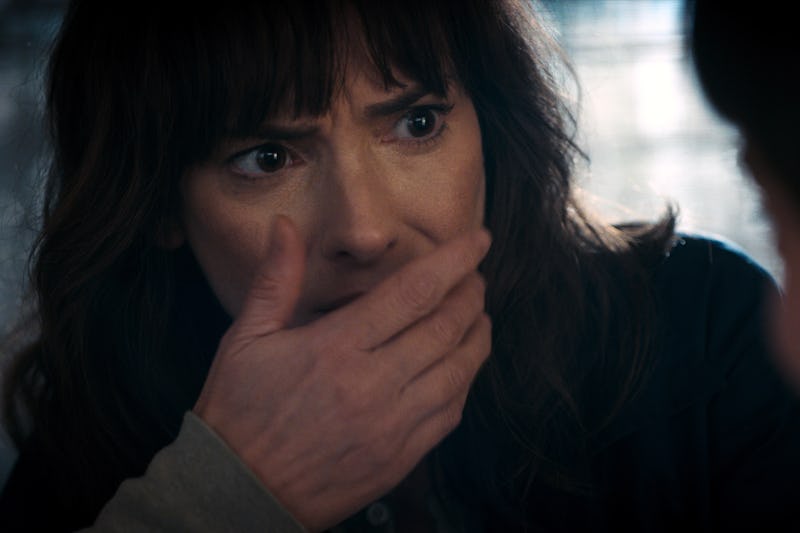 Courtesy Netflix
So, you devoured all nine episodes of the new season of Stranger Things in one weekend and now you find yourself in need of something else spooky to binge. Well, lucky for you, thanks to a boom in the horror genre in recent years, there are plenty of other creepy TV shows to watch that aren't Stranger Things. From hair-raising anthology shows, to serialized scary stories, to creature features, to haunted house fables, there's plenty of fare available that will keep you up at night… either out of fright or the sheer inability to stop clicking "Play Next."
Whether you're a fan of slasher horror or a scaredy cat who eschews jump scares for more ambiguously creepy shows, the peak TV era has gifted us with enough fodder to satisfy any personality type. Just choose which one best fits your mood, and start the marathon!
For the purpose of brevity, this list won't delve into the reams of episode anthology shows — sorry, The Twilight Zone and Black Mirror. It will also remain relatively recent — everybody knows about Buffy and The X-Files; if those shows are your jam, then you probably already know it. Rather, this list will sample some of the best spooky series of the modern era. Happy watching!
1. American Horror Story: Murder House
If you want… haunted house horror.
Obviously, no list of contemporary television horror would be complete without American Horror Story. While the Ryan Murphy creation has many themed iterations in different seasons, keep it classic and check out the original one. Complete with baby monsters in the basement and a two-part Halloween episode, Murder House is still the outright scariest season of a show that has since veered further and further into camp.
2. Ash vs. Evil Dead
If you want… slapstick horror.
If outright scares aren't your thing, leaven your fear with a heaping dose of slapstick physical comedy. This small screen spinoff of the classic Sam Raimi trilogy is getting away with things no other show on TV is doing. Don't believe me? Check out the above clip, but be warned — it is absolutely, 100 percent NSFW.
3. Bates Motel
If you want… serial killer horror.
Five years ago, "modern prequel to Psycho" would have sounded like one of the worst ideas in the history of bad Hollywood ideas. And yet, Bates Motel proved everyone wrong, thanks to Freddie Highmore's and Vera Farmiga's committed and honest portrayals of a troubled young man and his loving, troubled, smothering, dysfunctional mama.
4. Channel Zero: No-End House
If you want… surreal horror.
This Syfy Channel series, adapted from popular creepypasta stories, has been one of the most pleasant surprises of the recent horror explosion on TV. And while the first season was an effective retelling of "Candle Cove," the second season's foray into the demonic dwelling known as "No-End House" took things to a whole new level, featuring some of the most surreal imagery on television that didn't spring from David Lynch's imagination. (More on him in a moment.)
5. The Exorcist
If you want… demon horror.
For many people, The Exorcist is still considered the scariest movie of all time. FOX's extension of that brand is, surprisingly enough, a worthy successor to that classic film, expanding the mythology of the original movie in intriguing ways while serving up some devilishly good scares of its own. And its unexpected Season 2 renewal has somehow yielded an even more confident, bizarre, and terrifying batch of episodes than the first.
6. Fringe
If you want… sci-fi horror.
Like The X-Files before it, Fringe effectively blurred the lines between science-fiction and horror, and between episodic and serialized television. Week-to-week, viewers never knew what they were going to get: a one-off hour of monster mayhem, a character-driven story of inter-dimensional lookalikes… or a gross-out body horror plot that redefines the phrase jaw-dropping.
7. Hannibal
If you want… foodie horror.
It's mind-blowing what Bryan Fuller got away with on broadcast television for three seasons. On NBC's Hannibal he crafted an eye-popping phantasmagoria of murder, psychology, lust, and delicious three-course meals. With corpses laid out like exquisite works of art, a complicated bromance between a serial killer psychiatrist and his mental patient, and scenes of food prep that are equal parts stomach-churning and mouth-watering, Hannibal is a sensual, sumptuous feast for the senses.
8. Harper's Island
If you want… high body-count horror.
Premiering in 2009, this one-season wonder was ahead of its time… just barely. Two years before Ryan Murphy made anthologies cool again, CBS tried to launch its own anthology horror show with this modern-day And Then There Were None. It bombed in the ratings at the time, but has since gone on to amass something of a cult following. And its appealingly simple premise — a group of strangers stranded on an island are killed off one-by-one — makes it perfect for marathoning.
9. Legion
If you want… surreal superhero horror.
Before Josh Boone had the idea to approach a superhero story through the horror genre with his upcoming X-Men spinoff The New Mutants, Noah Hawley (Fargo) created his own horrifying X-Men spinoff on FX. The extent of David Haller's superpowers terrified both him and the audience, with Hawley turning the mutant's mind into a haunted house (sometimes literally) with new nightmares around every corner. And was there a scarier horror villain this year — on the big or small screen — than the Shadow King?
10. Les Revenants
If you want… thoughtful, international horror.
In this award-winning French series, the dead rise… but this isn't your typical zombie fare. Rather, departed loved ones inexplicably return to a small town and try to pick up right where they left off, with their family members left to grapple with the mystery of why. If you want proof the French can do creepy atmosphere better than anyone, try watching this and the limp American remake (A&E's The Returned) back-to-back. Or better yet, don't.
11. Mindhunter
If you want… real-life horror.
Sometimes you don't have to look very far to get the pants scared off of you; often, the most disturbing stuff is happening in the real world, right in front of us. In case you missed Netflix's other recent release while you were busy inhaling episodes of Stranger Things, David Fincher's Mindhunter takes a look at some very real serial killers, including Edmund Kemper (the "Co-Ed Killer") and Dennis Rader (the "BTK Killer").
12. Penny Dreadful
If you want… Grand Guignol horror.
They don't make 'em like this anymore… literally, since Showtime cancelled this gothic monster mash after three seasons. Penny Dreadful features lavish production values, a potpourri of old-school horror mythology, and one terrifyingly authentic performance from Eva Green — not to discredit the work of her terrific supporting cast, including Timothy Dalton, Josh Hartnett, Billie Piper, and Helen McCrory.
13. Scream Queens
If you want… campy horror.
Season 1 of Ryan Murphy's sorority slasher parody may have sacrificed internal logic and character consistency for the sake of laughs, but it's worth it when those laughs are being delivered by the likes of the scream queen herself — Halloween's Jamie Lee Curtis — as well as Niecy Nash, Glen Powell, Nasim Pedrad, and Lea Michele. (Let's all just agree to forget that Season 2 ever happened, shall we?)
14. The Strain
If you want… gross-out vampire horror.
Nobody blends fantasy, horror, and elaborate creature designs like Guillermo Del Toro — and for four seasons, his FX vampire action series was one of television's weirder horror shows. You've never seen bloodsuckers portrayed quite like this, guaranteed. Oh, and did I mention it stars Game Of Thrones' Walder Frey (David Bradley) as a modern day Van Helsing? The Strain is goofy, it's scary, it's gross, and it's one-of-a-kind.
15. True Blood
If you want… sexy-vampire horror.
But if you prefer your bloodsuckers to be of the more traditional, erotic variety, then HBO's blood-and-sex soaked fantasia is the one for you. It may have gone out with more of a whimper than a bang, so it's easy to forget how much of a phenomenon True Blood really was in its early seasons. And for introducing the world to the gift that is Alexander Skarsgård, I'll forgive it any amount of missteps.
16. Twin Peaks: The Return
If you want… auteur horror.
Twin Peaks always existed within the realm of horror; it's just that, during its original run, that was masked somewhat by its classic-TV trappings like those slices of pie and that damn good coffee. But with The Return, David Lynch leaned into his most surreal, experimental, metaphysical instincts to craft one of the most disturbing horror shows of 2017 — the kind that lingers with you long after the credits roll.
17. The Walking Dead
If you want… zombie horror.
You knew it was coming, and it's true: horror on TV is now synonymous with The Walking Dead, for better or for worse. With so much focus on the show's gruesome zombie kills, the fans — and sometimes the writers themselves — seem to forget that the scariest interactions are always between the show's fallible, desperate human characters. And remember, if things ever get too scary… just look at the flowers (or watch something else).