These Halloween Makeup Tutorials Were Inspired By Your Favorite Pieces Of Fine Art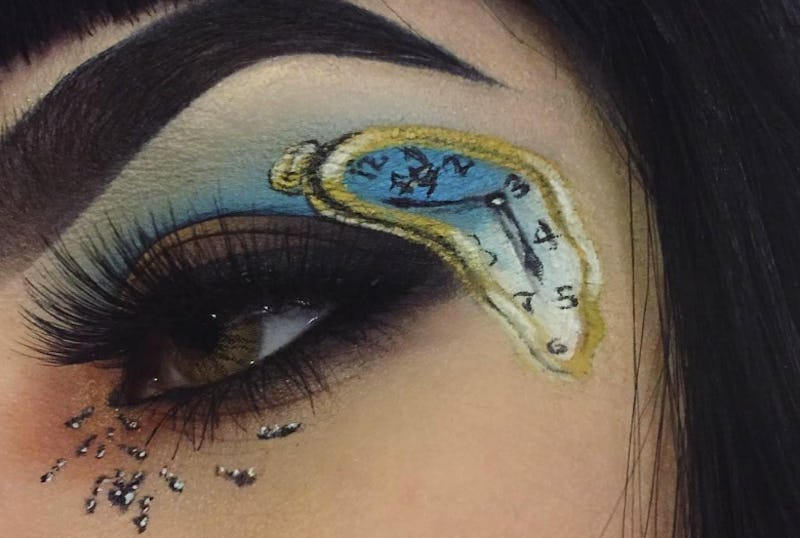 You no longer have to trek to a museum to see your favorite painting hung within it's walls. Just open Instagram or YouTube instead. Fine art has been making a resurgence within mainstream makeup media. If you're in need of a little inspiration, here are 17 fine art-inspired makeup looks that deserve to be framed.
Makeup and classical painting have more in common than meets the eye. Whether it's on a stretched piece on vellum or on a human face, the impulse remains the same: to paint. In both forms, artists aim to shift and transform their canvas into something new. They create something where there once was nothing. Generally, both of these forms are aimed at beauty–to design a visual feast for the viewer that coveys emotional and, sometimes, inspiration. It's only natural that these two art forms would overlap.
As they say, "everything old is new again." And these fourteen amazing artists are creating the most novel cosmetic trend from centuries-old subject material. "Starry Night" becomes the perfect eyelid ornamentation. "The Scream" sparks a contrasting gradient lip. If you're ever feeling a little uninspired, you need not search further than our old fine art masters. Just take a look at these 17 looks and see how invigorating art can be.
1. Mona Lisa Makeup Painting
Makeup artist Lisa Houghton uses her face as a canvas to recreate the works of Da Vinci, Monet, Edvard Munch, and more! You can see her amazing time-lapse painting videos on her Instagram and YouTube accounts.
2. Step-By-Step Vincent Van Gogh Tutorial
This relatively easy-to-follow tutorial by Angie Davis, Goldiestarling on YouTube, makes painting your face like van Gogh actually achievable.
3. Yellow Van Gogh Transformation
Satiago Castro's face looks believably photoshopped until he moves. It's a painting come to life! Eerie and awesome. You can see more of his work on his Instagram, @santicastrofx.
4. "Starry Night" Eyelid Painting
Stefania of @stefaniabeauty recreates numerous painstakingly-detailed famous on her eyelids, including Hokusai's "The Wave," Monet's Water Lillies, and, of course, van Gogh's "Starry Night."
5. Pointillism Pout
This rainbow, pointillism-inspired creation was painstakingly and artfully applied by Instagram MUA @violet.rebel.
6. "Two Sisters" Inspiration
Lexie Lazear incorporates aspects various famous paintings, like Renoir's "Two Sisters," Cézanne's "Mont Sainte-Victoire with Large Pine," and Degas' "Two Dancers Entering The Stage," into each main feature of her face. You can see more of her amazing interpretations on her Instagram, @lexielazear.
7. Impressionism Transformation
In this stunning transformation, YouTuber @minsooky seeks to prove that makeup is art by utilizing it to become art herself. No one can deny her claim after watching this video.
8. Oil Painting How-To
If you ever wanted to become an actual oil painting, YouTuber Emma Pickles has you covered. She's a living, breathing work of art.
9. "The Scream"-Inspired Lips
Makeup artist @noirojos takes inspiration from "The Scream" in the most subtle way for this orange-to-blue gradient lippie.
10. Gustav Klimt Gilded Goodness
Angie Davis does it again by transforming herself into the style of another famous artist, Gustav Klimt. She also has an amazing Alphonse Mucha makeup tutorial on her channel.
11. Subtle Klimt Inspo
Sherliza Moé took subtle inspiration from the gilded crying women she saw in Klimt's painting while making the look completely her own. Check out more tutorials on her YouTube channel here.
12. Picasso Portraiture
Inspirational makeup artist Marika D'Auteui references Pablo Picasso in this dreamy and awe-inspiring look. If you not following her already, you better click the button on her account, @lapetitevengeance, as fast as possible.
13. "Persistence Of Memory" Eye Look
Instagram artist, @ofthelunareclipse, creates an impeccable miniature version of Salvador Dalí's "Persistence of Memory" on the tiniest canvas ever: the eyelid. Stunning.
14. Frida Kahlo Makeup Tutorial
Absolute queen Lucy Garland flawlessly transforms herself into a glamorous version of another queen, Frida Kahlo on her artful YouTube channel.
15. Roy Lichtenstein Transformation
If you want to do pop art right, it's best to follow Joseph Harwood's tutorial. Harwood really nails the Lichtenstein look.
16. Black And White Pop Art Tutorial
Queen of transformation Jordan Hanz takes pop art to the next level with a unique twist on the subject. Her graphic black-and-white look is a vision in 2D.
17. Surreal Illusions
Illusionist visual artist, Mimi Choi, uses makeup to become surreal versions of herself. She utilizes painting techniques to achieve her dreamlike creations.
Is your brain feeling fuzzy yet? You can see more of her awesome images on her Instagram, @mimles, and her Facebook page, Mimi Choi Makeup Artistry.
Next time you're feeling stumped with your eyeshadow, just turn to your favorite visual artist. Now, you don't have to recreate their masterpiece on your skin like these talented MUAs, but pick an inspiration. Find a color or texture that moves you. Let it inspire and influence your makeup. No need to experience artist's block ever again.