'Game Of Thrones' Fans Should Definitely Know These Key Facts About The Show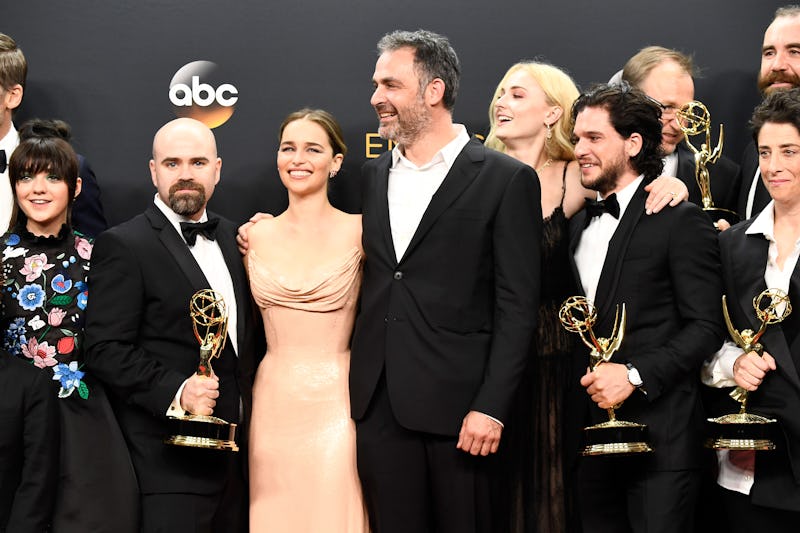 Frazer Harrison/Getty Images Entertainment/Getty Images
Whether you attended the occasional premiere party, or worshipped the cast from the beginning, there's no wrong way to be a Game of Thrones fan. If you're still catching up on the HBO series, it's time to hustle. With Season 8 on the horizon, there are more than a few things every fan should know about Game of Thrones. The long-running show, based on the Song of Ice and Fire fantasy series by George R. R. Martin, is prime time entertainment. It's also ripe for fun facts. Which actors are dating? Which ones hang out after filming stops? Which are most likely to Instagram from behind the scenes? These are the things that help you win trivia night once and for all.
Since Season 8 of Game of Thrones may not even arrive until 2019, even a low-key fan has time to memorize the entire series. So gather your centuries-old family, whip up some beef and barley stew, pour a round of ales, and get ready to brush up on some Game of Thrones basics. If you knew everything already, you all get an extra slice of lemon cake with dessert.
These are the 19 things every fan should know about Game of Thrones:
1. Peter Dinklage Is American
Lord Tyrion Lannister, occasionally known as the Half-Man, the Imp, and current Hand of Queen Daenerys, is the only American actor on the show. His elegant English accent is 100 percent fake. Without a scraggly beard and unkempt, blondish hair, viewers may even recognize him as Liz Lemon's one-time paramour on 30 Rock or the book publisher who attacks Will Ferrell in Elf.
2. Ser Bronn Was A Pop Singer In The '90s
Was he ever. Real fans know that actors like Jerome Flynn and Jacob Anderson have lucrative side careers as full-on musicians.
3. A Lot Of The Actors Were Also In 'Harry Potter'
The Wildling woman Osha portrays Nymphadora Tonks in several Harry Potter films. The Archmaester from Season 7 is also the infamous Professor Horace Slughorn. Lord Walder Frey is, of course, Hogwarts groundskeeper Argus Filch, and one of Frey's Red Wedding victims is Lady Catelyn Stark, played by Michelle Fairley, whom eagle-eyed viewers will recognize as Hermione Granger's mother.
4. Sansa And Arya Are BFF IRL
Sansa and Arya Stark may be sparring sisters, but the actors who play them are the off-screen definition of BFF goals.
5. There's A Sean Bean "Curse"
Lord of The Rings. National Treasure. 300. Game of Thrones. Is there anything this actor can survive? Sean Bean is basically his own spoiler alert; from the moment he shows up, fans should know to expect his character's demise.
6. Most Of The Accents Are Not Real
A shocking amount, actually. The actors playing the Stark children adjusted their accents to sound more like actor/TV patriarch Sean Bean. But Littlefinger, Varys, and more? Who knew! (Fans did.)
7. 'Game Of Thrones' The Show Is Not 'Game Of Thrones' The Book Series
Spend five minutes with an OG Game of Thrones fan, and they'll take up most of the time explaining precisely how, when, and how drastically the HBO series diverges from the fantasy series.
8. R + L = J
Diehards knew this well before the Season 7 finale. Didn't make the reveal any less fun, though. What up, Aemon Targaryen!
9. Ygritte And Jon Snow Are Totally Dating IRL
First, the pair tried to hide their relationship; later, they claimed to have broken up. By 2017, though, actors Kit Harington and Rose Leslie are not just dating, but live together in London.
10. Emilia Clarke Took This Video Of Kit Harington Pretending To Be A Dragon
This genius video has been liked, retweeted, GIF'd, and so much more. It appeared on Emilia Clarke's Instagram shortly after Kit Harington's character first encountered a dragon on the series. Honestly, her whole account is a gem.
11. The Tale Of Two Daarios
The scruffy, Daario Naharis of Season 4 was a startling departure from Season 3's clean-shaven blonde. Actor Ed Skrein was obviously replaced by Michiel Huisman in between seasons, though neither resembles the Daario Naharis from the books. Martin's vision for Naharis includes a blue beard separated into three distinct prongs, and a full head of blue hair, too.
12. Dean-Charles Chapman Has Played More Than One Lannister On The Show
Sweet, doomed Tommen Baratheon was played to perfection by Dean-Charles Chapman. The casting directors didn't have to look too hard to find their future king: A younger Chapman played his own cousin, Kevan Lannister, earlier in the series.
13. Margaery Tyrell Is Not Natalie Dormer's Best Character
Actress Natalie Dormer was so good as foxy schemer Margaery Tyrell, it's hard to believe her next project could live up to that character, but she also starred in The Tudors.
14. So Many Musicians Have Appeared On The Show
From Sigur Rós to Ed Sheeran, lots of famous musicians have made cameos in Westeros, including Gary Lightbody of Snow Patrol.
15. The O.G. Myrcella Baratheon Has A Good Sense Of Humor
Aimee Richardson was the original Myrcella Baratheon, through the role was recast to Nell Tiger-Free before Myrcella returned to the series. Richardson, to her credit, has had fun with the craziness of it all. She used to make Vines of herself hitch-hiking, holding up cardboard signs that say "princess for hire," and Tweeting goofy things from her account.
16. Theon Greyjoy Is Played By A Celebrity's Brother
Fans may have known about Alfie Allen long before he became a star in his own right. His big sister Lily Allen dedicated an entire song on her debut LP to Alfie's favorite habit.
17. A YouTube Star's Impressions Landed Him A Spot On The Show
YouTube comedian Steve Love's legendary impressions reached showrunners David Benioff and D.B. Weiss. Eventually, they found a spot for Love on the show: A featured extra with two lines, who is then promptly murdered by the Hound.
18. Two Characters Met On A Very Different Show
Do the teens in the above .gif look familiar? That's because they're Hannah Murray and Joe Dempsie, otherwise known as Westeros' Gilly and Gendry. The two have had vastly different storylines on GoT and are yet to connect onscreen. This obviously tantalizes longtime fans, who know the pair first rose to prominence as Cassie Ainsworth and Chris Miles on the cult E4 series Skins.
19. All About That Ed Sheeran Cameo
Maisie Williams may play an atypical Westerosi Noblewoman on GoT, but offscreen, she's just a regular British millennial. Case in point: Her absolutely obsessive love for singer-songwriter Ed Sheeran. In fact, her fandom inspired the showrunners to drop him into the Season 7 premiere as a little present for beating up Arya Stark for so many seasons in a row.
Valar Morghulis! Now you can ace any Game of Thrones trivia night with so many of these facts that fans must know.