The Biggest Wedding Hair Trends For 2017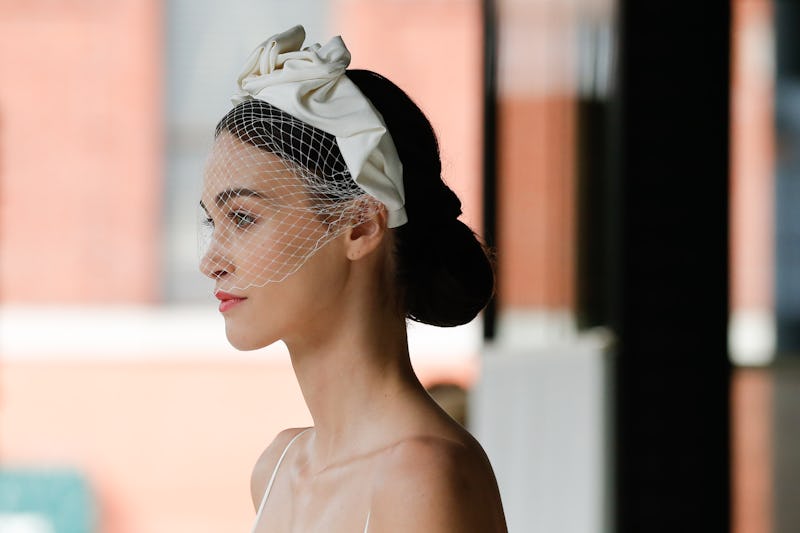 JP Yim/Getty Images Entertainment/Getty Images
Right when you thought you had everything nailed for your bridal look, you remember your hair. You were probably relieved when you found the perfect wedding outfit, but your sartorial journey doesn't stop there. The biggest wedding hair trends for 2017 will give you a much needed hit of inspiration if you're stuck for ideas.
After all, your wedding day will be one of the biggest days of your life, so you'll want to make sure you feel amazing wearing an outfit, makeup, and hairstyle combo that you love as much as your significant other. So where do you begin your quest to find the perfect bridal 'do for you? Matrix Celebrity Stylist Nick Stenson, tells Bustle over email, "I would start with social media and create a Pinterest board of looks that inspire you. Once you have your board complete, share with your hairstylist. This will help during your consultation so you can ensure you get the look you want."
He explains the next step is to arrange a trial session with your stylist so you can test out looks you like. "During this time, you should try a few different options of hairstyles and then take pictures of each angle to make sure you like how it looks," he says. "You will be in a lot of pictures so it needs to look amazing at all angles."
So here are the biggest wedding hair trends for 2017 according to the experts, to help inspire your tresses.
1. Buns
"I see a lot of my 2017 and 2018 brides bringing me classic inspiration for their wedding day hair," Kristina Maccaro, co-owner and creative director of Love Lane Salon, says over email. "Women want to look timeless in their photos but also be comfortable all day and night."
"There are a lot of variations of the typical 'bun' or 'chignon,' however I am seeing a lot of women choosing to style their hair back, off their faces, and tied securely in a low, effortless bun. This is a beautiful way to showcase your wedding dress, your jewelry, and incorporate any hair accessories for your big day. A secure hairstyle like this is great for a bride wearing a veil or tiara as it can be easily anchored," she says.
However, Maccaro explains, "If you are a bride that isn't a huge fan of up styles or excess volume, ask your stylist to try a modern twist on this classic look. You can add a bit of glam by wearing it with a deep side part."
2. Movement
"We are seeing a shift in bridal hair," Stenson says, "although up 'dos are still popular we are seeing hair worn down with a lot of movement." Brides who want a more relaxed look will love pretty, low key styles like these.
3. Texture
"A big trend I am noticing in bridal hair styling is the addition of texture. We are moving away from the overly structured and hair-sprayed styles of past bridal seasons, as brides want to take a more natural approach to their bridal look," Maccaro says.
"Brides who choose to wear their locks pulled up are opting for natural texture and soft bits along their face frame their faces. Brides wearing their hair down are opting for softer, looser waves that are even simply tucked behind an ear. These styles allow the other elements of the bride's look to shine and not be in competition. It also requires less prep in the morning, allowing brides to enjoy more of their day!" she says.
"When talking with your stylist," Maccaro advises, "ask for a look that has a lived-in feel and will wear well with your own natural texture."
4. Half-Up, Half-Down
If you can't make up your mind when it comes to your bridal beauty look, Stenson has a fashion forward suggestion: "We are seeing styles that are half-up and half-down with lots of texture. This works great with long veils."
5. Ponytails
"Wedding hair trends are definitely moving in a direction of effortless hair as opposed to the rigid, over hair-sprayed styles we've seen in past seasons," Maccaro says. "A popular and fun trend I have been seeing a lot of is the ponytail. It's a super fun way for the atypical bride to make a statement while still having her hair securely tied back all night," she explains.
She highlights how there are multiple options with a ponytail. "It can be low and sleek, or over-textured and waved, or anywhere in-between," she says. "A great option for the bride that doesn't like an up style! Looks such as this are also great for brides wearing hair accessories as they can easily be secured."
6. Accessories
It appears wedding hair accessories are still as timeless as ever for 2017. Stenson says, "Hair accessories can be added to any style. Weather it's a fancy clip that holds hair away from the face or a veil that cascades, your stylist should be able to help you find the look that will make you look your best." Have a chat with your stylist and see if you can dream up a hairstyle that will best suit your gorgeous hair accessory.
Don't feel pressured to follow the trends on your big day, but if you're feeling lost when it comes to your locks, use the biggest wedding hair trends for 2017 as your injection of bridal inspiration!