Feminist Quotes To Put On Your Healthcare Rally Sign This Saturday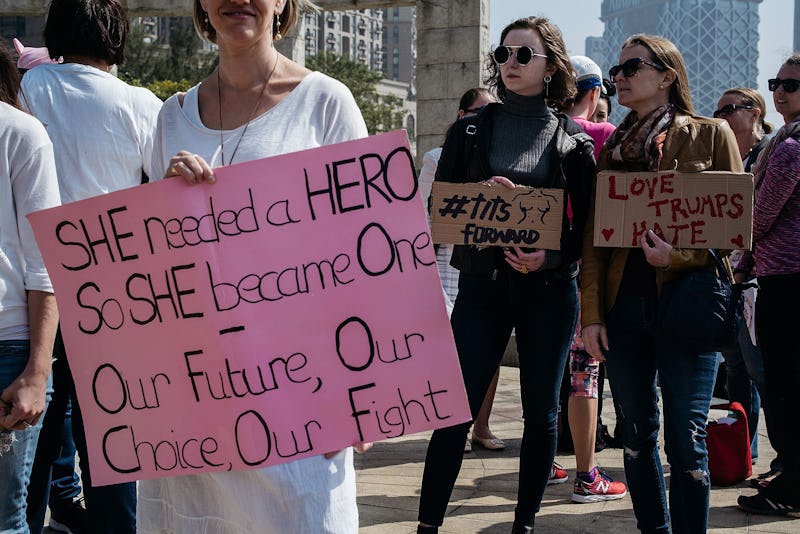 Anthony Kwan/Getty Images News/Getty Images
Though so far the Republican party's efforts to repeal and replace Obamacare have been unsuccessful, that hasn't stopped them from continuing to present more, equally disastrous legislation that threatens the healthcare of millions of Americans across the country. In response to those threats, this week The Women's March announced a rally on Saturday in partnership with Our Lives On The Line, a pro-Obamacare group that's working to increase action against the Republican health care bill. The organizations are encouraging supporters to "show up on a busy street corner" on Saturday and "make some noise" about the disaster that is the GOP bill. Instead of organizing one unified march, the idea is to provide a space for supporters from anywhere to stand up and have their voices be heard.
"That's what we're about — showing that whoever we are, wherever we live, we will persist, together, in preventing this administration from harming us, our families, and vulnerable people in our communities," the Women's March organizers stated in the press release about the rally.
The GOP completely shut women out of its drafting of the healthcare bill and was foiled in it's last attempt by three of it's own women. Being a women under the GOP's healthcare bill would come with many obstacles and tremendous costs. The fight for healthcare is a feminist issue that affects everyone.
If you're thinking about attending a rally see a list of locations here and, if none are conveniently located to you, organize your own local event. There's no better time to fight for our right to affordable healthcare than now. Check out these inspiring feminist quotes to put on your healthcare march sign.
1. "I raise up my voice — not so I can shout, but so that those without a voice can be heard...we cannot succeed when half of us are held back." — Malala Yousafzai
2. "It took me quite a long time to develop a voice, and now that I have it, I am not going to be silent." — Madeleine Albright
3. "I have a brain and a uterus, and I use both." — Patricia Schroeder
4. "I am no bird; and no net ensnares me: I am a free human being with an independent will." — Charlotte Brontë
5. "Women belong in all places where decisions are being made... It shouldn't be that women are the exception." — Ruth Bader Ginsburg
6. "A woman with a voice is, by definition, a strong woman." — Melinda Gates
7. "Feminism is hated because women are hated. Anti-feminism is a direct expression of misogyny; It is the political defense of women hating." — Andrea Dworkin
8. "There is no limit to what we, as women, can accomplish." — Michelle Obama
9. "I am deliberate and afraid of nothing." — Audre Lorde
10. "Words have power. TV has power. My pen has power." — Shonda Rhimes
11. "The most common way people give up their power is by thinking they don't have any." — Alice Walker
12. A woman is like a tea bag—you never know how strong she is until she gets in hot water." — Eleanor Roosevelt
13. "You have just one life to live. It is yours. Own it, claim it, live it, do the best you can with it." — Hillary Clinton
14. "No woman should be told she can't make decisions about her own body. When women's rights are under attack, we fight back." — Kamala Harris
15. "Women will be hidden no more." — Janelle Monáe
16. "In the future, there will be no female leaders. There will just be leaders." — Sheryl Sandberg
17. "The best protection any woman can have… is courage." — Elizabeth Cady Stanton
18. "The future depends entirely on what each of us does every day. A movement is just people moving." — Gloria Steinem
19. "Women have to harness their power — it's absolutely true. It's just learning not to take the first no. And if you can't go straight ahead, you go around the corner." — Cher
20. "The most courageous act is still to think for yourself. Aloud." — Coco Chanel
21. "When they go low, we go high." — Michelle Obama
The fight for equal rights and affordable healthcare for all is always worth joining. Take a stand for those who might not be able to as we continue protect each other's rights. Our actions matter and our voices are heard. Keep sharing yours.