Women's March Signs Are About More Than Trump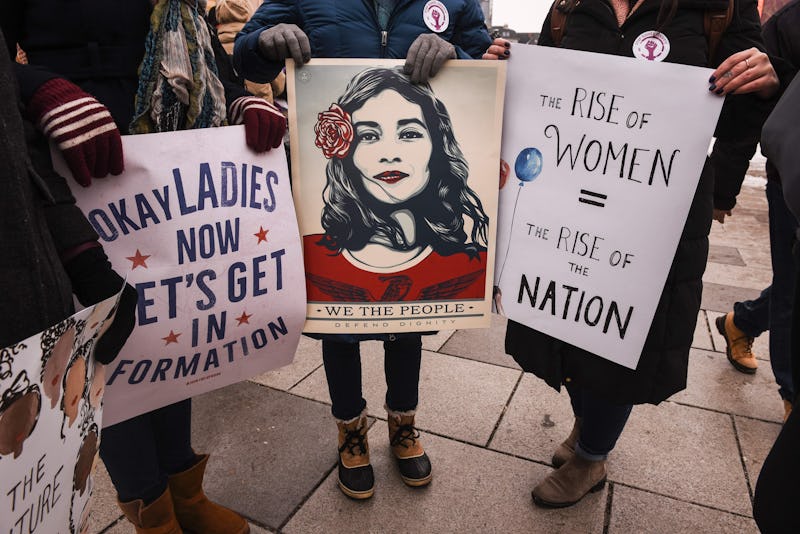 ARMEND NIMANI/AFP/Getty Images
Although the official Women's March on Washington took place in America's capitol, hundreds of thousands of women banned together Saturday across both the nation and the world to march for their rights. Although some people seem to think that the march is a direct shot at President Donald Trump, the purpose as stated by the organizers is really to show the government that women's rights are just as important as men's. In that vein, many women have been spotted carrying signs of empowerment and feminism at the Women's March.
Even before the march began Saturday morning, women packed the train stations and buses in D.C. According to NBC Washington, the march organizers revised their estimated attendee count to around 500,000, which is 300,000 more than was originally expected. And more than 600 sister marches are taking place all over the world.
Rather than center upon the "not my president" rhetoric that has become a popular rallying cry, the Women's March is more focused on equality. A New York Woman's March organizer told Gothamist, "We're defending equality. It's not a bash session. We're standing against intolerance. So we're there the day after they're in office, saying, not just to [Trump], but to the whole administration, saying we're here, we're watching."
While there are certainly some participants who are specifically against Trump, the overall sentiment of the event is about standing up for the rights of the most vulnerable: women, immigrants, and the LGBT community. Here are some empowering and progressive signs from the marches that will get you motivated to stand up for women throughout the next four years.
1. R-E-S-P-E-C-T
2. I Will Not Go Quietly Back To The 1950s
3. Same Shit, Different Century
4. No Gender Roles
5. Sorry For The Inconvenience
6. Not Just Nasty Women
7. Feminism Is ...
8. Malice Toward None
9. Women Won't Back Down
10. We The People
11. Women's Rights
12. Dissent Is Patriotic
13. Riots Not Diets
14. Boys Will Be Good Humans
15. Girls Just Wanna Have Fun...
16. Freedom
17. Make Kindness
18. We Will Protect
19. I Dissent
20. Silence Equals Death
21. People Of Quality
22. A Woman's Place Is In The Revolution
23. Hearts & Minds Alike
24. Oh Gee
25. I'm With Her
26. I'm So Angry I Made A Sign
27. Your Heart Is A Weapon
28. Rage Against The Patriarchy
29. Legislate Your Own Body
The women marching around the world for their rights are inspiring, and so are the messages they carry with them.