3 Mermaid Makeup Tutorials For Halloween That Are Way Easier Than They Look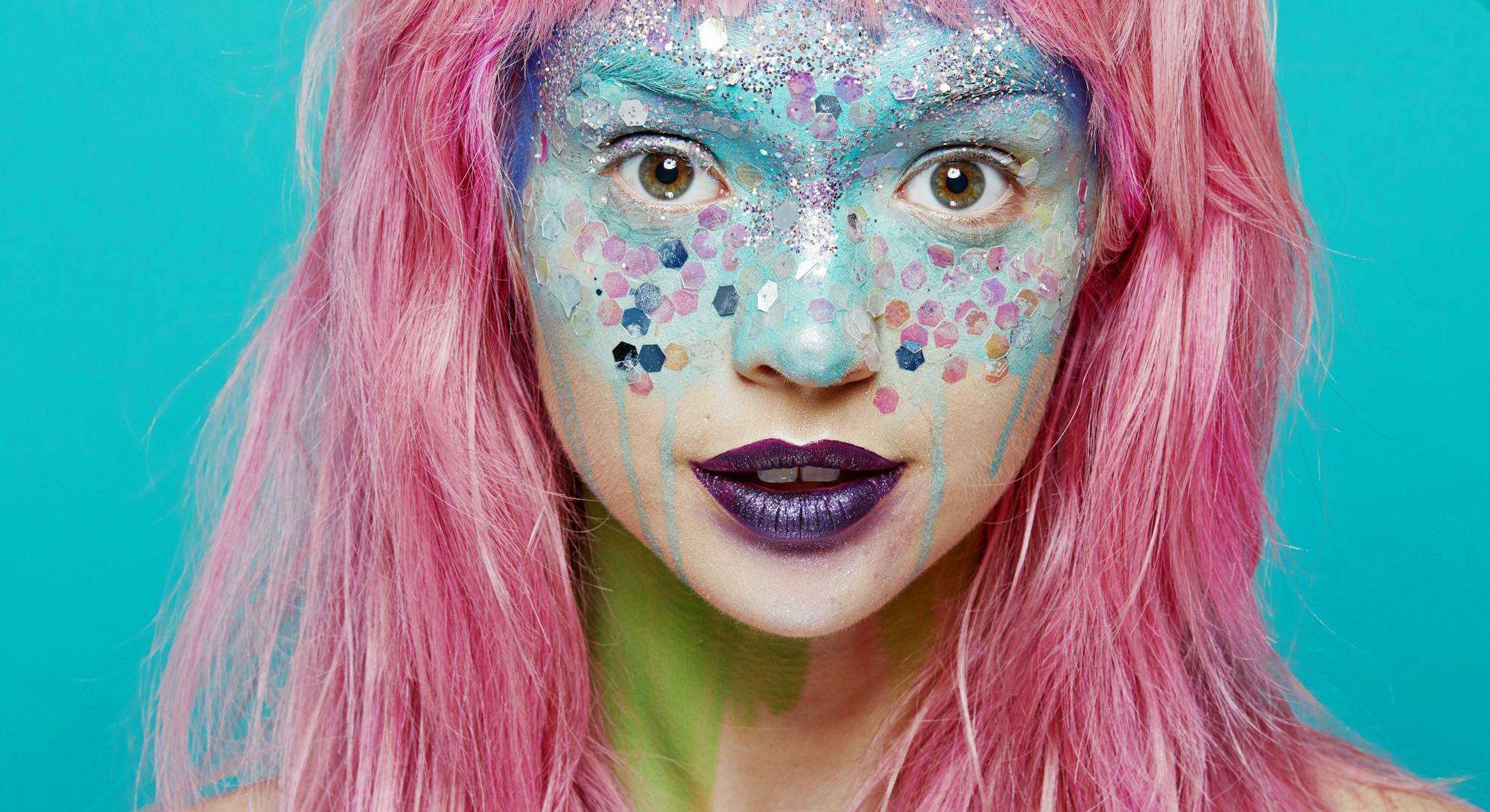 Ashley Batz/Bustle
What's the point of Halloween if not to cover yourself in all sorts of glitter? There are plenty of mythical creature transformations that beg for sparkle, but mermaid makeup, IMHO, lends itself to the prettiest color palette of all. The blues, the purples, the greens — they're all shades that look great on every single skin tone, especially when you pile a bunch of glimmer on top.
Since mermaids are, as previously mentioned, mythical creatures, there's plenty of room for interpretation when it comes to your final look, so literally anyone at with any level of makeup skills can pull it off. Makeup artist Viktorija Bowers — who created the mermaids below — emphasizes that "the key to this look is that it's not perfect. It has to look textural and kinda messy." After all, you've likely just come to the Halloween party after a day of frolicking around underwater will all your fish friends.
Below, you'll find three very different (but equally fabulous) mermaid-inspired makeup looks. Whether you're into ombre lips, painted on scales, or a full-on glitter bomb effect, these are sure make your Halloween costume the most extra one at the party.
Before you get started on any Halloween makeup, Bowers recommends creating a base with foundation and concealer to even out the skin tone. This makes it much easier to apply the special effects makeup and glitter on top. Let's dive on in, shall we?
Glitter Eyes And Ombre Lips
Step 1
Apply an iridescent lotion, like MAC Strobe Cream, all over your face to create a glowy base. Then, dust an iridescent powder (Bowers used MAC for this, too) on the high points of your face — cheekbones, tip of the nose, chin, and cupid's bow. Bowers recommends using a large fluffy brush to apply the powder, since this gives you the most control.
Step 2
Get creative with different blue and green lip products to create a multi-colored, ombre-ish effect. Bowers used all Urban Decay for this part of the look: First, she applied the Vice Lipstick in a couple shades of blue, then layered Vice Liquid Lipstick in an iridescent shade to create the metallic finish. Finally, she lined the lips with the Razor Sharp Water-Resistant Longwear Liquid Eyeliner in Kush for a pop of green. If that still isn't sparkly enough for you, Bowers recommends topping the whole lip look off with the same shimmery powder you used on your face.
Step 3
Next, add glitter all over your eyes. "Just slap it on," Bowers says. "Don't be afraid to let the glitter fall on the face." To keep the sparkle stuck, first apply Elizabeth Arden Eight Hour Cream on your eyelids, then just use your fingers to press the glitter on. This particular look is a mix of medium and small glitter chunks from Make Up For Ever.
Step 4
For some final touches, add some light blue liner — like Make Up For Ever Aqua XL Eye Pencil in M-26 — to your waterline and throw a bit of extra glitter in your hair.
Metallic Scales
Step 1
After prepping your skin, apply a wash of light blue eye shadow on and around your lids to create a base for the look.
Step 2
To create the scales, Bowers cut up some fishnet tights to use as a guide. You can use anything with a similar open pattern, but Bowers says fishnets are the easiest thing to find. Lay the fishnet on your face, then use a makeup sponge to gently dab on a gold pigment, like Mehron Metallic Powder. Continue adding scales in patches all over your face. You can keep them all the same gold color or mix in some shades of blue and green.
Step 3
Amp up your eye look by applying a medium blue cream eye shadow all over the lids, then use a dark blue pencil at the waterline. Smudge the liner with a small, dense makeup brush.
Step 4
While the cream shadow is still a bit wet, apply a dark blue glitter (this one is MAC) all over your lid and a gold glitter (this one is Urban Decay) to the inner corners of your eyes. Again, don't worry about some glitter falling onto your face.
Bowers recommends keeping the lip a nude color, but topping it with some scales.
Step 5
If you want to add even more glam to this look, pop some strip lashes on after your eyes are fully glitter-ized. Bowers recommends Ardell Cluster Wispies #603, since they looked beautifully clumped together, just like natural lashes do after you've been swimming for a while.
Gradient Paint And Glitter
Step 1
Apply Mehron Paradise Makeup AQ in shades of blue and green to create a colorful gradation on your face. Bowers recommends this particular type of makeup since it's activated by water, so you get a watercolor effect. She suggests adding extra water and letting the color drip down your face. The look shouldn't be perfect, Bowers says. "It has to look textural and kinda messy."
Step 2
Lightly dab Elizabeth Arden Eight Hour Cream (or a similar, sticky lotion) on top of the color, then apply a mix of small, medium, and large glitter chunks using your fingers. Stop right below your cheekbones for a sort of spooky mask effect.
Step 3
Add a cool metallic lip to tie the whole look together: This one is a purple Urban Decay Vice Lipstick with a Vice Liquid Lipstick layered on top. Use a fluffy brush dipped in metallic eyeshadow to smudge right underneath your bottom lip.
To make any of these looks last, Bowers recommends a setting spray like Urban Decay All Nighter. However, she also advises bringing along some glitter and Eight Hour Cream for touch ups — it's the only way to truly ensure you stay perfectly sparkly all night long. Happy swimming, mermaids.
Makeup: Viktorija Bowers at Ray Brown Pro
Hair: Jazmin Kelly using IGK Haircare
Bustle Team
Photographer: Ashley Batz; Art Director: Brit Phillips; Photo Editor: Sepp Dasbach; Production Manager/Bookings: Guillermo Perez