3 Reasons You Should Seriously Consider The New Apple Watch, According To Tim Cook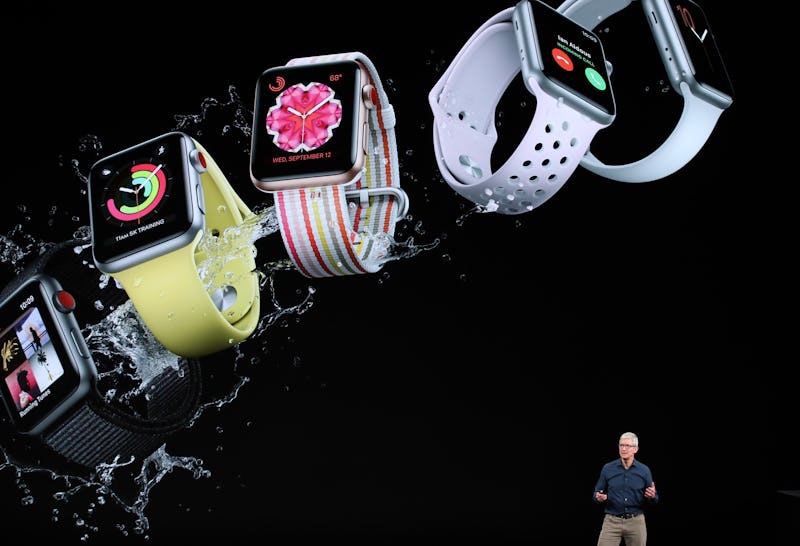 Justin Sullivan/Getty Images News/Getty Images
You probably already know that the new Apple Watch Series 4 is more than just a cool shiny thing you can wear on your wrist to count your steps (though, to be fair, it does do that, and does it well). The new watch, unveiled during Apple's Sept. 12 keynote event and available now for pre-order, comes with a slew of features designed to catch your attention. It has a bigger, sleeker display! It can operate as a walkie-talkie! It can help you take your yoga workout to an entirely new level! And, as Apple CEO Tim Cook tells Bustle, it can literally save your life.
Cook is referring to the advances Apple has made to the watch's health monitoring capabilities — namely, its ability to perform an electrocardiogram (an ECG) in just 30 seconds. This, he says, is huge; fancy new electrodes on the back of the Apple Watch and on the digital crown will soon be able to help you and your doctor monitor your heart rhythm — and keep an eye out for any irregularities. "You used to go to the doctor and spend hundreds of dollars to do this," Cook tells Bustle. "And now you can send that ECG directly to your doctor when you have a question, and they can say, 'Hey, you need to come in,' or 'Don't worry about that.' It's pretty profound."
It's fascinating technology, to be sure, but perhaps more impressively, it hints at an even bigger future that lies ahead for Apple; with features like more acute heart monitoring sensors, an app that can detect if you've fallen, and new workouts added to the watch's library, the new Apple Watch places more emphasis on health tracking than anything Apple's pushed out before. And this type of focus, Cook says, is what makes the fourth generation Apple Watch more than just a trendy, in-the-moment, must-have product — it's what he says will one day make the watch indispensable.
"If you think about it, your health is one of the most important things in your life," Cook says. "And yet, from a monitoring point of view, our bodies are monitored so significantly less than our cars. It really makes no sense, if you really think about it."
And that, he says, is where the Apple Watch comes in. It's an opportunity to stay in control of your own health, at all times. "I think we're coming to a day where people will not say, 'Yeah, I'd like to have a watch, I want to wear a watch.' It'll be, 'How can I possibly live without wearing the watch?'" Cook says. "Because you'll feel that you absolutely have to have it — for the people that you love and so forth."
Curious about what else the fourth generation Apple Watch can do? Here are three features Cook wants you to know about.
It Makes It Way Easier (And More Fun) To Stay Active
Looking for creative new ways to get in those 10,000 steps? The Apple Watch Series 4 has added new workout trackers for activities like yoga and hiking. This, Cook says, has always been the point. "The watch for us has always been about helping you stay more active," Cook says. Now, you can take things up a notch by challenging friends to activity competitions, and receiving "trophies" when you win.
It's a feature that can come in especially handy when, for instance, you're training for a 5K with a partner, and are looking for someone to stay on pace with. Or, you can set your own personalized fitness goals no matter what workout you choose. Either way, you can use the Apple Watch to chart your progress and make sure you stay exactly on track to where you want to be.
It Can Call 911 For You
The Apple Watch will call 911 for you if you fall and remain unresponsive for at least 60 seconds. Plus, the new ECG app, which will come out later this year, isn't designed for you to self-diagnose, but it will provide you with data you can take to your doctor ASAP if you think something might be wrong.
"We've found, through the course of many years, that there's been so many people who have found out through the heart monitor, since that's been on the watch, that they've had a problem that they didn't know about," Cook says.
"It prompted them to seek medical attention and get treatment that was life-saving. So we're putting more and more heart functionality into the watch to help you monitor your health."
It Helps You Stay Connected
Text, make phone calls, chat up Siri — the fourth generation Apple Watch lets you stay connected in all the ways you're used to, only, you know, without your phone. And if you really want to kick it back to the simpler glory days of your youth, check out the new walkie-talkie feature that lets you communicate quickly and directly with anyone else who has an Apple Watch, over and out.
"I think users that buy it for one of those three [reasons] are going to fall in love with the other two, as well," Cook tells Bustle. "That's my bet, because this is what happened to me."