4 Ways To Go As A Work Of Art For Halloween Without Even Buying A Costume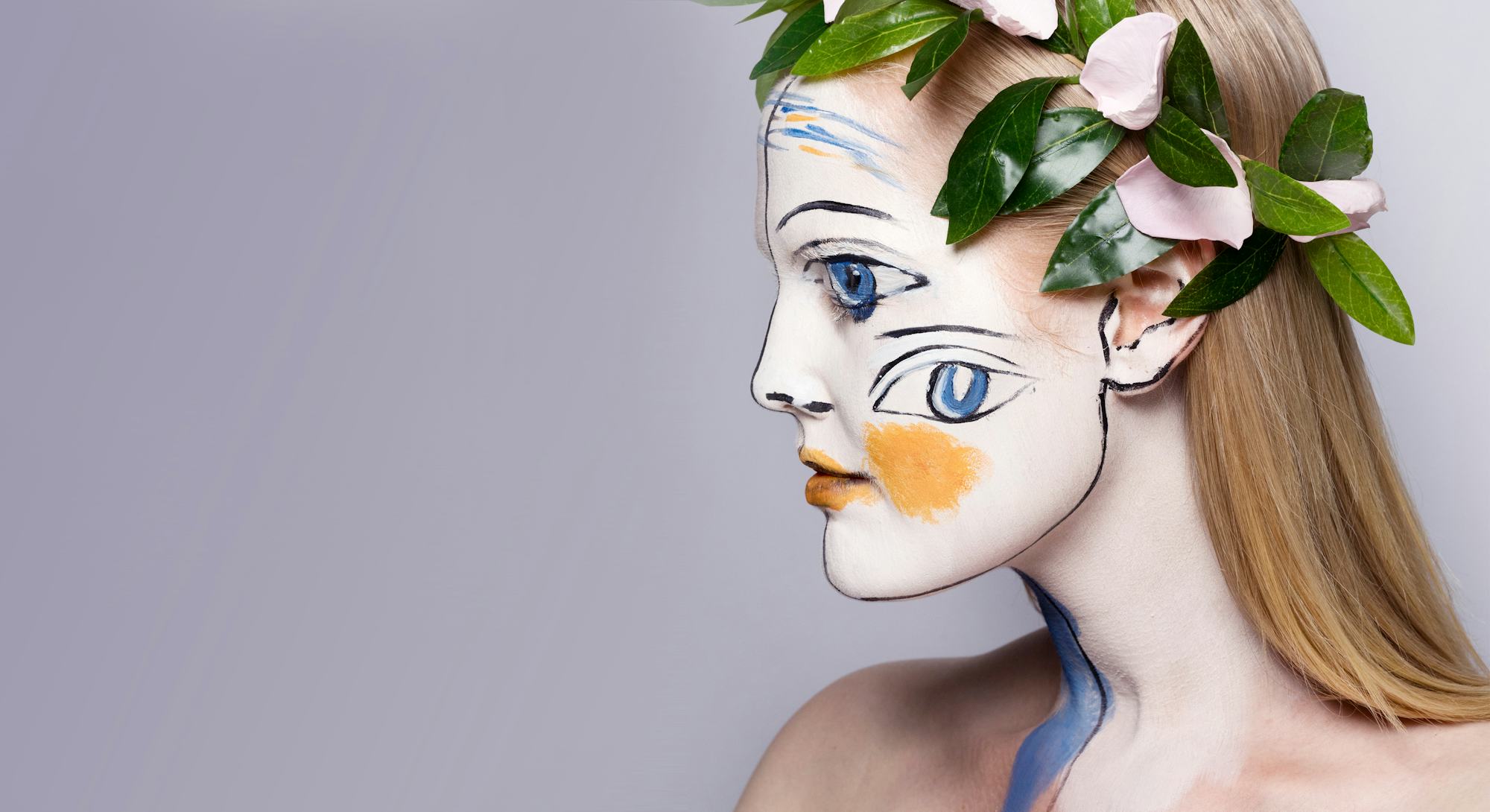 Ashley Batz/Bustle
It's the day before Halloween. Suddenly, a crippling realization enters your consciousness: You don't have a costume, and the only thing left at the store is a sexy Donald-Trump-in-a-bag that costs $200 and would most likely ruin all of your friendships. Instead of having a particularly ghoulish meltdown, consider this: With a bit of makeup and creativity, you can transform into a work of fine art instead.
Sure, it sounds like a tall order: Artists like Pablo Picasso, Yayoi Kusama, Jackson Pollock, and Piet Mondrian are skilled fine artists — it couldn't possibly be easy to recreate their work on your face, makeup novice that you are...right?
Surprisingly, these highly recognizable, impossibly cool Halloween makeup ideas are relatively simple to recreate. With the right products and a methodical approach, you can create looks that are highly Instagramable, much more compelling than the nose and whiskers you usually draw on in a panic, and serve as conversation starters at the Halloween party you almost didn't go to. Now, not only can you attend — you'll have the coolest look in the room.
Piet Mondrian's Composition II In Red, Blue, And Yellow
Ashley Batz/Bustle
Universal History Archive/Universal Images Group/Getty Images
Universal History Archive/Universal Images Group/Getty Images
Composition In Red, Blue, And Yellow is arguably Piet Mondrian's most known work of art, an abstraction created by the artist in order to communicate a reality beyond knowledge. The original canvas is tiny, but the primary colors, white space, and brushwork of the black lines make it pretty stark and profound to behold.
The simple elements also make it ideal for a Halloween makeup recreation. Sure, you might not have the same intentions as Mondrian (if only we could all think in Dutch abstractions), but you can take inspiration from his works.
First, start by putting the shapes on your face. Don't worry about the black lines for now.
Mac Cosmetic Paint Stick, $22, Mac Cosmetics
The rectangles here were created with MAC Cosmetics Paint Sticks, which are highly pigmented and easy to work with, making them the perfect choice for creating the elaborate Halloween look of your dreams. You don't need to follow Mondrian's scheme exactly — play with the pattern of primary colors and white to your heart's content.
Next, it's time to draw on lines, using a MAC Paint Stick in Black Black and a stiff, angled brush to ensure precision.
What makes this look are the areas in which the makeup overlaps the eye and the lip. Add some Ardell eyelashes for maximum impact, and you've successfully turned your face into a canvas for something beautiful.
Yayoi Kusama's Pumpkin
Yayoi Kusama is a Japanese artist who came up in the New York City art scene of the '60s — her work is feminist, often over-the-top, and pleasantly psychedelic.
She's got a massive body of work to pull inspiration from (check out some of her early work, which included installations that incorporated her own nude body) but her most known is a series of humongous pumpkins, sculptures that live all over the world in both private and public institutions. The 1994 Pumpkin was commissioned for the Fukuoka Municipal Museum of Art. Check out the pattern on that gourd — does it not beg to be recreated on your face?
First, start by painting half of your face in an orange or goldenrod color — again, MAC Paint Sticks are perfect for the job.
Then, following Kusama's dot pattern — some large, some small, all in straight, vertical lines — use a brush and the black MAC Paint Stick to create the dots over top of the orange.
One way to create a fun variation to this look is to continue the dots down past where the orange or goldenrod color ends. It's an adorable final result, and quite possibly the easiest Halloween makeup you'll ever tackle.
Pablo Picasso's Marie-Thérèse avec une guirlande
Where to begin telling the story of Pablo Picasso and his most influential muse, Marie-Therese Walter? At it's core, it's a dysfunctional, likely mutually toxic love story, the kind you'd expect from one of the most famous painters who ever lived.
The short of it: Walter met Picasso when she was 17 and quickly became his mistress — in fact, most sources say that she was under the age of consent when they began sleeping together — yikes. Eventually, the pair even had a child together — if you want to do a deep dive on the sordid details of their lives, this Vanity Fair piece from 2011 spills all the tea.
This particular Halloween makeup was inspired by this painting, one of dozens created in Walter's likeness, all of them markedly different. The title is Marie-Thérèse avec une guirlande, painted in 1937.
To begin, start with a white base. Mehron's Paradise Makeup AQ water-based formula works well for this. Use a foundation brush to apply, but don't blend it out as you would your normal makeup — use short, painterly strokes, as Picasso would.
Add a sliver of blue wrapping around from one side of the neck, also using a Mehron color.
Next, it's time to add the detail. This particular painting is easy to recreate, as long as you detach yourself from the idea of where your facial features are "supposed" to go — this is a Picasso-inspired look, remember? Paint a faux eyebrow above your own, an eye on your cheek, a bit of blush near the corner of your mouth. Additionally, keep your orange lips blurred at the edges, as this look is far from the precise lines of your MUA-filled Instagram feed.
The most difficult part will be to draw a faux eye over your own closed eye — enlist the help of a friend if this gets a bit too dicey to roll solo.
Next, a few abstract strokes of orange and blue across the forehead, along with a black outline along the ear, jaw, and nose make it clear that this is a Picasso if nothing else has.
Add a flower crown, and you have fully transformed into Marie-Therese Walter — only without the lifetime of Picasso's game-playing to contend with.
A Jackson Pollock Of Your Choosing
Universal History Archive/Universal Images Group/Getty Images
Here's the thing about Jackson Pollock: He was an asshole. An explosive, often violent drunk, Pollock's aggression comes through pretty plainly in his work — particularly the splattered, dripped upon canvases for which he became posthumously famous. Despite his personal turmoil, Pollock is one of the most important American painters to date, if not one of the most controversial.
His work is also fun to recreate as a Halloween look, particularly because you don't have to follow any specific rhyme or reason to do so. You can choose your color palette, or try to recreate one of Pollocks specifically. For our purposes, we went with a black, white, blue, and yellow splatter scheme.
Technique is definitely important for this look. Most of us can't transform our faces into canvases and our bathrooms into a Pollock-approved studios — as it turns out, whipping oil paint at your face in a drunken rage is probably inadvisable.
What you can do is take some of those Mehron Paradise Makeup AQ colors and mix with water until the concoction is both saturated and slightly thick. Then, take a water dropper (available at any drug store) and drip lines down and across your face, allowing gravity to do the rest.
Again, this look doesn't have to be a perfect recreation of any specific Pollock painting — one look at those aggressive, irregular lines of color, and everyone will know exactly which artist you were trying to emulate.
A perfect Halloween look doesn't have to feel as elusive as a piece of highly covetable fine art — with the right makeup and a bit of research, you can recreate everything from the classics to the obscure. If you can't avoid a group costume, have each of your friends try a different look: Suddenly, you're an art museum, and everyone at the Halloween party wants to gaze upon your finest works.
Hair: Katie Schember for Oribe Haircare at Ray Brown Pro
Makeup: Viktorija Bowers using M.A.C. Cosmetics, Mehron, Ardell
Bustle Team: Fashion & Beauty Editor: Amanda Richards; Photographer: Ashley Batz; Junior Art Director: Brit Phillips; Booking/Production Manager: Guillermo Perez