5 Debates On How To Close The Gender Wage Gap That You Can Settle RN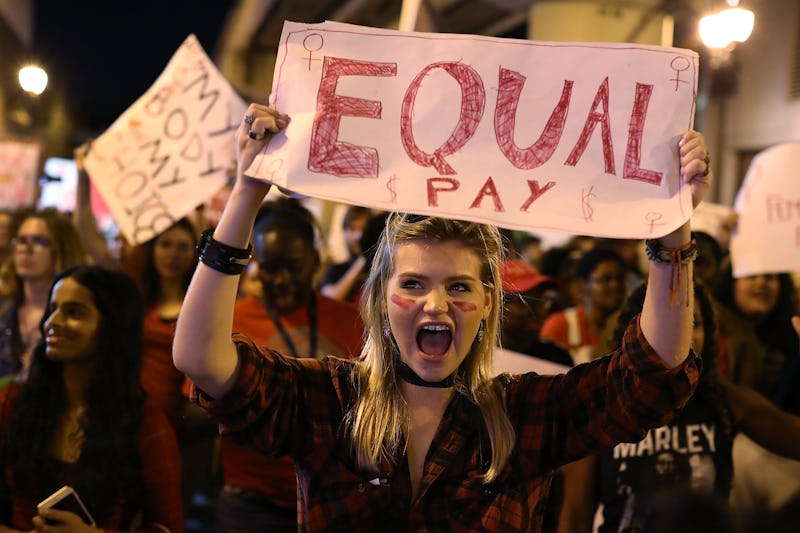 Joe Raedle/Getty Images News/Getty Images
When it comes to attaining equal pay for equal work, the fight is far from over. And unfortunately, spreading public awareness about pay inequality is only part of the battle. As debate about how to close the gender wage gap bears on, it has grown clear that there are many different ideas and misconceptions about how best to end gender-based pay inequality.
For years, it fell on women to prove to lawmakers — and the public — that they weren't being paid as much as their male counterparts. Despite data indicating that a drastic, relatively consistent wage gap has persisted across multiple industries, the discussion historically focused on whether or not those figures were unfairly skewed. While the argument about whether the pay gap is real or not appears to have taken a bit of a back seat (it still simmers in some conservative corners of political discourse), more recently, the conversation has centered around the best way to close that gap.
Often, this debate about ending gender-based pay disparity falls along party lines. Typically, conservatives err on the side of, say, protecting companies from undue lawsuits. In turn, Democrats tend to promote policies that enable workers to empower themselves through initiatives like salary-sharing and holding management accountable for potential gender discrimination. That said, there's a lot to unpack when it comes to tackling the the gender pay gap, and especially when it comes to understanding popularly proposed solutions.