Here's How To Not Kill Your Desk Plant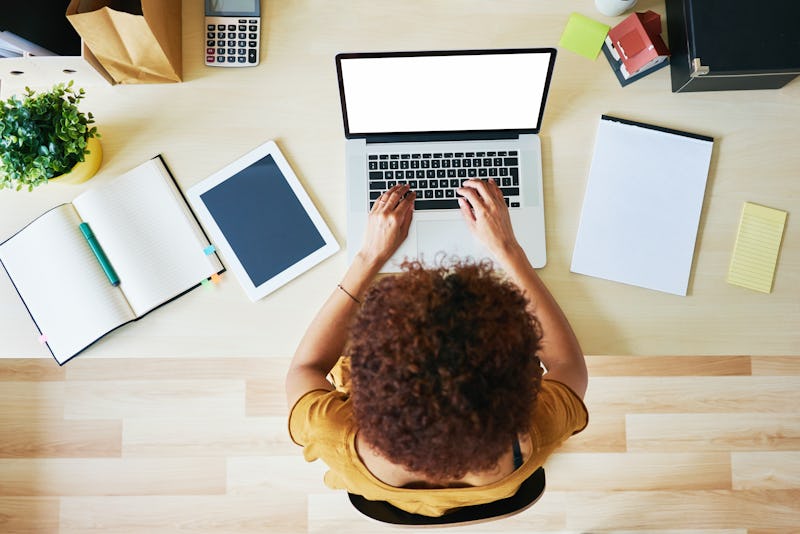 Shutterstock
Because it can sometimes feel impossible to keep them alive and looking healthy, I've always considered having lots of office plants to be the ultimate sign of maturity. But every time I try to commit to creating a little indoor forest, my plants dry up and die right before my eyes. So, I scoured the internet for the best tips on how to keep my indoor desk plants alive and kicking next time.
Sometimes, work can be stressful. But having office plants can help with that. A 2015 study published in the Journal of Physiological Anthropology found that interacting with indoor plants reduced psychological and physiological stress in young adults. Personally, having lavender plants in my office space always helps with my stress and anxiety, but this Serenata Flowers article lists a few other great options, like chrysanthemum or aloe.
Keeping your office plants alive doesn't just infuse you with an instant feeling of maturity, but it can bring you some serious benefits, too. Having office plants also helps you breathe easier during work. The National Aeronautics and Space Administration's (NASA) frequently cited 1989 Clean Air Study found that certain kinds of indoor plants — like Chinese Evergreens, Bamboo Palms, and Devil's Ivy — can help remove pollutants from the air. In fact, NASA's extensive research has shown that houseplants (one plant per 100 square feet is their recommendation) can reduce air toxins by up to 87%. And that can also aid your health, since the study points out that pollutants like benzene, ammonia, and xylene can cause headaches and eye irritation. (Just like staring at a computer all day can.)
All this sounds great. But for your office plants to keep you healthy and happy during work, you have to keep them healthy and happy. Here are some tips on how to do that.