5 Poems & Essays By Donald Hall You Can Read Right Now To Commemorate His Life And Work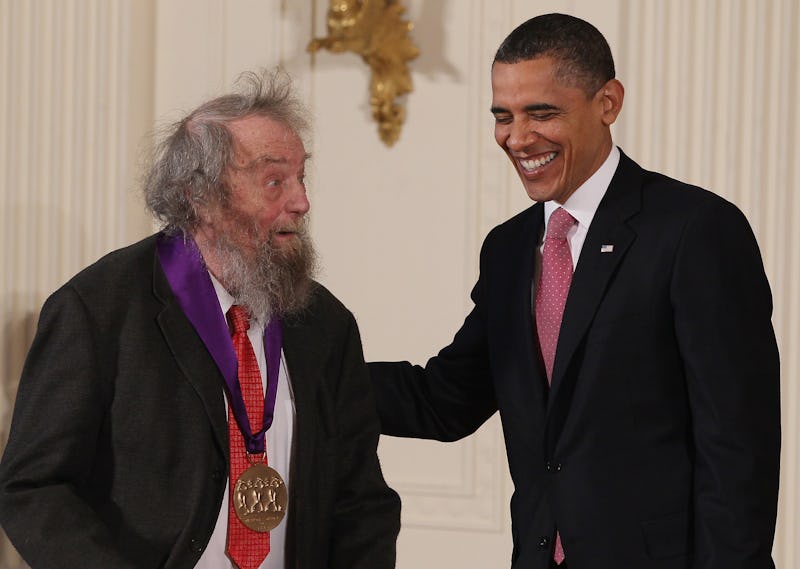 Mark Wilson/Getty Images News/Getty Images
Donald Hall passed away at his home in Wilmot, N.H. on Saturday, at the age of 89. To remember his life and work, I've picked out five Donald Hall pieces you can read online today to enjoy the best of his work.
Hall began his writing career in the the 1950s and went on to publish more than 50 books in his lifetime. He served as U.S. Poet Laureate from 2006 to 2007, and most recently published a memoir, Essays after Eighty, in 2014 and a collection, The Selected Poems of Donald Hall, in 2015. According to the Poetry Foundation, "[Hall's] poetry explores the longing for a more bucolic past and reflects the poet's abiding reverence for nature. Although Hall gained early success with his first collection, Exiles and Marriages (1955), his later poetry is generally regarded as the best of his career." Hall's 1988 book, The One Day, won the National Book Critics Circle Award. The poet was a two-time Guggenheim fellow, who received the National Medal of the Arts in 2010.
Hall was married to N.H. Poet Laureate Jane Kenyon from 1972 until her death from leukemia in 1995. The couple bought Eagle Pond Farm in New Hampshire, which Hall's grandmother owned, after her death. The farm provided inspiration for much of Hall's work, as well as the title for the first piece on the list below.
Check out the five pieces I've selected to remember Donald Hall: