6 Flat Irons That Won't Damage Your Hair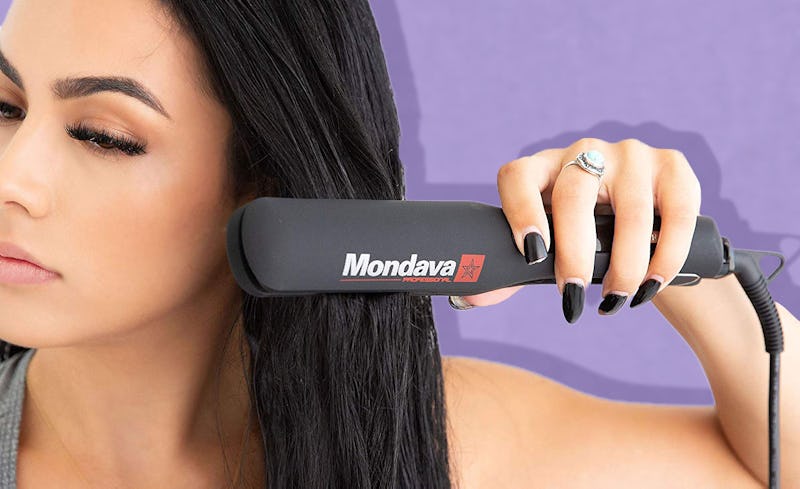 Amazon/Bustle
Back in the early days of flat irons, cheap plastic parts and metal plates meant irreversible hair damage. After all, as any hair stylist will tell you, heat is particularly damaging to hair. That said, certain types of straighteners (and certain types of heat!) can limit the amount of harm done to your hair when you straighten it. So, what are the best flat irons that won't damage hair?
If you'd like to minimize damage from straightening your hair, the first thing you want to look for is a flat iron with ceramic plates, because the ceramic material evenly distributes heat all the way across the plates, so chunks of your hair won't burn because of hot spots. Titanium plates, in turn, quickly conduct heat, which can make for a faster straightening process, but can also expose your hair to higher temperatures that might cause damage.
Keep your eye out for ceramic flat irons with tourmaline-infused plates, as that material, when heated, produces negative ions that coat and condition your hair while locking in moisture, limiting frizz in the process. Finally, there's infrared technology — a relatively recent hair care advancement. Infrared straighteners use special wavelengths to heat the hair evenly from the inside, protecting your hair cuticles and reducing damage on the outside of the strands.
If you're a little overwhelmed by all this jargon, don't worry. Gathered up below, these are the six best flat irons that won't damage hair, so you can get the sleekest style possible without all that excess damage.
This article was originally published on