The Best Apps For Aspiring Chefs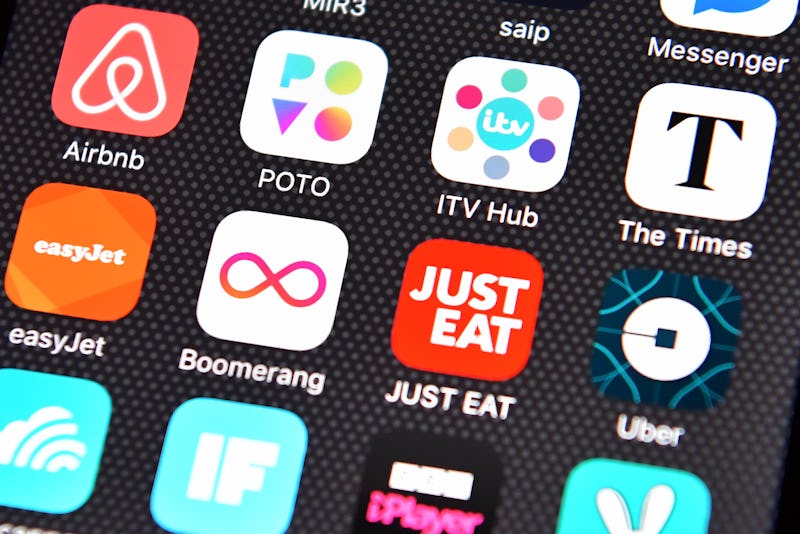 Carl Court/Getty Images News/Getty Images
Looking to step up your game in the kitchen? Don't worry — there really is an app (or, rather, several apps) for that! Those looking to increase or hone their cooking skills need look no further than their own smartphone for help. These days, there's no shortage of food apps available to download that will help anyone — from novices to experts — bring out their inner chef.
These apps provide a variety of great features for cooks of all skill levels, including thousands of new recipes and instructional videos, home delivery services, measuring tools, food photos and much, more more. But with so many options to pick from, how can you choose? Don't worry: I'm here to narrow down your choices.
These seven apps are useful, practical and easy to use. Not only will they provide aspiring chefs with inspiration to try a wide-ranging variety of yummy and heathy meals, they'll also help them learn how to improvise with ingredients on hand, and to share and rate ideas with fellow cooks.
So what are you waiting for? Break out your phone, put on an apron, and get to cooking! You'll be whipping up gourmet-style meals before you know it.
This free app allows cooks of all skill levels to make measurement conversions quickly and easily. So if a recipe calls for a specific amount of ounces and you only have tablespoons or cups as measuring tools, there's no need to agonize over a pad of paper and pencil. Just open up Kitchen Dial and it will do the math for you.
This free app from Allrecipes is perfect for helping home cooks share ideas and meal inspiration with other foodies. The slot machine-inspired "Dinner Spinner" allows you to find new recipes with just a shake of your phone. If you want to get more specific, you can also filter recipes through specific ingredients that you currently have.
Aside from the new dish ideas, you can also create a profile that will hold all your photos, recipe ratings and reviews, and shopping lists. The app also offers hyper-local grocery savings offers, step-by-step cooking videos, and a chance to curate "custom collections" — a place to organize favorite recipes by theme or occasion.
The recently updated food and drink app still allows users to explore over 35,000 tested recipes from publishers like Bon Appetit, Gourmet, HarperCollins, and more, but it's also added several new features.
Among them? A recipe box to store your favorite recipes; a smart kitchen timer to learn exactly how long it takes to cook over 40 kinds of meats, pastas, and other items; and a recipe and video feed that features new content every day. Aspiring chefs will never run out of new ideas with this useful app.
One of the trickier parts of cooking is learning how to make a dish out of the ingredients you have on hand. Luckily, there's now an app to do that for you — and it's free! Handpick has an ingredient pairing tab that allows users to find dishes they can make with the items they currently have in their fridge or pantry.
You can also get inspiration by browsing millions of recipe ideas from around the world and save or share food topics, based on your favorite flavors and preferred tastes.
If you're just seriously getting into cooking or love cooking but hate shopping, why not try a food delivery service like Hello Fresh or Blue Apron? Though you're probably familiar with the concept by now, here's a run-down just in case: for a fee, these services will bring a variety of pre-portioned ingredients right to your door, along with step-by step instructions to make a delicious meal designed by a nutritionist or chef.
Both companies allow customers to personalize their weekly menus based on their food preferences and also accommodate for various dietary restrictions, including specific allergies, vegetarian diets, etc.
SideChef makes cooking accessible for chefs of every skill level. The free app provides novices with step-by-step photos, instructions and voice commands on over 3500 different recipes. Meanwhile, intermediate or advanced chefs can hone their skills by learning new interesting meal ideas and food techniques and uploading and sharing their own creations.
The app also allows users to search and browse the collection of recipes by a single ingredient, keyword, diet, cuisine or interest, as well as adjust the serving size of each recipe to fit their needs (so no need to waste time trying to convert the ingredient portions!).
This app compiles more than 15,000 recipes from The New York Times' vault, coupled with easy-to-follow step-by-step instructions and beautiful photographs. Cooks can search and save different meal ideas from the extensive catalog, as well as browse themed collections, like "Beer Cocktails" and "New Orleans-Style."
The app also features dozens of short instruction videos on a variety of specific cooking techniques, like julienning vegetables, and allows users to mark, rate, and leave notes on recipes you've tried. It's basically all you need to get started in the kitchen!