These Are The Questions That Could Make Or Break A Candidate In The Democratic Debate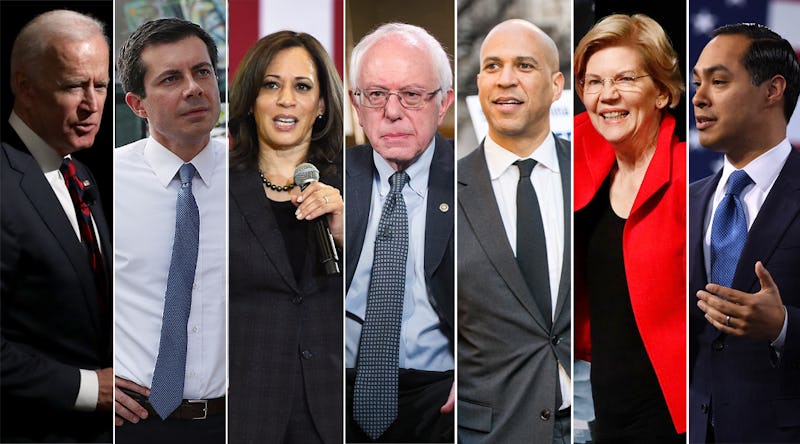 Getty Images News/Getty Images
In a field of 23, how do you make a splash? This is the major question facing the 20 Democratic presidential primary candidates who will be squaring off in the first debate. With 10 candidates on each stage and only two hours for each debate, a candidate's answer to any given question could make or break their debate performance. But what are the debate questions the Democratic candidates need to knock out of the park? Experts aren't quite in agreement on that.
After all, voters have a lot to take into account as they begin making their decisions about who to support in the 2020 primaries. And in such a big field, there's a candidate for any kind of voter, be it progressive, centrist, environmentalist, or staunch feminist intent on finally breaking the highest glass ceiling.
But despite the endless campaign events in the early primary states, nationally many voters still haven't had the chance to acquaint themselves with anyone but the top tier of candidates who get the lion's share of media attention. The candidates won't have a ton of time to make their points during the debate, so their answers to key questions could really raise — or lower — their profiles.
Bustle reached out to political strategists, professors, and analysts to weigh in, and despite what you might expect, almost none of them named a policy question as what would make or break the Democratic contenders.
"All of the candidates share essentially the same policy positions — differences are generally inches, not feet," political consultant Alexandra Acker-Lyons says. Mary Elizabeth Stuckey, PhD, a Penn State professor of communication arts and science, adds that "it's easier to concentrate on who might survive and who will drop out than it is to figure out 24 sets of policy positions."
On that note, here's what the experts think the candidates will have to answer well to stand out during this first round of debates.