These Cabinet Nominees Are Missing Basic Paperwork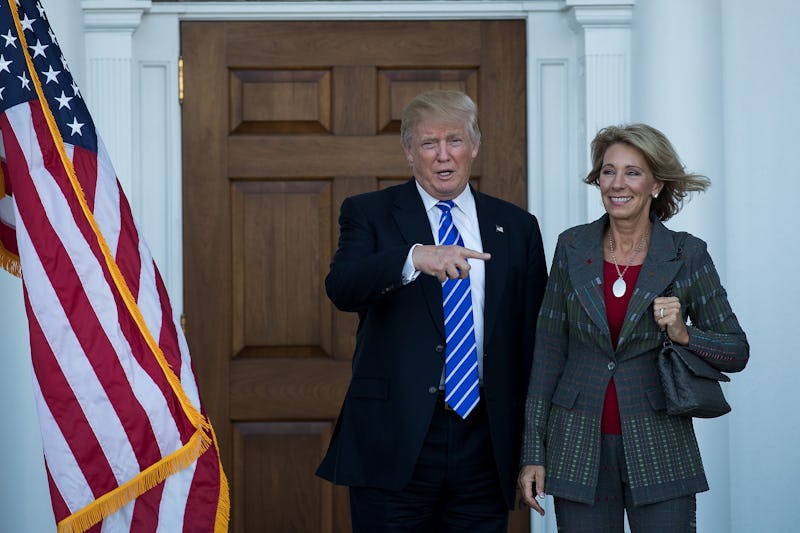 Drew Angerer/Getty Images News/Getty Images
In Washington, D.C., the Senate is abuzz with confirmation hearings that will either make or break president-elect Donald Trump's cabinet. But now, even more than a week into the process, legislators don't have all the information they need from Trump's nominees — specifically ethics paperwork. It's missing completely for seven of his cabinet picks, and that is not normal.
Trump has made 20 of his cabinet-level nominations — plus CIA director pick Michael Pompeo. But that doesn't mean all will join Trump in Washington. Pompeo and eight others have already faced their confirmation hearings at the committee level. But that leaves another 12 who are still up at bat, and the pitchers are missing some vital information.
That's because there are seven outstanding ethics reports among the nominees yet to testify and Betsy DeVos, the nominee for Education Secretary who already did testify (her hearing was Jan. 17). CNN reported this on Monday, but in the days since the nominee for Commerce Secretary, Wilbur Ross, turned in his forms.
It bears repeating that this is not business as usual. During the same process in 2009, Obama's nominees were much quicker to work things out with the Office of Government Ethics. That led to the unusual letter from the office's director Walter Shaub to Senate Minority Leader Chuck Schumer and Sen. Elizabeth Warren earlier this month in which he pointed out that nominees had not completed the ethics review process. Well, these seven still haven't.
Betsy DeVos
DeVos, a billionaire married to an heir of the Amway fortune and a huge proponent of charter schools, was the first nominee to start her confirmation hearing without finishing the ethics paperwork. During the hearing for Education Secretary, DeVos was asked if she would even be there if it weren't for $200 million in donations to Republican causes over the years from her and her husband.
Nikki Haley
Trump's choice of Haley is controversial for many reasons, not least of which is her questioning of the body she's going to be a representative to: the United Nations. But that's not the only thing. The pick as UN ambassador has yet to complete the ethics paperwork and is set to testify on Wednesday. Interestingly, though, the South Carolina governor has had a big role in improving ethics laws in the state.
Linda McMahon
Another interesting choice is McMahon as the head of the Small Business Administration. She's the former executive behind WWE, the wrestling powerhouse. VICE Sports reported that she grew the brand by putting other wrestling outfits, essentially small businesses out of business. She also gave about $6.2 million to Trump's election efforts. Still the most shocking? She hasn't finished her ethics paperwork.
Andrew Puzder
Given his past anti-labor positions, it's no wonder that Puzder's nomination as Labor Secretary is controversial. He tweeted Monday, "I am looking forward to my hearing," but there are reports he is also having second thoughts. And, no, he has not finished his ethics paperwork.
Dan Coats
Coats was a bit of a surprise for Director of National Intelligence because he's not a fan of Russia — in fact he was banned from the country as retaliation for the 2014 sanctions following the Ukraine invasion. But he's also known to be anti-gay. It's likely he'll be confirmed — by comparison to the others he sounds all right — even though he hasn't finished his ethics paperwork.
Robert Lighthizer
In the world of global trade, Trump has picked in Lighthizer more of a protectionist as U.S. Trade Representative. He has accused China in the past of unfair trade practices, and largely syncs with Trump's thoughts on the issue. He has not finished his ethics paperwork.
David Shulkin
Perhaps one of the most sensible choices that Trump made, his pick for Secretary of Veterans Affairs Shulkin, already works at the VA as the undersecretary for health, overseeing 1,700 hospitals and clinical facilities across the country. He has not finished his ethics paperwork, but it is worth noting that he was just nominated to the post last week. The only other controversy here is that his background is in healthcare, and thus he has never served in the military.
Whether we're talking about one of the better people from this list — or the least qualified — a full ethics review must be part of the confirmation process. Call your senators and demand they see that each and every Trump nominee finishes the ethics paperwork. Because this is not normal.