7 Hilarious Michelle Obama & Jimmy Fallon Moments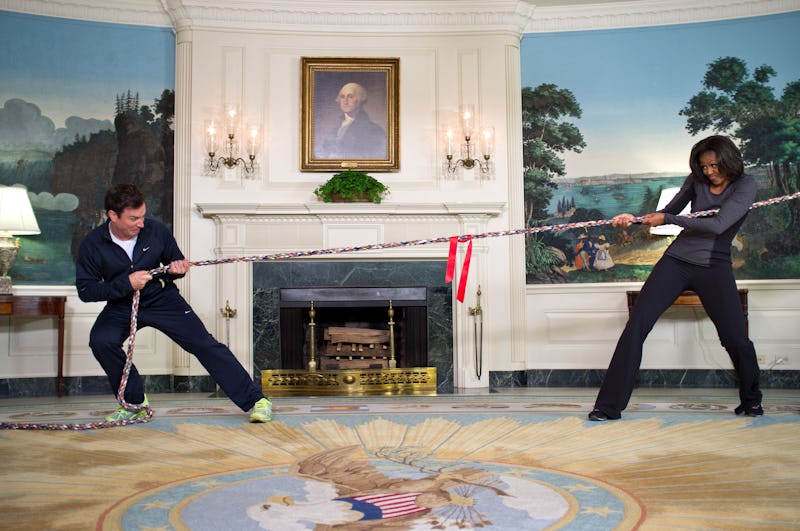 The White House/Getty Images News/Getty Images
On Jan. 11, Michelle Obama made her final talk show appearance before she leaves her role as FLOTUS. The first lady has been welcomed as a guest by plenty of television hosts, from joining James Corden for carpool karaoke to co-hosting with Ellen of titular talk show fame. But for her final TV stop before leaving the White House, Obama spent the evening with Tonight Show host Jimmy Fallon. And seeing their genuine camaraderie during the show, it's easy to see why.
Fallon and Obama teamed up back in 2012, when he filmed a special at the White House to help promote her "Let's Move!" campaign. But the two are probably best known for their viral "Evolution of Mom Dancing" sketches. Watching Fallon and Obama dorky dance beside each other is a treat. But it also demonstrates that they both actually just like each other. They make it look effortless, but it's not so easy to jump in front of cameras and execute a flawlessly cheesy "hip bump." (Just check out the comparative awkwardness of Chris Christie and Fallon trying to dad dance.)
So here a seven moments that show the mutual fondness between Fallon and Obama:
1. Fallon Sought Out FLOTUS Fans For Her Final Farewell
During last night's Tonight Show episode, Fallon featured several citizen guests who came on to record what they thought was a thank you video to the first lady. Obama surprised them with her actual presence, and their emotional reactions made everybody's day.
2. Mom Dance Like No One's Watching
If you didn't know it was Jimmy Fallon under there, you could easily mistake Obama's dance partner for a bona fide suburban mom friend. The two are believably good at mediocre dancing, but they also seem to be genuinely having a blast with each other.
3. Dodgeball And Spandex At The White House
Fallon appeared in a "Let's Move!" promotion video with Obama, filmed at the White House. Proving that you can exercise anywhere (with or without the sort of full-body spandex gear Fallon initially shows up wearing), the two race up stairs, hula hoop, potato-sack race, and even play a friendly game of dodgeball.
4. Triple Hand Hugs Forever (With Will Ferrell)
The only thing funnier than Fallon and Obama in an "Ew!" sketch is Fallon, Obama, and Will Ferrell in an "Ew!" sketch. The ability of these two middle-aged men to channel adolescent girls is either amusing or borderline disturbing, but one thing that is definitely not "Ew!" is their triple hand hug.
5. Fallon Can't Quite Let 'Michelle 2020' Go
In his signature "Thank You Notes" segment with Obama, Fallon used his last card to suggest her love of exercise might compel her to "run" in 2020. Obama's reaction looks just like that of an amused/annoyed older sister. Perfect.
6. Mom Dance 2.0
Fallon and Obama reprised their viral mom dancing sensation with a host of new moves, including the "Shush and Tush" and "One Step Behind At Zumba Class." Proving once again that, when it comes to fun dancing, it's good to be bad.
7. Stevie Wonder Ends It All With A Mobama Tribute
As his only official guest for the night (Dave Chappelle and Jerry Seinfeld made cameo appearances), Fallon scheduled the entire show around Obama. And what better way to end than with Stevie Wonder crooning "My Michelle Amour"?
Millions of Americans miss Michelle Obama as FLOTUS. But it seems undoubtable that Jimmy Fallon will also miss her as a Tonight Show friend.