These Chic Yellow Tartan Pieces Will Have The Rest Of Your Wardrobe TOTALLY Buggin'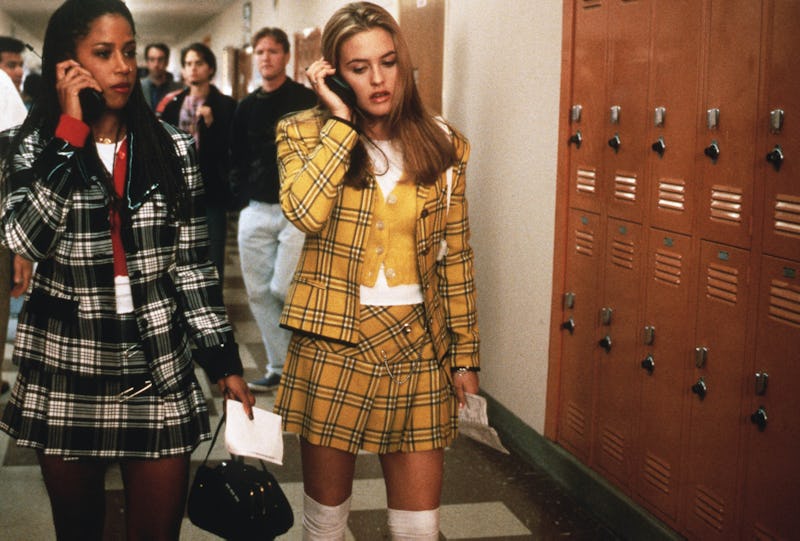 Paramount/Kobal/Shutterstock
I still remember the first time I watched Clueless — and the second, and the third, and the seventh. The iconic '90s film and riff on Jane Austen's Emma will always hold a special place in my heart, especially because of one scene. You know the one — where Cher Horowitz (Alicia Silverstone) rejects the advances of thirsty high school boys with the words "As if!"... all while wearing a yellow tartan suit. The print has forever been associated with Clueless in my mind, and now that yellow tartan pieces are a trend for winter 2018, I couldn't be more here for it.
When winter hits in the UK, we end up getting so used to seeing people bundle up in dark or neutral colours and IMO we need a little sunshine. I'm not the only one who seems to think that; there's currently a huge range of brands on the high street that have dropped their own Cher Horowitz-approved pieces.
Although many that have gone with the classic Clueless print, some brands have developed their own take on the pattern by adding sneaky dashes of red, or mixing things up with a contrasting print.
If you're looking for the dreamiest statement coat, I'm totally buggin' over Topshop's double breasted piece that I need to pair with some thigh high boots ASAP. Urban Outfitters is also offering a unique quilted jacket that's caught my eye, which is currently on sale. (Thank you, Black Friday madness.)
For those who aren't ready to commit to a major lewk, there's also a whole range of accessories that'll help keep you on trend and cosy this winter. Mango is offering this gigantic scarf (or blanket, you decide) and quite frankly, I'm ready to stomp my way through life like Cher with Miss Selfridge's fierce pointed boots. And of course, I would be remiss if I didn't include a modern take on the icon's skirt, which is going for more than half off my ATM.
Ready to look like a total Betty? Check out my favourite pieces below.
Did you know that you can find Urban Outfitters promo codes at the Bustle Coupons page? Bustle Coupons is a service provided by Groupon in collaboration with BDG Media, Inc. Each time you use a coupon or promo code from Bustle Coupons to make a purchase, Groupon and BDG Media, Inc. earn a small commission. This article was created independently from Bustle's sales department.