There May Still Be Hope For Michelle 2020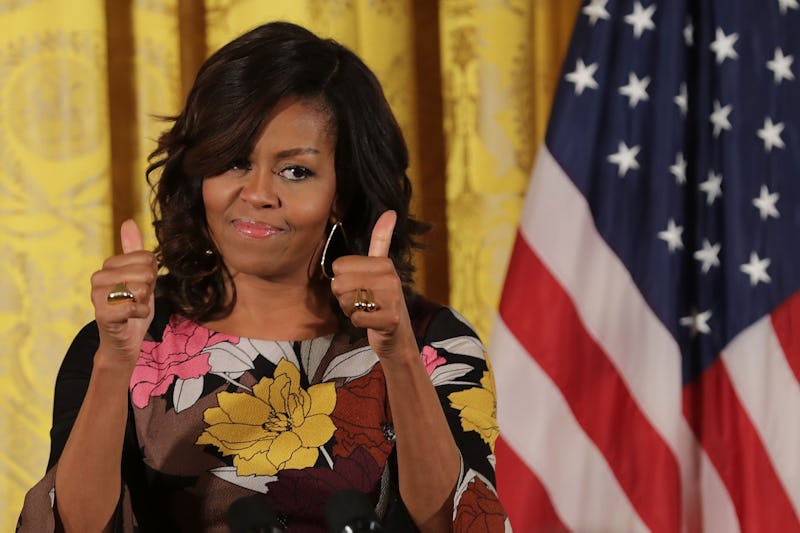 Chip Somodevilla/Getty Images News/Getty Images
Every first lady has a place in history, but it seems like many Americans want Michelle Obama's place to be outside the East Wing. Calls for "Michelle 2020" have picked up since Donald Trump's unexpected victory at the polls in November. The first lady herself has assured the American people that she won't seek office, but some subtle signs suggest it's too early to give up on Mrs. Obama running in 2020.
During her time as FLOTUS, Obama has inspired her admirers with powerful words, while remaining down to earth and relatable through entertaining performances on segments from The Tonight Show and "Carpool Karaoke," just to name a couple. But in between the inspirational speeches and the relatable dance moves, it's important to remember that she's got all the chops to run for office. Like her husband, she's Ivy League educated, she's familiar with the campaign trail, and she advocates for the issues that matter to her.
Mrs. Obama recently told Oprah Winfrey that she is not considering a run for office. "I'm not having conversations, no," the first lady said when asked about the speculation that the Democratic Party had asked her to run. Still, if there's anything that the Obamas stand for, it is hope.
1. She Knows There's More Work To Be Done
She may have told Winfrey that she wasn't planning to run, but Mrs. Obama also knows that there will still be work left undone when her husband leaves office later this month. "I wish we could have done something about gun violence," she told Winfrey. Maybe she'll be the one to do more about it.
2. She Seems To Prefer The Public Sector
Although she began her law career at a private firm, she soon transitioned to the public sector. In 1993, she founded Public Allies Chicago, a branch of a national organization that connects young Americans with nonprofits and communities they can serve. "I realized right away that I had made the right decision," she said about the experience.
3. She Isn't One To Be Upstaged By Her Husband
The Obamas met when they were both working at the Chicago law firm Sidley Austin. At the time, Mrs. Obama was assigned to advise and mentor her future husband — making her his superior. It's not a competition, but Michelle's career wouldn't be outshone by that of POTUS.
4. She Believes In Role Models
A common theme in many of the first lady's speeches is the power of role models. At the 2012 Democratic National Convention, she described her father, as well as her husband's grandmother. Mrs. Obama is already a stellar role model, but she could show girls around the world how to break the glass ceiling as the first female president.
5. She Already Has A Great Team
"I'm just proud of the ability of my team," Obama told Winfrey in their latest interview. "And I just remind them, you did this." The first lady has built a supportive team around her. Could that team lead her through a future campaign?
6. She Can Handle The Attack Ads
Here's another thing Mrs. Obama shared with Winfrey: She can handle criticism. "My mother always taught me, girl, you better keep it moving," she said. "You know? You better brush it off." She has already faced more than her fair share of criticism, so any potential future presidential attack ads wouldn't faze her.
7. She Wouldn't Be The First To Deny Running
Long before Hillary Clinton formally announced her presidential campaigns, she denied her own plans to run. As first lady, Clinton said she would "not in this lifetime" run for president. Maybe Obama will have a change of heart like Clinton.
The first lady may not have any plans to run for president at this time. But she certainly has time to mull it over before 2020. Her husband will leave office after January's inauguration, but with any luck, Mrs. Obama's career in public service will be far from over.