7 Things That Could Get Trump Impeached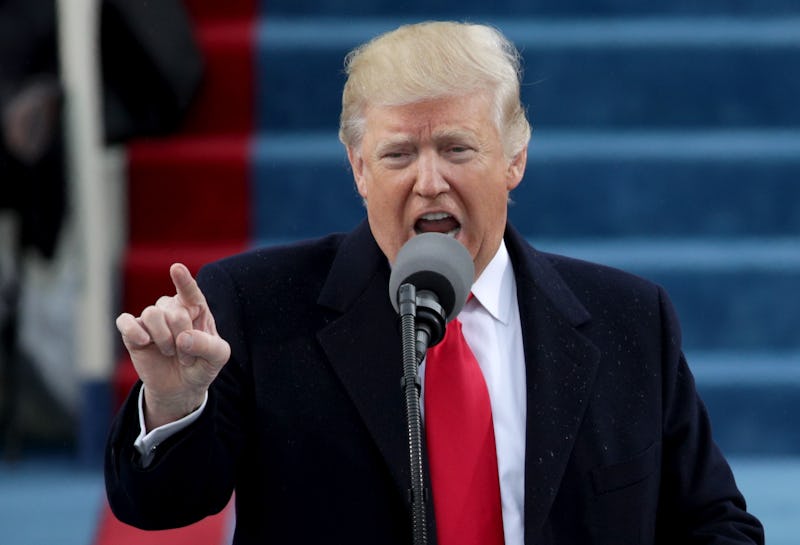 Alex Wong/Getty Images News/Getty Images
To say Donald Trump is unpopular would be an understatement. At the time of his inauguration on Friday, the most "bigly" thing about the president-elect was the number of people who disapproved of him. At a time when many president-elects have enjoyed near-career high favorability, Donald Trump's approval rating is currently about 37 percent, according to a recent Quinnipiac University poll. As they witness Trump's ascension on Friday, many Americans who do disapprove of him are clinging to the hope that his time in office will be short-lived.
Speculation about a potential Donald Trump impeachment has reached a fever pitch in recent days. Ladbrokes Online Betting, where a reported 90 percent of betters put their money on Trump being impeached, currently lists the chances of a Trump impeachment at 1:1 odds, at time of writing. Why are gamblers so willing to bet against the president-elect? There are many reasons a president can be impeached — former President Andrew Johnson was impeached for violating the Tenure of Office Act, for example, and former President Bill Clinton was impeached for perjury and obstruction of justice.
Neither Johnson nor Clinton were actually removed from office, though, having been acquitted on all counts; for impeachment to actually remove a president from office, a two-thirds Senate majority must vote to convict. Laying aside the chances of an actual conviction, here are some of the things that could potentially result in an impeachment for Donald Trump.
Violation Of The Emoluments Clause
The "Emoluments Clause" in the Constitution prohibits any American who holds public office from accepting any emolument — a benefit or compensation — as a result of dealing with a foreign government. This clause exists in order to ensure that the chief loyalty of American public officials is to their country, and that they do not benefit from any deal that might be otherwise disadvantageous to the American people.
Trump owns an enormous, sprawling company with businesses throughout the world. Unlike presidents before him, he has failed to divest from his corporation or to put it into a truly blind trust, though he has turned the business over to his sons. But this is why The Guardian's Julian Borger and other columnists have argued that Trump will be in violation of the Constitution on day one of his presidency.
Attacking The First Amendment
Trump has not played his cards close to his chest when it comes to concealing his disdain for journalists. During his most recent press conference, the president-elect had a kind of meltdown when pressed by a CNN reporter, ultimately threatening to kick him out of the room and yelling, "You are fake news!"
He has also made promises to "open up" libel laws and has repeatedly threatened to sue outlets like The New York Times for unfavorable coverage. Despite this, Americans are guaranteed freedom of the press and of speech, and if Trump attempts to curtail these freedoms while in office, it could result in impeachment.
More Revelations About Ties To Russia
As American intelligence agencies continue to investigate reports that Russia hacked the DNC in order to swing the election in Trump's favor, more questions will undoubtedly surface about whether Trump or his campaign have any discernible ties to the Russian government.
The New York Times reported Thursday that law enforcement is examining intercepted communications and financial transactions in order to determine a possible link between the Russian government and Trump associate Paul Manafort, who was his campaign manager. Manafort has called the allegations a "Democrat Party dirty trick," and "completely false." Depending, of course, on the information that is revealed, this could potentially spell trouble for Trump.
Obstruction Of Justice
Another potential pitfall related to the Russia investigations is obstruction of justice. The president must cooperate with intelligence and congressional investigations into Russian election involvement, but since in the past he has refused even to acknowledge the validity of intelligence reports, it is uncertain whether he will be a willing participant in investigations.
Violation Of The Stock Act
One "gift" the outgoing administration left to the incoming one is the 2012 Stop Trading on Congressional Knowledge Act, or STOCK Act, which was designed to prevent the president or other elected officials from engaging in insider trading.
If Trump is found to have profited from any information he attained while in the White House, or helped friends or family profit, he could be found in violation of the STOCK Act, which may also be grounds for impeachment.
Actually Building That Wall
Donald Trump has long promised to build a wall between the United States and Mexico. He has also promised, magically, to make Mexico pay for the wall — something Mexico's foreign minister, Luis Videgaray, has repeatedly indicated will not happen. Furthermore, 60 percent of Americans disapprove of the promised border wall; about 80 percent believe the United States will wind up paying for it.
If construction on the wall begins without Congressional approval, Florida Rep. Alan Grayson told POLITICO, impeachment could follow.
Lawsuit Trouble
President Trump has been involved in thousands of lawsuits over the last three decades — over 4,000 of them, according to a USA Today analysis. The potential for impeachment here, as the New York Daily News recently noted, is mostly in perjury. Perjury is, after all, one of the reasons President Clinton was indicted. Since a new defamation suit dropped earlier this week, President Trump will likely be quite busy with litigation while in office, and a slip-up could be damaging. Trump's spokesperson has said the defamation suit is not rooted in truth and denied any allegations.
While impeachment remains an unlikely outcome, Trump's complex business ties and continued investigation into Russian involvement are loose ends that could ultimately come back to haunt the 45th president.