7 Ways You Can Protest The Refugee Ban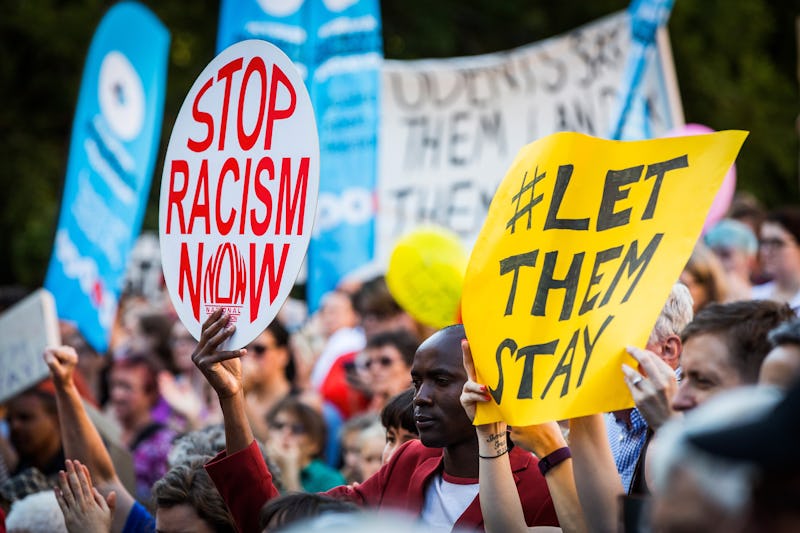 Chris Hopkins/Getty Images News/Getty Images
President Donald Trump sent shockwaves through the country on Friday when he signed an executive order banning refugees from entering the country. The ban, which specifically targets predominantly Muslim countries and the erasure of "radical Islam" from our country, has been received with outrage and confusion by many Americans, prompting the question: what can you do to help fight this executive order from the man holding the highest political office int he country? Here are 7 ways you can protest the refugee ban in your everyday life, because even though Trump has closed America's doors, you don't have to be a part of it.
The biggest thing that you have to realize is that you absolutely cannot let this become your new reality. This action from our president, which goes against what America has stood for centuries, should not be the image of a new nation, but one that has severely lost it's path and needs to right itself immediately. Don't let this disappear from your news feeds, don't let Trump's absurdist antics become your focus. If you are complacent at this point, that is giving the Trump administration exactly what it wants.
Beyond refusing to accept this current situation as even remotely OK, here are a few things that you can do to immediately help the people who have been turned away from our country.
1. Arm Yourself With Facts
There are a lot of misconceptions that the GOP has tried to push about the dangers of radical Islam — do not blindly accept that rhetoric. There are plenty of studies out there that show both the pressing need of the people seeking asylum in the U.S. and the rarity of Muslim extremism in the U.S. Do some research, understand the situation, and, as often as you can, remind people to challenge what they're being told.
2. Call Your Legislator
Find your state's representatives in Washington and let them know that you don't support this ban, and that you'd like them to let the president know as much.
3. Donate To Organizations Still Helping Refugees
"The new president has turned his back on refugees, but the IRC never will": That's the message that the International Rescue Committee, one of the groups collecting money for "lifesaving support" for the now-stranded refugees. You can donate there, or one of the dozens of organizations involved in similar efforts.
4. Speak Up
If you hear someone with xenophobic viewpoints talking about the refugee ban, come at them with facts (see above) and don't stay silent and let them spew hatred. Express why you disagree with the ban, and lay out for them what it means for millions of refugees around the globe.
5. Volunteer
The IRC works with organizations across the U.S. that accept volunteers. You can donate your time to them, or other local organizations in your community, by becoming an English tutor, collecting donations and assisting refugees already in the U.S. in resettling.
6. Organize Protests
Protests have already sprung up outside of JFK International Airport in New York demanding the release of the people who have been detained. Work with local groups to organize a protest where you live and let your voice be heard.
7. Stay Angry
Don't let your anger subside. Refuse to be placated by any empty promises and demand action. Understand that people's lives are at risk, and that our president is putting them in grave danger by refusing to let refugees enter the country. Understand that it isn't OK, and never forget it.