8 Comfy Leggings That Are Easy To Dress Up For Any Occasion — & They're All Under $40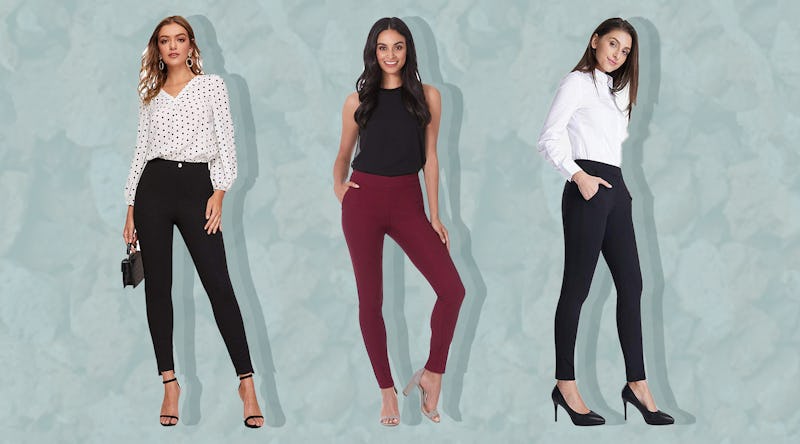 Amazon/Bustle
Just because you work in an office or you're heading out for a fancy dinner, doesn't mean you have to ditch your favorite leggings. In fact, I'd argue that any situation where you have to sit on an uncomfortable chair for hours calls for the best dressy leggings — and only the best.
But here's the thing: There are so many leggings out there that it's almost impossible to figure out the best of the best at first glance. The key to finding the perfect pair of leggings that you can wear out is, first and foremost, appearance. Consider any options that look like actual pants. They may even have belt loops and pockets but — psych! — they're actually the stretchy pants of your dreams. And no one has to know it.
And, of course, you have to consider the comfort factor. There's no point in investing in pants-like leggings if they feel like sandpaper when you put them on. Stretchy leggings made with spandex (aka elastane) are always a good choice, as well as leggings with a wide waistband so you can bend and move without them folding over.
At the end of the day, it's not the easiest task to narrow down the best dressy leggings out of all your options. I've got you covered. Here's a roundup of some of the comfiest, yet dressed-up, leggings out there.