9 Creepy Things You Probably Didn't Know About The White House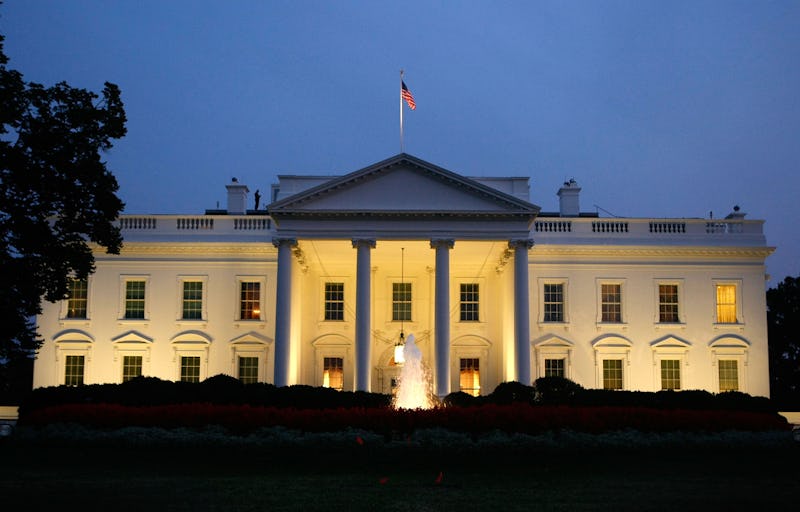 Mark Wilson/Getty Images News/Getty Images
I won't lie: I find the White House to be a pretty terrifying place right now (for reasons that should be obvious). But even at the best of times, it's still kind of terrifying — because it turns out there are loads of creepy facts about the White House lurking in the building's long and varied history.
To be fair, there's a lot about the White House's history that's overtly creepy; Michelle Obama nailed exactly why when she reminded us during the 2016 Democratic National Convention that the White House was built by slaves. Because Mobama is both a better person and a more optimistic one than I am, she used this fact as a way to mark how much progress the United States has made over the course of its history. Here's what she said at the time:
"I wake up every morning in a house that was built by slaves. And I watch my daughters, two beautiful, intelligent, black young women, playing with their dogs on the White House lawn. And because of Hillary Clinton, my daughters and all our sons and daughters now take for granted that a woman can be president of the United States. So, don't let anyone ever tell you that this country isn't great, that somehow we need to make it great again, because this right now is the greatest country on Earth."
For many, though, the White House is a fraught symbol — it's intended to be a representation of a country that believes in freedom and liberty, but it was also built largely by people the country had enslaved, and on ground that colonists had taken from the people who lived here before they got here.
That's… more than a little weird, and not really a thing to celebrate.
And there are many other weird, creepy, and spooky facts about the White House to be found, too. I dug up a few of them. Some of them are more light-hearted than others, but they're all low-key terrifying. Sometimes, I think there's nothing scarier than history.
Check out the entire 'What's Up, Boo?' series and other videos on Facebook and the Bustle app across Apple TV, Roku, and Amazon Fire TV.